Edit-R Arrayed Lentiviral sgRNA Libraries
Ensure library specificity with algorithm-designed sgRNAs
Arrayed collections of libraries for high-throughput knockout screening across entire human gene families. Assembled in arrayed libraries targeting human gene families and pathways of interest for rapid loss-of-function studies.
Edit-R Lentiviral sgRNA arrayed libraries enable rapid, high-throughput analysis of hundreds of genes with multiple target sites per gene across the Human Druggable Genome.
As opposed to pooled formats, an arrayed library format permits single-well analysis using many phenotypic assays - including high-content assays or reporter assays.
Highlights of the Edit-R lentiviral sgRNA arrayed libraries
Edit-R Lentiviral sgRNA are selected by the Edit-R algorithm as highly functional and specific to their target sequences for more robust, reliable gene knockout
Up to four unique sgRNA designs per gene, providing multiple data points for stratification of results
Conveniently arrayed in 96-well plates of E. coli glycerol stocks and offered as gene family collections
Plasmids can be isolated and delivered directly to cells or packaged into lentiviral particles for more difficult cell types
Custom Cherry-pick libraries may be ordered using the Cherry-pick Library Plater
Human Druggable is made up of: Proteases, Protein Kinases, Phosphatases, Transcription Factors, Ubiquitin Conjugation, GPCRs, Ion Channels and Drug Targets.
| Human sgRNA Libraries - arrayed glycerol stocks | # unique genes | Catalog # |
| --- | --- | --- |
| Human Edit-R - Druggable Genome | 7826 | GSGh17611 |
| Human Edit-R - Drug Targets | 3737 | GSGh11848 |
| Human Edit-R - G Protein-coupled Receptors | 381 | GSGh11763 |
| Human Edit-R - Ion channels | 348 | GSGh11764 |
| Human Edit-R - Phosphatases | 253 | GSGh11767 |
| Human Edit-R - Proteases | 478 | GSGh11768 |
| Human Edit-R - Protein Kinases | 698 | GSGh11769 |
| Human Edit-R - Transcription Factors | 1507 | GSGh11855 |
| Human Edit-R - Ubiquitin Conjugation | 583 | GSGh11772 |
Schematic map of the plasmid vector elements of the Edit-R Lentiviral sgRNA vector.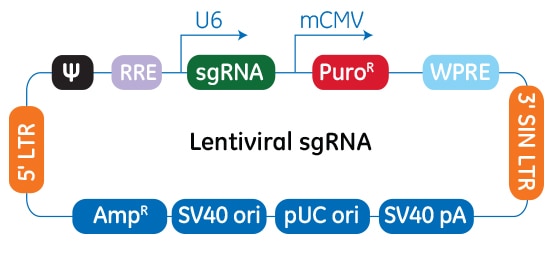 In the Edit-R Lentiviral sgRNA vector backbone, the gene-specific crRNA and the tracrRNA are expressed under the control of a human U6 promoter, while expression of the puromycin resistance marker (PuroR) is driven from the mouse CMV promoter and allows for rapid selection of cells with integrated sgRNA. The plasmid contains the AmpR resistance marker for growth and selection in E. coli.
---
Schematic maps and table of vector elements of the Edit-R Lentiviral Cas9 Nuclease (A) and sgRNA (B) vectors.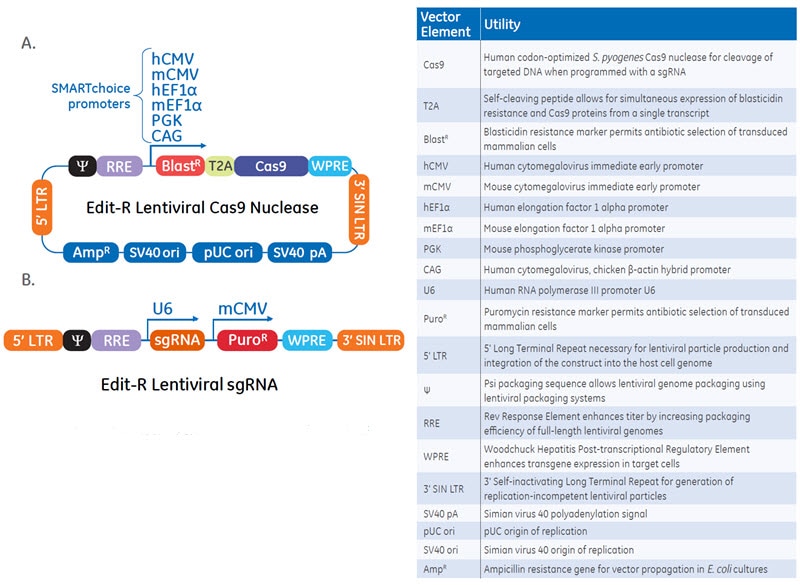 The Edit-R Lentiviral CRISPR-Cas9 platform is a two-vector system that utilizes a lentiviral vector with multiple Pol II promoter options for maximal Cas9 expression and a gene-specific vector for sgRNA expression designed to the target site of interest.
---
crRNA with high scores from the Edit-R algorithm have higher cleavage efficiency than low-scoring designs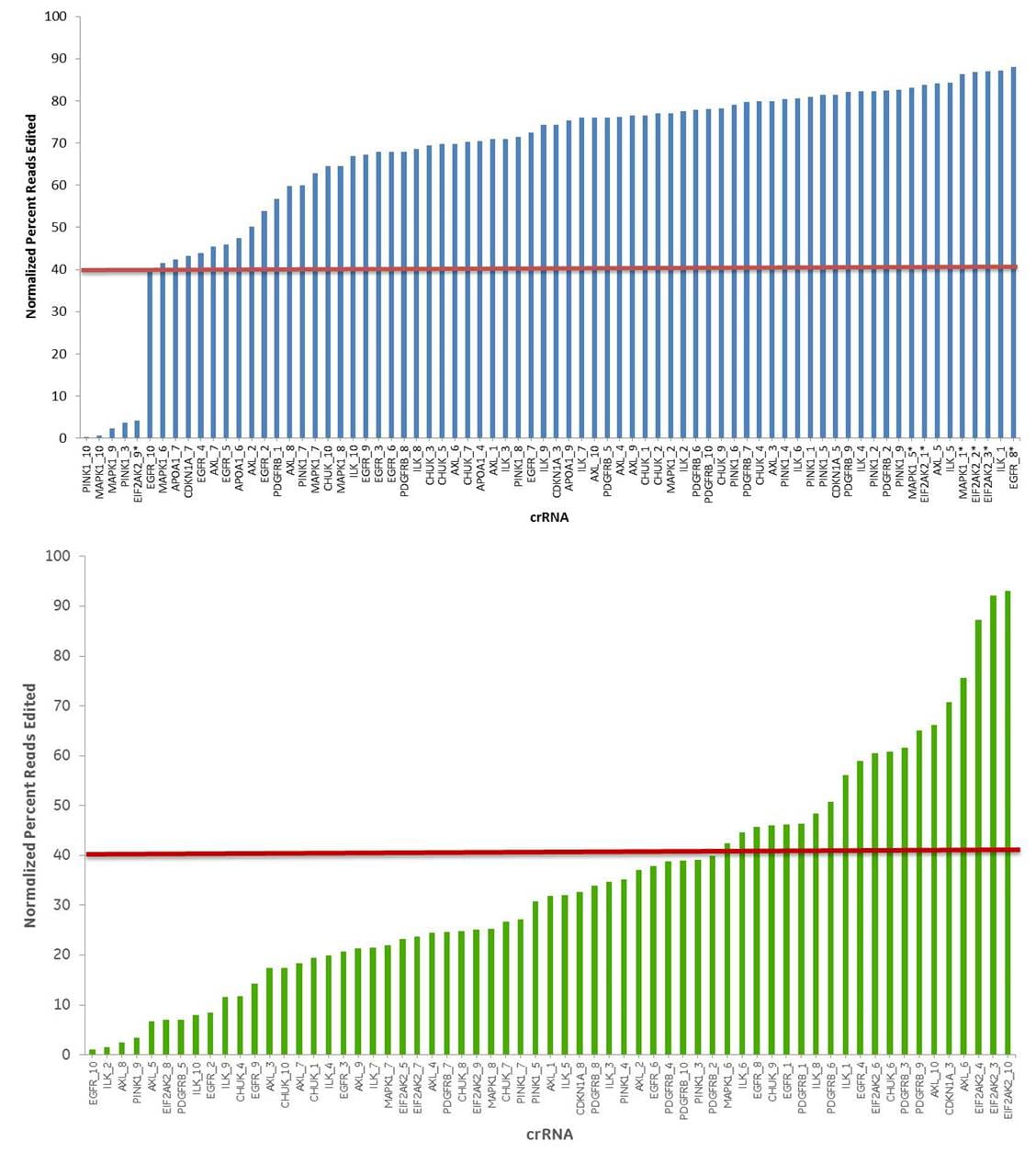 10 crRNAs with high functional scores for 10 genes (blue bars) and 10 crRNAs with low functional scores for the same genes (yellow bars) were tested for editing by Next Generation Sequencing. 93% of the high-scoring crRNAs and 32 % of the low scoring crRNAs showed > 40% of editing (indel formation). The Cas9-HEK293T cell line was transfected with 50 nM crRNA:tracrRNA, using 0.25 µL/well of DharmaFECT 1. Seventy-two hours post-transfection, cells were lysed and Nextera transposon-adapted amplicons spanning each crRNA site were generated for every treated sample as well as for a matched control amplicon from untransfected samples. Samples were indexed using the Nextera 96-well index kit and pooled for sequencing on a MiSeq instrument (paired end reads, 2 x 300 length). Reads that passed NGS quality filtering criteria were aligned to the reference file (Bowtie2 v2.1.0). Percent perfect reads were calculated and normalized to the control untransfected samples (Samtools v0.1.12a); the data is presented as normalized percent edited.
---
Algorithm applies to both synthetic crRNAs and expressed sgRNAs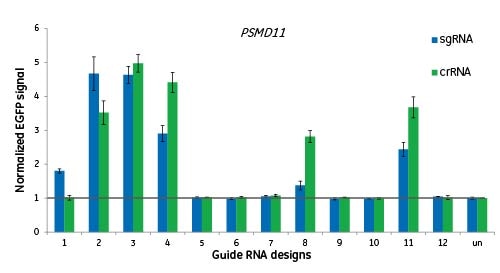 We targeted the gene PSMD11 at 12 different sites and measured functionality by EGFP signal to indicate disruption of the proteasome. Cells were either transfected with crRNA:tracrRNAs, or transduced with lentiviral particles for expression of a sgRNA of the same design. There is no significant difference between the two guide RNA formats when targeting the same genomic site; a good design for crRNA will translate into a good design for sgRNA.
Related Products
OptiPlate
The OptiPlate™ is PerkinElmer's most versatile microplate, used in many different applications, assays, and instruments. The optimized well design and high-quality plastics provide low background and crosstalk.
CulturPlate
The CulturPlate is PerkinElmer's microplate designed for cellular assays, tissue-culture treated and sterilized by gamma-irradiation to facilitate adherent cell growth. The optimized well design and high-quality plastics provide low background and crosstalk
PhenoPlates
The PhenoPlates line of microplates have been engineered to deliver both performance and superior images for high-content application