Cell Lines For Studying Ubiquitin-Conjugating Enzymes
Ubiquitin is a small regulatory protein found in the majority of eukaryotic tissues and is added to lysine residues of proteins as a post-translational modification.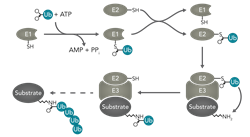 The addition of ubiquitin can impact on protein regulation in a number of ways including degradation, cellular localization, protein interactions and activity. These modifications can have diverse effects on a number of major cellular processes such as apoptosis, cell cycle, immune regulation and DNA transcription and repair among many others.
Ubiquitin is attached to lysine residues in the target protein by a series of 3 main reactions: Activation, performed by ubiquitin activating enzymes or E1's
Conjugation, performed by ubiquitin-conjugating enzymes or E2's
Ligation, performed by ubiquitin-ligases or E3's
The manner in which ubiquitin is added determines the outcome for the protein. These modifications can include:
Monubiquitination, the addition of a single ubiquitin to one lysine residue in the protein
Multi-monoubiquitination, the addition of single ubiquitin molecules to multiple lysine residues in the target protein
Polyubiquitination, the addition of multiple ubiquitin residues to a single lysine residue in the protein in the form of a chain which can take a number of different conformations.
These modifications alter cellular process in different ways. For example, monubiquitination can impact on membrane trafficking; however, some forms of polyubquitination can result in a protein being targeted for degradation via the proteasome. The ubiquitin pathway has been implicated in a number of genetic disorders and diseases including cancer and neurological diseases which result from the build-up of protein aggregates such as; Alzheimer's disease, Parkinson's disease and Huntingdon's disease.
Explore our popular knockout cell lines for studying Ubiquitin-Conjugating Enzymes
Helpful Resources
Save time and de-risk your project. With 7,500 readymade knockouts from Horizon you can validate your research without having to invest valuable time, money, and resources.
Top peer reviewed scientific articles using HAP1 cell lines
Need help?
Our Express and Custom engineering services could help you.