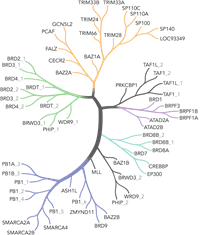 A number of proteins that use bromodomain (BRDs) for their recruitment to specific regulatory complexes have been implicated in the development of cancer. Alongside this, gene re-arrangements and overexpression of BRD containing genes have also been reported in a number of cancers.
BRDs are also attractive targets for neurological and inflammatory diseases - potent and selective inhibitors to the BET (bromodomain and extraterminal domain) family are being trialed.
The human genome encodes 42 bromodomain-containing genes, which harbor 52 bromodomains (some genes contain more than one bromodomain).
Explore our popular knockout cell lines for bromodomain
Helpful Resources
Save time and de-risk your project. With 7,500 readymade knockouts from Horizon you can validate your research without having to invest valuable time, money, and resources.
Top peer reviewed scientific articles using HAP1 cell lines
Need help?
Our Express and Custom engineering services could help you.