Overview of the kinase family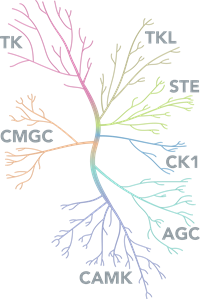 Kinases are a large family of enzymes with over 500 encoded in the human genome and all share a highly conserved kinase domain. Dependent on the substrate they act upon they can be broadly classified into 3 categories: protein kinases, carbohydrate kinases and lipid kinases. Due to the diverse roles that kinases play in the cell they are implicated in a number of diseases including cancer:
Protein kinases
can phosphorylate substrate proteins on serine, threonine, tyrosines or histidine residues. Mitogen-activated protein kinases such as RAF kinases involved in the MAPK signaling pathways and cyclin dependent kinases (CDKs) involved in cell cycle regulation are prime examples of pathways implicated in cancers.
Lipid kinases
alter the localization and reactivity of lipids through phosphorylation. A well-known example of a lipid kinase is phosphoinositide 3-kinase which is implicated in a number of cancers, mainly through alterations to its catalytic subunit - PIK3CA.
Carbohydrate kinases
such as hexokinase play important roles in the majority of metabolic pathways.
Available knockout cell lines
Explore our available knockouts by kinase sub-family
AGC Subfamily
CAMK Subfamily
CK1 Subfamily
CMGC Subfamily
STE Subfamily
TK Subfamily
TKL Subfamily
Helpful Resources
Save time and de-risk your project. With 7,500 readymade knockouts from Horizon you can validate your research without having to invest valuable time, money, and resources.
Top peer reviewed scientific articles using HAP1 cell lines
Need help?
Our Express and Custom engineering services could help you.