Epigenetic Marks (Markers)
The most important epigenetic marks include DNA methylation, histone methylation and histone acetylation.
All of these are reversible, i.e. the cell harbors a repertoire of enzymes that add or remove such marks to a specific genomic locus.
Enzymes that add marks are referred to as epigenetic writers (e.g. DNA methyl transferases or histone acetyl transferases) and those that remove marks are known as epigenetic erasers (e.g. histone demethylases or histone deacetylases).
Epigenetic Modification
Epigenetic marks are read-out by a specific subset of proteins referred to epigenetic readers (e.g. bromodomain-containing genes). Some examples of epigenetic mechanisms include; maternal effects, X-chromosome inactivation and imprinting amongst many others.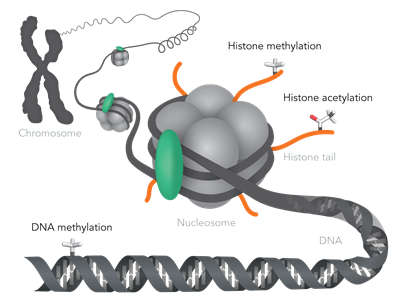 Explore our popular knockout cell lines for Epigenetics
Helpful Resources
Save time and de-risk your project. With 7,500 readymade knockouts from Horizon you can validate your research without having to invest valuable time, money, and resources.
Top peer reviewed scientific articles using HAP1 cell lines
Need help?
Our Express and Custom engineering services could help you.