Autophagy related diseases explored with gene edited cell lines
As demonstrated by the 2016 Nobel Prize winner, Yoshinori Ohsumi, autophagy is a fundamental process vital to cellular health. The molecular processes and signalling pathways controlling autophagy include numerous autophagy-related (Atg) genes, important stress-inducible intracellular protein, such as p62/A170/SQSTM1 and autophagosome localizing proteins such as LC3, among many others making this a complex network of control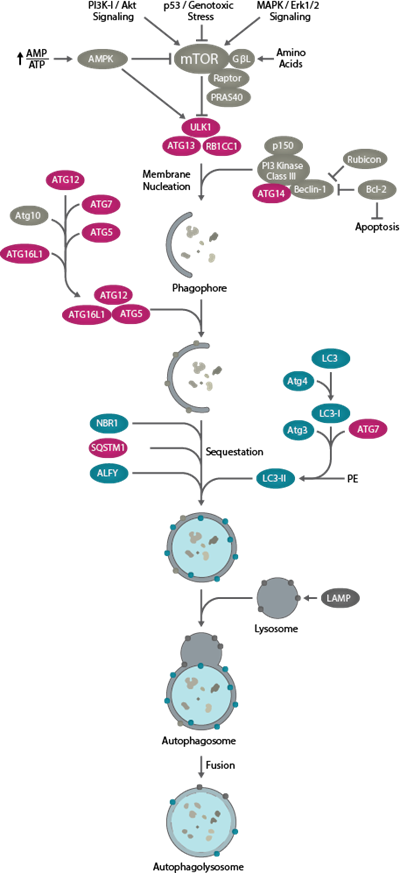 Gene deletion experiments in both mice and cell lines have implicated autophagy in the development of a number of diseases including; neurodegenerative diseases, cancer, infectious diseases, and metabolic diseases.
Furthermore, SNPs and mutations in genes encoding proteins involved in autophagy have been implicated in a wide variety of conditions including asthma, Crohn's disease and cancers.
Examples of popular knockout cell lines for autophagy pathway
| | | |
| --- | --- | --- |
| ATG5 | ATG13 | ATG16L1 |
| SQSTM1 | ATG7 | ATG14 |
| RB1CC1 | ULK1 | ATG12 |
Browse our ready-to-go cell models to find your ideal cell line for autophagy research.
Simply choose a cell line background, then search for your gene of interest to view all available ready-to-go models.
Can't find the right cell model for your research?
Our Express and Custom engineering services could help you.