Expression Ready MGC cDNA Libraries
Human Expression Ready MGC cDNA Libraries are available as pre-defined gene families of clones in pCMV-SPORT6 expression vectors.
Expression Ready MGC cDNA Libraries are fully sequenced human cDNA arrayed sets from the Mammalian Gene Collection (MGC) that are derived from genes falling under specific Gene Ontology terms and are present in pCMV SPORT6 expression vectors.
Highlights
Insert is fully sequenced and guaranteed to match corresponding BC Accession Number
Expression-ready vectors eliminate additional cloning steps
Robust CMV promoters drive cDNA expression
Gateway sites flanking coding sequence allow for additional flexibility
Convenient predefined library format
For a complete list of target genes in these libraries, please contact Technical Support or your local Sales Representative.
Custom libraries
MGC cDNA gene family libraries are also available in additional vectors.
Disclaimer
Dharmacon is a distributor of multiple gene expression clone collections (cDNAs and ORFs). These clone collections were generated by groups outside of Dharmacon and thus the quality of the collections is largely dependent upon what Dharmacon received from these groups. Specific clone information and plate coordinates were provided to Dharmacon by the suppliers of these clone collections. Dharmacon has not sequence verified each individual clone from these collections. These collections and individual clones are distributed "as is" with no additional product validation or guarantees. Dharmacon has established quality procedures to ensure that individual clones are picked from the identified well in a plate, grown on the correct antibiotic, and are free of phage contamination. Due to the quality of the information provided to Dharmacon, the clone you receive might not match the expected clone. If this occurs, please contact Technical Support.
Libraries will be provided in 96-well microtiter plates. These will ship via overnight delivery and should be stored at –80°C immediately upon receipt.
Human Expression Ready cDNAs - pCMV SPORT6 vector map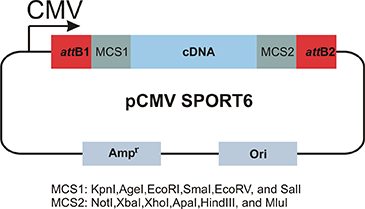 The pCMV SPORT6 vector is driven by a CMV promoter and includes Gateway recombination sites, 5' and 3' multiple cloning sites, and an Ampicillin resistance marker.
Related Products
Precision LentiORF collection
Precision LentiORFs are human cDNA open reading frames (ORFs) cloned into a lentiviral expression vector, used for overexpressing human genes and proteins in mammalian cells.
MGC cDNA Libraries
Genome-scale Mammalian Gene Collection (MGC) cDNA libraries for human, mouse, and rat.