TRC Lentiviral shRNAライブラリー
The RNAi Consortium(TRC)によって設計されたpLKO.1レンチウイルスベクターのシンプルヘアピン型shRNA
The RNAi Consortium (TRC)は、Broadを拠点とする官民の取り組みであり、科学界がRNAiを使用してヒトとマウスの遺伝子の機能を決定できるようにするshRNAライブラリーを作製することをミッションとしています。

The RNAi consortium(TRC)は、MITとハーバードのブロード研究所を拠点とする共同の取り組みであり、MITとハーバードに関連する6つの研究機関と5つの国際生命科学機関が参加しています。TRCと提携して、世界中の研究者がshRNAライブラリーを利用できるようにし、スクリーニングなどのアプリケーション用にshRNAライブラリーをまとめました。
pLKO.1試薬は、形質導入実験で使用するためにウイルス粒子にパッケージ化できます。具体的には、複製能力のないウイルス粒子は、293Tパッケージング細胞にコトランスフェクトされたレンチウイルスパッケージングプラスミドを使用して効率的に作製できます。最大の生物学的安全性と高い力価を提供するTrans-Lentiviral Packaging Systemをお勧めします。
Highlights
ハイスループットスクリーニングなどのアプリケーションに利用可能なライブラリー
レンチウイルスベクターにクローニング可能
ノックダウン細胞株の作成など、in vitroおよびin vivoでのアプリケーションに適しています
レンチウイルスベクターは、初代細胞および非分裂細胞への形質導入を可能にします
TRC shRNAライブラリーの詳細
shRNAの設計とクローニング:
TRC shRNAコンストラクトは、配列、特異性、および最適なヘアピンの位置スコアリングからなるsiRNAルールベースのアルゴリズムを使用して設計されました。ヘアピンは、21塩基のステムと6塩基のループで構成されています。ヘアピンをpLKO1ベクターにクローニングし、配列を確認しました。
各標的遺伝子に対して複数(4~5)のコンストラクトが作成されました。pLKO1レンチウイルスベクターは、神経細胞などの初代細胞および非分裂細胞の効率的な形質導入を可能にし、トランスフェクトが困難なこれらの細胞株でのRNAi研究を容易に実行できるようにします。ピューロマイシン選抜マーカーを用いた安定選抜も可能です。
ウイルスパッケージング:
複製能力のないウイルス粒子は、293Tパッケージング細胞に同時トランスフェクトされたレンチウイルスパッケージングプラスミドを使用して効率的に作製できます。最大の生物学的安全性と高い力価を提供するTrans-Lentiviral packaging systemをお勧めします。
コントロール
利用可能なコントロールには、ネガティブコントロールとしてpLKO.1空ベクター、ポジティブコントロールとしてeGFP shRNAが含まれます。
Scientific Publicationsでのライブラリーの引用
科学論文では、ライブラリーはTRC-Hs1.0(ヒト)およびTRC-Mm1.0(マウス)と呼ばれます。個々のクローンは、TRCID番号(TRCN0000014783など)によって個々に識別されます。
TRCレンチウイルスshRNAライブラリーは、8%グリセロールおよびカルベニシリン(100 µg /mL)を含む2XLBブロス中の大腸菌の凍結保存培養物を含む96ウェルマイクロタイタープレートで提供されます。個々のshRNAコンストラクトは、ウェットアイス上で大腸菌グリセロールストックカルチャーとして出荷されます。出荷前にすべての培養物の成長をチェックします。
RNAiコンソーシアム(TRC)pLKO.1レンチウイルスベクター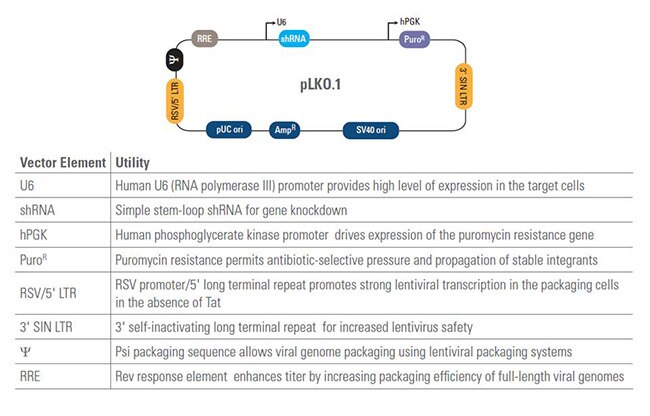 ---
Gene silencing with TRC lentiviral shRNA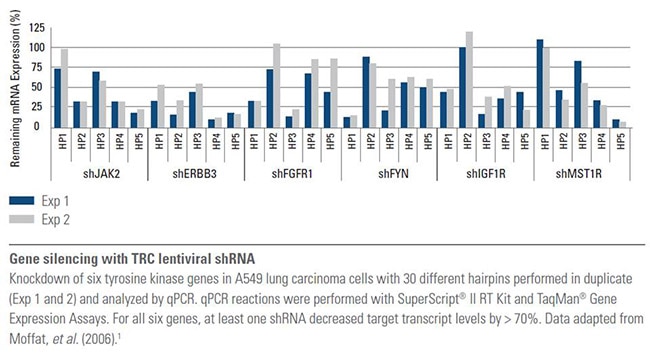 J. Moffat et al., A Lentiviral RNAi Library for Human and Mouse Genes Applied to an Arrayed Viral High-Content Screen. Cell. 124, 1283-1298 (2006).
S. A. Stewart et al., Lentivirus-delivered stable gene silencing by RNAi in primary cells. RNA. 9, 493-501 (2003).
R. Zufferey et al., Multiply attenuated lentiviral vector achieves efficient gene delivery in vivo. Nat. Biotechnol. 15, 871-885 (1997).
R. Zufferey et al., Self-inactivating lentivirus vector for safe and efficient in vivo gene delivery. J. Virol. 72, 9873-9880 (1998).
T. Yamamoto, Y. Tsunetsugu-Yokota, Prospects for the therapeutic application of lentivirus-based gene therapy to HIV-1 infection. Curr. Gene Ther. 8(1), 1-8 (2008).
Related Products
OptiPlate
The OptiPlate™ is PerkinElmer's most versatile microplate, used in many different applications, assays, and instruments. The optimized well design and high-quality plastics provide low background and crosstalk.
PhenoPlates
The PhenoPlates line of microplates have been engineered to deliver both performance and superior images for high-content application