siGLO RISC-Free Control
Isolate cellular effects related only to siRNA transfection
A stable, fluorescent RNAi control that does not engage RISC and permits isolation of transfection-related cellular effects during siRNA experiments in human, mouse, or rat cells.
siGLO RISC-Free Control siRNA is chemically modified to impair processing and uptake by RISC, allowing researchers to isolate cellular effects related to siRNA transfection. As transfection reagents typically rely on charged interaction with the nucleic acid payload, transfection controls using siGLO RISC-Free are recommended over the use of transfection reagent alone.
Highlights
Stable, fluorescent, negative RNAi control
Labeled with Cy3
Absorbance/Emission Max is 547/563 nm
A Cy3, Rhodamine or PE filter can be used
Not processed by RISC - useful to isolate cellular effects related only to siRNA transfection
Enables co-transfection with functional siRNA without interfering with target gene silencing
To request a larger quantity or in vivo processing of this control product, please contact scientific support.
Efficient delivery of RISC-free control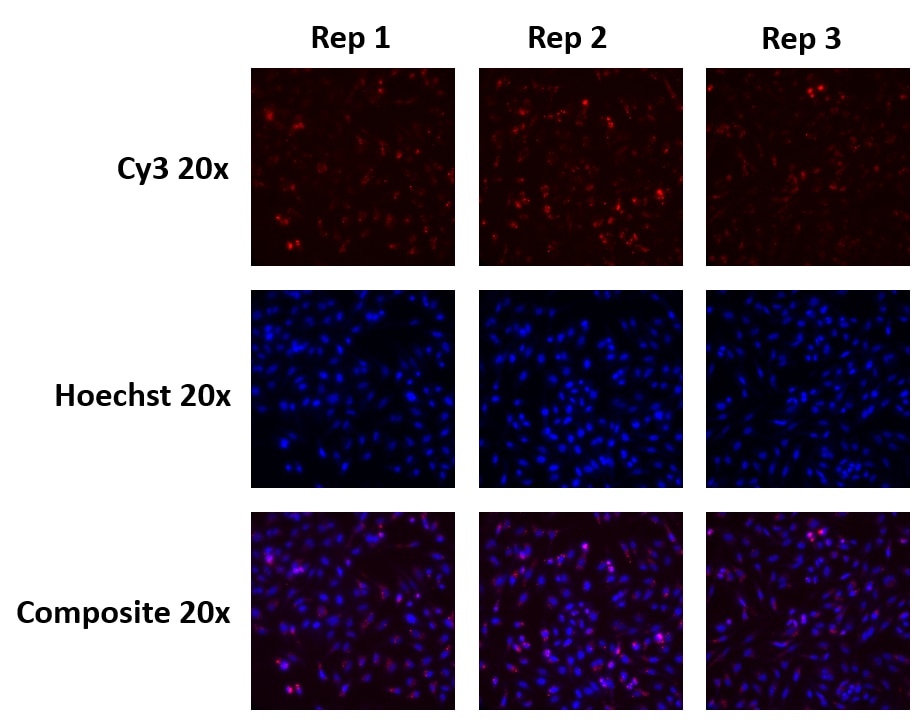 siGLO RISC-free control siRNA (50nM) was transfected into HeLa cells with DharmaFECT 1 (0.15 µg/100µL well). After 48 hours, cells were washed with 1x PBS and stained with Hoechst 3342 nuclear dye (blue).
---
siGLO RISC-free control does not interfere with functional siRNA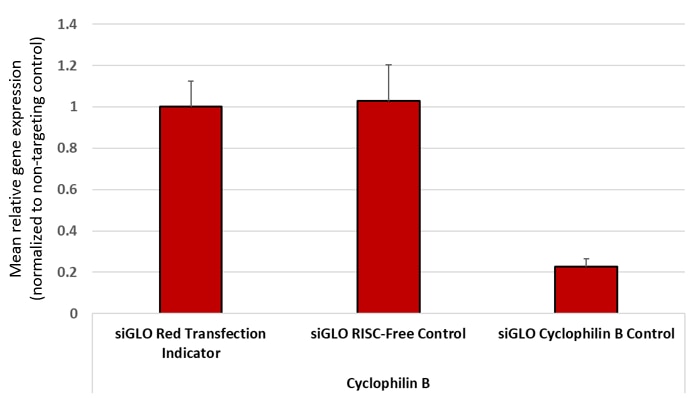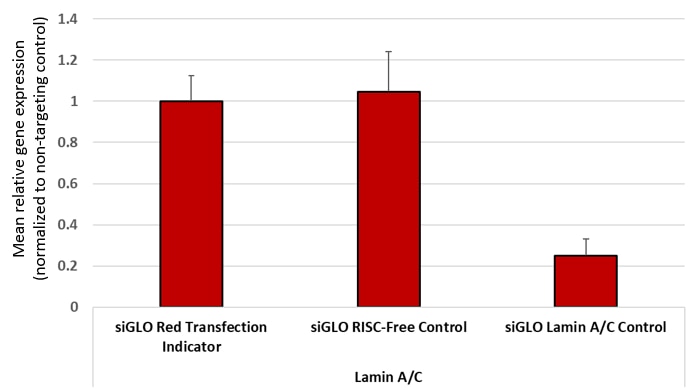 Cyclophilin B and Lamin A/C mRNA levels were quantified by RT-qPCR in HeLa cells 48 hours after transfection with DharmaFECT 1 (0.15 µg/100µL well) and 50nM of siGLO Cyclophilin B or Lamin A/C control, siGLO RISC-Free control, or siGLO Red Transfection Indicator.