Edit-R 化学合成ポジティブcrRNAコントロール
CRISPR-Cas9ゲノム編集の最適なパラメーター検証のための化学合成crRNAコントロール
ポジティブコントロールsgRNAを用いて、ゲノム編集条件の有効性を確認します。ミスマッチ検出アッセイプライマーとのキット製品もご用意しています。
Please note:crRNAへヌクレアーゼ耐性の安定化化学修飾が追加されたことに伴い、2017年に化学合成crRNAコントロールのカタログ番号が変更されたことに注意してください。これらの変更について詳しくは、featured articleをご覧ください。
Edit-R 化学合成crRNAコントロールは、トランスフェクション条件を最適化し、Cas9ヌクレアーゼ発現を検証するための、化学合成crRNAを用いたCRISPR-Cas9ゲノム編集実験のポジティブコントロールとして推奨されます。
遺伝子特異的ポジティブコントロールとキットは、ゲノム編集実験を検証するためのミスマッチ検出アッセイ用に設計され、検証されています。
構成:
ヒトまたはマウスの個別Edit-R crRNAコントロール(5 nmolまたは20 nmol):

Cyclophilin B (PPIB)

DNA (cytosine-5)-methyltransferase 3B (DNMT3B)

以下を含むヒトまたはマウス用のEdit-R crRNAコントロールキット:

5 nmolまたは20 nmol Edit-R CRISPR化学合成crRNAコントロール

5 nmol Edit-R crRNAコントロール フォワードプライマー

5 nmol Edit-R crRNAコントロールリバースプライマー
Edit-R Lethal 化学合成crRNAコントロールは、ゲノム内の複数のリピート領域を標的にすることにより、用量およびCas9依存的に細胞死を誘導するように設計されたユニバーサルポジティブコントロールです。
Edit-R lethal 化学合成crRNA #1は非常に強力な細胞死を誘導し、Edit-R lethal 化学合成crRNA #2は中程度の細胞死を誘導します。これらのコントロールは幅広いダイナミックレンジに対応しており、CRISPR-Cas9ゲノム編集による表現型の高度と中程度の両方の変化を観察することで、CRISPR-Cas9ゲノム編集実験におけるsgRNA導入を最適化することができます。本のコントロールの詳細については、featured articleまたはApplication Noteをお読みください。
注意:コントロールcrRNAにもtracrRNAが必要です。
Edit-R CRISPR-Cas9ゲノム編集
Dharmacon Edit-R CRISPR-Cas9化学合成crRNAプラットフォームは、天然のS. pyogenesシステムに基づいて、哺乳類細胞でのゲノム編集に3つのコンポーネントを必要とします。
細胞に導入されると、crRNA:tracrRNAとCas9ヌクレアーゼとの複合体が、部位特異的なDNA二本鎖切断(DSB: double strand break)を生じます。DSBが非相同末端結合(NHEJ)を介して修復されると、結果として生じる小さな挿入および欠失(indel)がナンセンス突然変異を引き起こし、遺伝子破壊を引き起こし、機能的なノックアウトを引き起こす可能性があります。
crRNAおよびtracrRNA必要量
この表は、推奨されるcrRNA:tracrRNA作業濃度(25 nM:25 nM)を用いて、さまざまなプレート/ウェル形式でリピッドトランスフェクション法を実施できる概算の実験数を示しています。計算では、ピペッティングエラーは考慮されていません。
| crRNA nmol | tracrRNA nmol | 96-well plate 100 µL reaction volume | 24-well plate 500 µL reaction volume | 12-well plate 1000 µL reaction volume | 6-well plate 2500 µL reaction volume |
| --- | --- | --- | --- | --- | --- |
| 2 | 2 | 800 | 160 | 80 | 32 |
| 5 | 5 | 2000 | 400 | 200 | 80 |
| 10 | 10 | 4000 | 800 | 400 | 160 |
| 20 | 20 | 8000 | 1600 | 800 | 320 |
Loss of cell viability in Cas9-expressing cells treated with Edit-R Lethal crRNA controls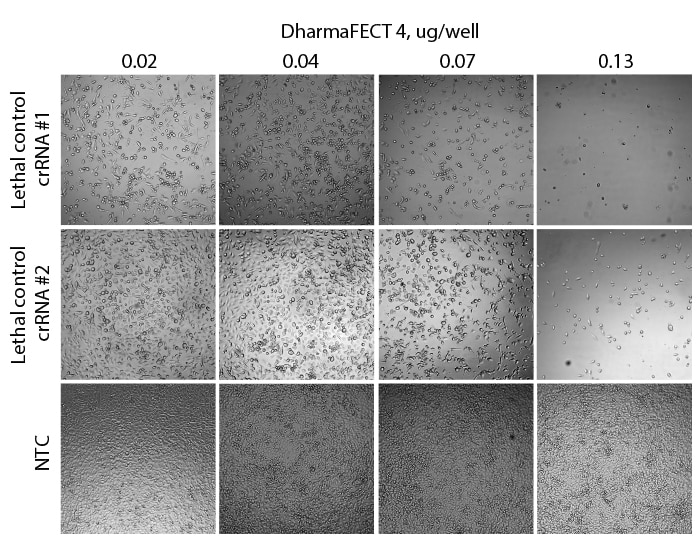 Phase contrast microscopy clearly indicates a strong cell death phenotype with Edit-R crRNA control #1 and a slightly more moderate level of death with Edit-R crRNA control #2 when compared to NTC. The loss in cell viability was dose-dependent on the amount of DharmaFECT 4 transfection reagent used to deliver the crRNA:tracrRNA complex. Cas9-expressing U2OS-Proteasome cells were plated in 96-well plates at 10,000 cells per well. 24 h after plating, cells were transfected with 25 nM crRNA:tracrRNA using 0.02-0.13 µg/well of DharmaFECT 4 transfection reagent. NTC = Non-targeting control.
---
Optimal transfection conditions for cell death from lethal controls correlate with proteasome-dependent phenotype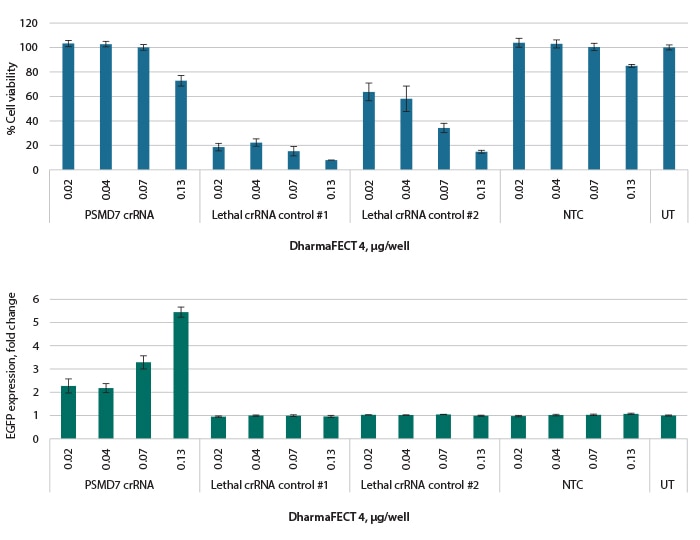 A. Recombinant U2OS Ubi[G76V]-EGFP-Cas9 cells were analyzed for cell viability using a resazurin assay under a range of transfection reagent amounts. Lethal controls show a dose-dependent level of cell death. B. Cells were analyzed for EGFP expression as a readout of proteasome disruption. Optimal conditions indicated by cell viability reproduced optimal EGFP expression. All results were normalized to UT, 72 h after transfection. UT = untreated cells, NTC = Non-targeting control
---
Effective gene editing of PPIB in human and mouse cells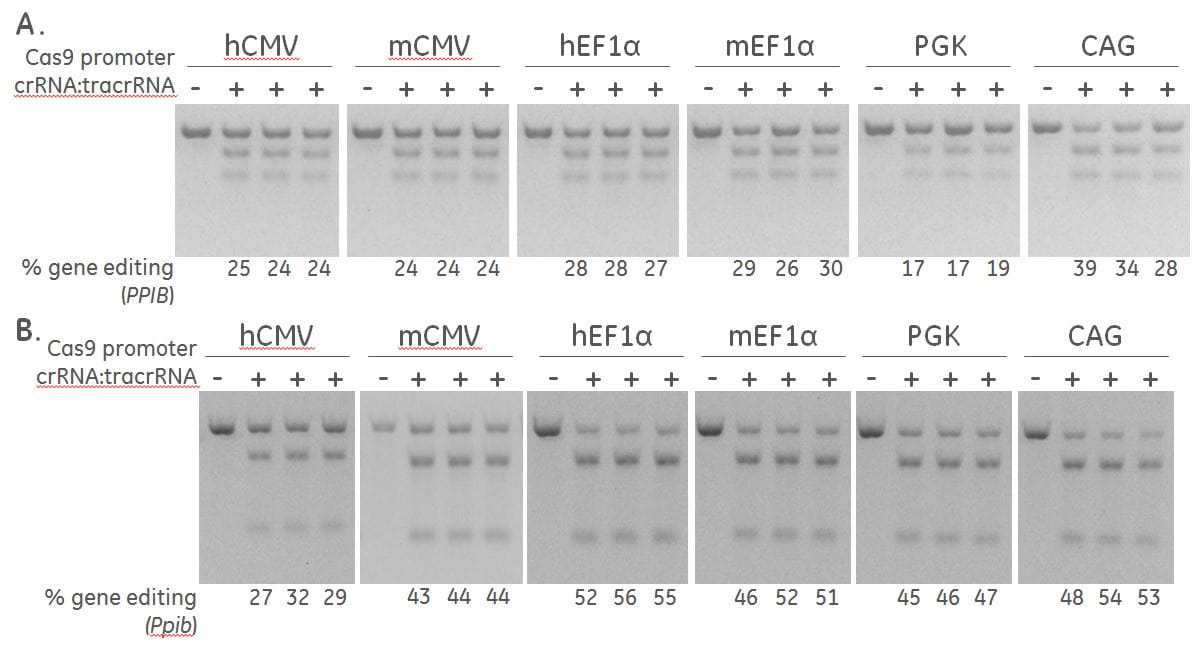 A human recombinant U2OS ubiquitin-EGFP proteasome cell line (Ubi[G76V]-EGFP) (A) and a mouse fibroblast (NIH/3T3) (B), were stably transduced with lentiviral particles containing Cas9 and a blasticidin resistance gene driven by the indicated promoters.. A population of cells with stably integrated Cas9-blastR was selected with blasticidin for a minimum of 10 days before transfections. Cells were transfected with 50 nM synthetic crRNA:tracrRNA targeting Human PPIB / mouse Ppib using DharmaFECT 1 and DharmaFECT 3 Transfection reagent, respectively. After 72 hours, the relative frequency of gene editing was calculated based on a DNA mismatch detection assay using T7EI on genomic DNA extracted from the transfected cells.
---
Comparable gene editing of PPIB and DNMT3B with either unmodified crRNA:tracrRNA or modified for nuclease resistance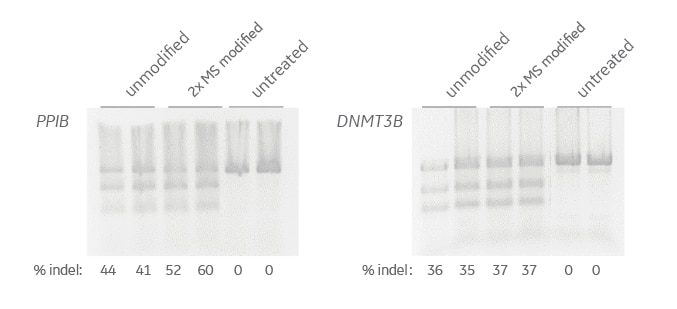 HEK293T cells expressing Cas9 nuclease were transfected with unmodified crRNA:tracrRNA targeting PPIB or DNMT3B or with crRNA:tracrRNA carrying modifications to resist nuclease degradation (2'-O-methyl; 2'OMe) and backbone phosphorothioate linkages (PS) on the two nucleotides at the 5' end of the crRNA and on the two nucleotides at the 3' end of the tracrRNA). A T7EI DNA mismatch assay was performed and the samples were separated on a 2% agarose gel. Percent indels was calculated and is shown at the bottom of the lanes.