CRISPRi All-in-one Lentiviral sgRNA
dCas9-SALL1-SDS3 and sgRNA expression from a single vector for simplified delivery
Easy, ready-to-use (thaw virus, add to cells)
Single transduction = shorter time to results
Ideal for difficult to transfect cells and low passage cells
Enrich with either puromycin resistance or EGFP fluorescence
Transduction-ready vectors eliminate cloning and in vitro transcription steps
To shop for CRISPRi All-in-one Lentiviral sgRNA, please select a Gene.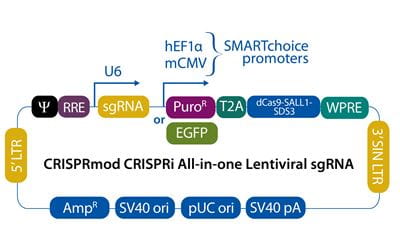 Easily generate a stable cell line repressing your gene of interest with the CRISPRmod CRISPR interference (CRISPRi) system. This system is a unique adaptation of the classical CRISPR-Cas9 gene editing system which utilizes a catalytically deactivated Cas9 (dCas9) that is fused fused to repressor domains (SALL1 and SDS3). When paired with a well-designed guide RNA that targets a gene near it's promoter region or transcriptional start site (TSS) it reduces transcription.
Review our CRISPRi application page to get an overview of the technology.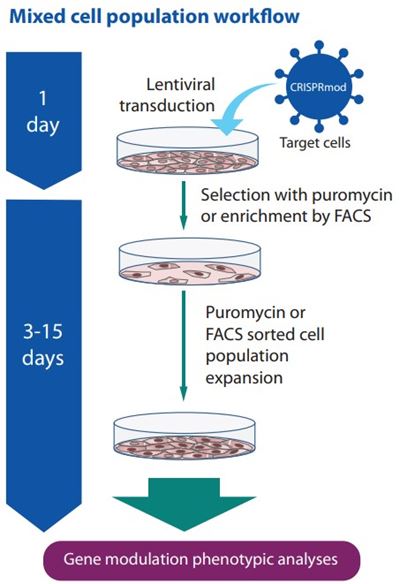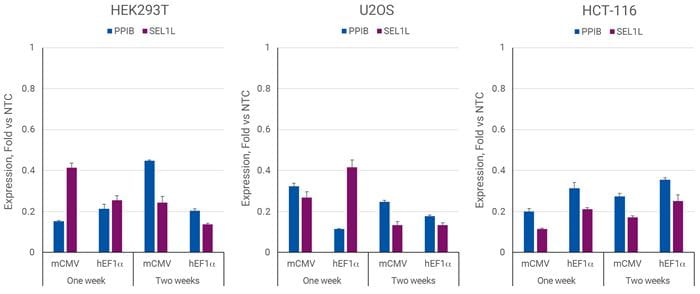 Related Products
CRISPRi All-in-one Lentiviral sgRNA Non-targeting Controls
All-in-one non-targeting constructs are bioinformatically designed and validated to not target any gene in human or mouse genomes.
These non-targeting controls should be used to establish experimental baselines and to distinguish sequence-specific biological effects from non-specific effects.