Phosphatases in disease
Many phosphatases are key in the development of pathological pathways where inhibition can reverse or delay the onset of human diseases.
Abnormal serine/threonine phosphatase activity has been linked with several diseases, including diabetes, cardiovascular disorders, cancer, and Alzheimer's disease. Therefore, the pharmacological manipulation of phosphatase activity is an attractive strategy for the treatment of such conditions.
Serine/Theonine phosphatases are metal-requiring enzymes that regulate many pathways involved in cell proliferation, programmed cell death (apoptosis), embryonic development, and cell differentiation. They are grouped into two gene families - the PPP and the PPM gene families, based on sequence analysis.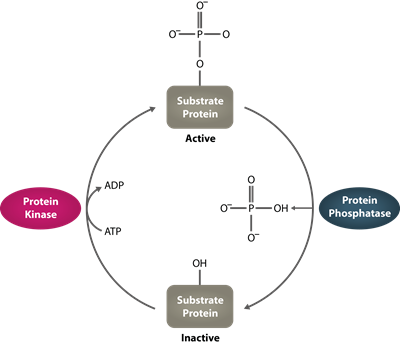 PPP Gene family
The PP1 subfamily is comprised of a catalytic subunit that interacts with several proteins including targeting subunits and inhibitor proteins.
The PP2A subfamily are heterotrimers comprised of a catalytic subunit and two regulatory subunits.
PPM Gene Family
This group corresponds to the PP2C enzymes, which are activated by high concentrations of magnesium. This subfamily is less well-studied than the PPP group, and little is known about their regulation.
Examples of popular knockout cell lines for studying Serine-threonine Phosphatase
AKAP1
AKAP11
AKAP9
ANKRD28
ANKRD44
ANKRD52
KIAA1244
BCL2L2
CD2BP2
CDC25C
CENPE
CHCHD3
CHCHD6
CLCN7
CNST
CSMD1
CSRNP2
CTDNEP1
CTDSP1
CTDSP2
CTDSPL
DDX31
DLG2
DZIP3
ELFN1
ELFN2
FARP1
FKBP15
ILKAP
PDP1
PHLPP1
PHLPP2
PPEF1
PPM1A
PPM1B
PPM1D
PPM1E
PPM1F
PPM1G
PPM1H
PPM1J
PPM1K
PPM1L
PPM1M
PPM1N
PPP1CA
PPP1R13B
PPP1R14A
PPP1R14C
PPP1R15A
PPP1R16A
PPP1R16B
PPP1R18
PPP1R26
PPP1R21
PPP1R32
PPP1R37
PPP1R3B
PPP1R3D
PPP1R3F
PPP1R9A
PPP1R9B
PPP2CB
PPP2R1B
PPP2R2B
PPP2R2C
PPP2R2D
PPP2R3A
PPP2R5A
PPP2R5B
PPP2R5C
PPP2R5D
PPP2R5E
PPP3CA
PPP3CB
PPP3CC
PPP4R1
PPP4R2
PPP4R4
PPP5C
PPP6R1
PPP6R2
Sh6GLB1
TP53BP2
ZFYVE16
UBLCP1
PPP1R1A
PPP1R14B
Helpful Resources
Save time and de-risk your project. With 7,500 readymade knockouts from Horizon you can validate your research without having to invest valuable time, money, and resources.
Top peer reviewed scientific articles using HAP1 cell lines
Need help?
Our Express and Custom engineering services could help you.