Cell Lines For Studying Rab GTPases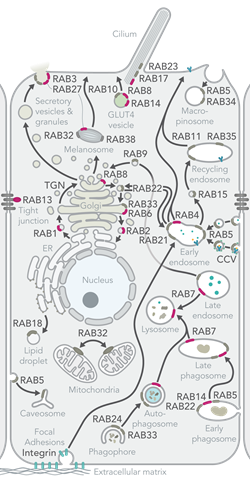 Rab proteins are key in regulating all aspects of membrane trafficking including vesicle formation, movement along actin and tubulin and fusion with membranes.
These processes makeup the route by which cell surface receptors are trafficked to the cell surface and recycled and cargo is moved between a variety of organelles.
Specific Rabs are physically associated with each organelle as well as their associated transport vesicles. Similar to other GTPases, Rab proteins exist in two conformations; the inactive GDP bound form and the active GTP bound form.
The switch between the two forms is regulated by GTPase activating proteins (GAPs) and GDP/GTP exchange factors (GEFs). Rab dysfunction is implicated in a number of disease states from infectious diseases to cancer.
Explore our popular knockout cell lines for studying Rab GTPases
Helpful Resources
Save time and de-risk your project. With 7,500 readymade knockouts from Horizon you can validate your research without having to invest valuable time, money, and resources.
Top peer reviewed scientific articles using HAP1 cell lines
Need help?
Our Express and Custom engineering services could help you.