Ubiquitination pathway
The ubiquitination pathway has been implicated in a number of genetic disorders and diseases including cancer and neurological diseases which result from the build-up of protein aggregates such as; Alzheimer's disease, Parkinson's disease and Huntingdon's disease. This collection has been generated in close collaboration with Prof. Steve Jackson (Gurdon Institute, Cambridge, United Kingdom).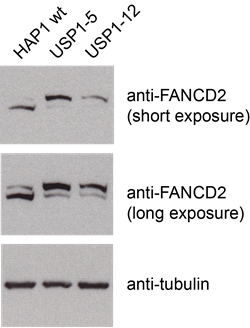 Experimental validation
Deubiquitination of FANCD2 by USP1 is impacted in a USP1 knockout cell lines.
Cells were washed with PBS, lysed in Frackelton buffer (10 mM Tris/HCl pH 7.5, 50 mM NaCl, 30 mM sodium pyrophosphate, 1 % Triton X-100, 50 mM NaF and protease inhibitors).
They were analyzed by SDS-PAGE and Western blotting using anti-FANCD2 (sc-20022 from Santa Cruz). HAP1 wild-type cells were compared to cells bearing a frameshift mutation in USP1.
Explore our popular knockout cell lines for deubiquitinating enzymes genes
Helpful Resources
Save time and de-risk your project. With 7,500 readymade knockouts from Horizon you can validate your research without having to invest valuable time, money, and resources.
Top peer reviewed scientific articles using HAP1 cell lines
Need help?
Our Express and Custom engineering services could help you.