CRISPR activation (CRISPRa) allows researchers to up-regulate specific gene function by activating transcription, without editing the DNA.
Visit our CRISPRa applications page to learn more.
The Horizon CRISPRmod CRISPRa system requires two components to operate: a CRISPRa guide RNA and a catalytically deactivated Cas9 (dCas9) fused to transcriptional activators (VPR). Our CRISPRa reagents provide a straightforward, efficient set of tools to study a gene's function by overexpression in its native context.
CRISPRa reagent selection
There are many options and considerations for CRISPRa experimental conditions. Generally, users achieve the most robust activation when working with a stable population of dCas9-VPR expressing cells.
Order CRISPRa guide RNA
An ideal delivery method for CRISPR activation in difficult-to-transfect cells.
Co-transfect with tracrRNA for a DNA-free CRISPR activation workflow.
Single reagent – dCas9-VPR + sgRNA in one vector for easy gene to cell delivery.
CRISPRa dCas9 solutions
"CRISPRa-ready" cell lines - simply introduce guide RNA for targeted gene activation.
Option to co-express fluorescent marker or antibiotic resistance for straightforward enrichment.
Lentiviral dCas9-VPR vectors for robust gene activation in a broad range of relevant cell types.
SAM transcriptional activation system
For use with synthetic CRISPRa crRNA and a stable cell line expressing both components (NLS-dCas9-VP64 and MS2-p65-HSF1) of the SAM activation system.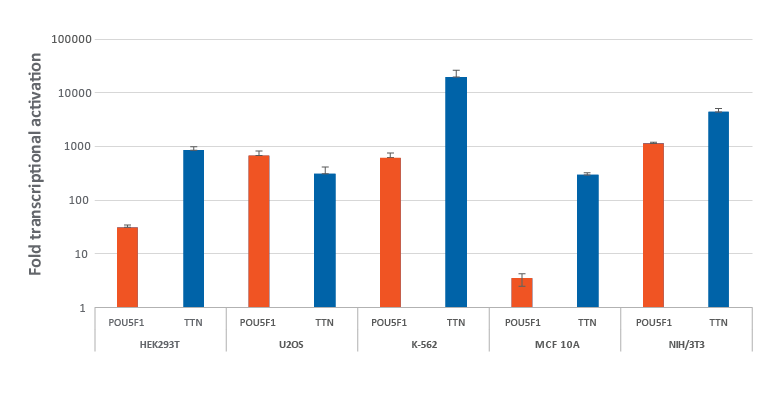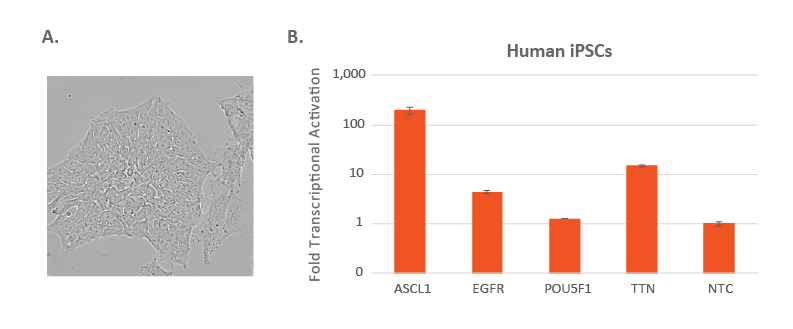 CRISPRa synthetic guide RNA & controls
Offering coverage of the human and mouse genomes, these synthetic RNAs are modified for nuclease resistance and available as pooled or individual crRNA reagents.

Pooled or individual crRNA controls for assessment of optimal experimental conditions for gene activation

Non-targeting controls to evaluate baseline cellular responses to CRISPRa components in the absence of gene target-specific crRNA

Trans-activating CRISPR RNA (tracrRNA) is a synthetic, HPLC-purified, long RNA required for use with crRNA to form the complex that programs dCas-VPR. It is modified for nuclease resistance.
:
CRISPRa lentiviral guide RNA & controls
Lentiviral particles or glycerol stocks of vector-based single guide RNA are predesigned for genome-wide coverage of human and mouse genes

Control sgRNAs targeting well-characterized genes to determine the effectiveness of your experimental conditions for maximum activation

Non-targeting controls to evaluate baseline cellular responses to CRISPRa components in the absence of target-specific sgRNA
CRISPRa dCas9-VPR reagents
"CRISPRa ready" cells in a variety of commonly used backgrounds - simply introduce CRISPRa guide RNA for targeted gene activation.

Co-transfect with CRISPRa synthetic guide RNA for a lentiviral-free workflow.

Used to generate dCas9-VPR expressing stable cell lines.
CRISPRa screening libraries
Upload your own gene list to customize and order plates of predesigned crRNA for CRISPRa studies across tens or thousands of genes.

Arrayed collections of synthetic CRISPR RNA for overexpression screening of gene families, druggable, and whole human genome.
CRISPRa workflows
CRISPRa products may be combined in several ways to support your particular experimental needs. Whether you're doing co-transfection or creating a stable dCas9-VPR cell line (recommended), choose from our synthetic RNA, lentiviral particles, or glycerol stock (plasmid) sgRNA, and combine with dCas9-VPR plasmid or lentiviral particles.
| | |
| --- | --- |
| CRISPRa with stably expressing dCas9-VPR cells | CRISPRa plasmid co-transfection |
| | |