Accell eGFP Control siRNA
siRNA delivery without a transfection reagent
Validated positive control siRNA targeting the expressed green fluorescent protein (eGFP) gene, for use in cells from any species. Accell siRNA requires no transfection reagent or viral vector for delivery into difficult-to-transfect cells.
Accell eGFP Control siRNA is designed to target cloning vector pEGFP-N1 (Genbank accession # U55762) and has 100% homology with over 100 additional cloning vectors and transgenic eGFP sequences. Expressed green fluorescent protein (eGFP) is a reporter molecule for monitoring gene expression and protein localization in vivo and in real time. Accell eGFP control siRNA reagents silence expression of the GFP mRNA leading to a detectable decrease of fluorescence observed by fluorescent microscopy or by FACS analysis.
Highlights
Accell siRNA enters cells without the need for transfection reagents, virus (or viral vectors), or instruments
Novel siRNA modifications facilitate uptake, stability, specificity, and knockdown efficiency
Target sequence: 5' GCCACAACGTCTATATCAT 3'
Experimental considerations
Accell siRNA works at a higher concentration than conventional siRNA; recommended 1 µM working concentration
Delivery may be inhibited by the presence of BSA in serum. Optimization studies with serum-free media formulations (Accell Delivery Media) or < 2.5% serum in standard media is recommended
Full-serum media can be added back after 48 hours of incubation. Optimal mRNA silencing is typically achieved by 72 hours or up to 96 hours for protein knockdown
eGFP expression silenced by Accell eGFP siRNA

FKHR-U2OS cells (BioImage) were treated with 1 µM Accell eGFP Control siRNA or Accell Non-targeting siRNA #1 in Accell delivery media. Reduction of eGFP expression is visualized using Cellomics ArrayScan VTI (green= GFP expression; blue= nuclear Hoechst dye).
---
Cell types demonstrating effective silencing with Accell siRNA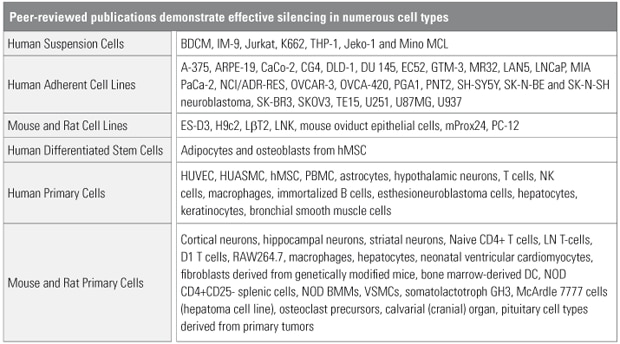 Internal validation and peer-reviewed publications report numerous successes with difficult-to-transfect cell types. See the References tab for a list of publications.
---
The Accell siRNA application protocol simplifies targeted gene knockdown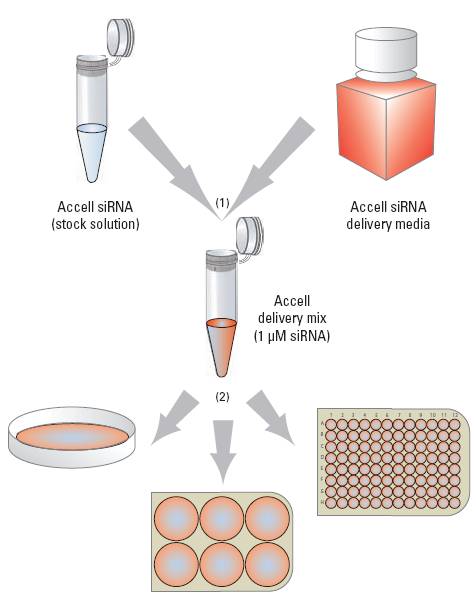 (1) Combine Accell siRNA with Accell delivery media (or other low- or no-serum media). (2) Add Accell delivery mix directly to cells, and incubate for 72 hours.
| | | |
| --- | --- | --- |
| Shipping Condition | | Ambient |
| Storage Conditions | | -20 C |
| Stability at Recommended Storage Conditions | | At least 12 months |
| Hazardous | | No |