Accell Green Cyclophilin B Control siRNA
siRNA for difficult-to-transfect cells
Validated, fluorescent positive control siRNA targeting the PPIB housekeeping gene in human, mouse, or rat. Cytoplasmic presence of label (FAM) permits qualitative assessment of Accell siRNA passive delivery.
Accell Green Cyclophilin B Control siRNA is a fluorescent control reagent that provides highly reliable qualitative assessment of Accell siRNA uptake as determined by fluorescent microscopy to evaluate cytoplamic localization of the dye-labeled Accell siRNA or FACS analysis to determine general uptake. In addition, it acts as a positive control targeting Cyclophilin B. Also known as peptidylprolyl isomerase B (PPIB), cyclophilin B is abundantly expressed in most mammalian cells, and because it is non-essential, knockdown of the corresponding mRNA does not affect cell viability.
Highlights
Targets accession numbers: NM_000942 (Human) or NM_011149 (Mouse) or NM_022536 (Rat)
Novel siRNA modifications facilitate uptake, stability, specificity, and knockdown efficiency
Accell modifications also provide stability against nuclease-mediated degradation
Accell Green is labeled with 6-FAM. Absorbance/Emission Max is 494/520 nm; a FITC filter can be used
Experimental Considerations
Accell siRNA works at a higher concentration than conventional siRNA; recommended 1 µM working concentration
Delivery may be inhibited by the presence of BSA in serum. Optimization studies with serum-free media formulations (Accell Delivery Media) or < 2.5% serum in standard media is recommended
Full-serum media can be added back after 48 hours of incubation. Optimal mRNA silencing is typically achieved by 72 hours or up to 96 hours for protein knockdown
Efficient delivery of Accell Red siRNA to SH-SY5Y cells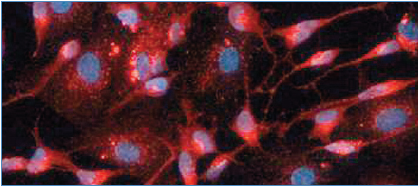 Uptake of Accell siRNA confirmed by fluorescence microscopy. SH-SY5Y cells were treated with 1 µM Accell Red Cyclophilin B Control siRNA in Accell delivery media. (Red fluorescence = Cytoplasmic localization of Accell siRNA; Blue = Nuclear Hoechst dye).
---
Cell types demonstrating effective silencing with Accell siRNA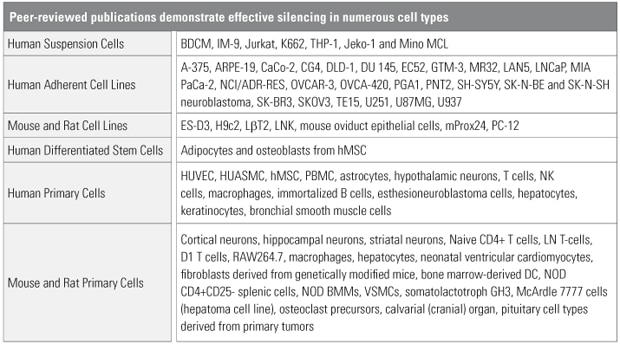 Internal validation and peer-reviewed publications report numerous successes with difficult-to-transfect cell types. See the References tab for a list of publications.
---
The Accell siRNA application protocol simplifies targeted gene knockdown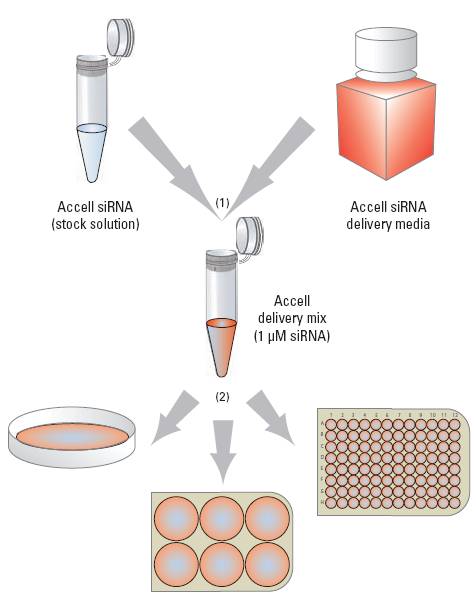 (A) Combine Accell siRNA with Accell delivery media (or other low- or no-serum media). (B) Add Accell delivery mix directly to cells, and incubate for 72 hours.
| | | |
| --- | --- | --- |
| Shipping Condition | | Ambient |
| Storage Conditions | | -20 C |
| Stability at Recommended Storage Conditions | | At least 12 months |
| Hazardous | | No |
Related Products
Accell siRNA Delivery Media
An enriched, serum-free media for use during Accell siRNA application. While not required for use with Accell siRNA, this media provides appropriate serum-free conditions for Accell uptake while maintaining cell health.
Catalog ID:B-005000-100
$19.00
5X siRNA Buffer
Concentrated buffer solution recommended for resuspension and long-term storage of any short, double-strand, or single-strand synthetic RNA molecule. Dilute with RNase-free water prior to use.
Catalog ID:B-002000-UB-100
$93.00
Molecular Grade RNase-free water
Molecular grade water for dilution of 5x siRNA Buffer or resuspension of RNA. RNase-free to prevent degradation of RNA reagents and oligonucleotides.
Catalog ID:B-003000-WB-100
$30.00