Lincode Non-targeting Pool
Negative control pool of four siRNAs with three or more mismatches to any human, mouse or rat lncRNA or protein-coding gene. Dual-strand modifications reduce potential off-targets. Ideal for determination of baseline cellular responses in RNAi experiments.
Lincode Non-targeting Control Pool is the ideal negative control for RNAi experiments for knockdown of human long, noncoding RNAs (lncRNAs). The four component Lincode Non-targeting siRNAs are designed to leverage seed-region optimization and proprietary dual-strand modification patterns to have fewer off-targets than traditionally designed negative control siRNAs. Changes in cells treated with these controls reflect a baseline cellular response that can be compared to the levels in cells treated with target-specific siRNA.
Highlights
Ideal negative control for RNAi experiments in human, mouse, and rat cells
Chemically matched for use with Lincode siRNA reagents
Screened by genome-wide microarray analysis for minimal off-targets
Note
This control is identical to the ON-TARGETplus Non-targeting Control Pool (Cat# D-001810-10). It is also being sold under the Lincode name for ease of ordering by customers new to RNAi. Either catalog item is suitable for Lincode and ON-TARGETplus siRNA experiments.
Sense strand activity is prevented by siRNA modifications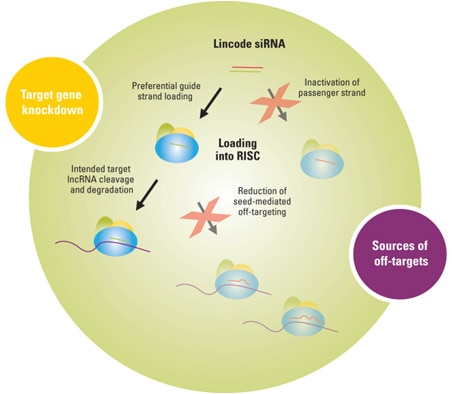 Lincode siRNAs are modified with a proprietary dual-strand modification that improves siRNA functionality. Additionally, off-targets are reduced due to:
Inactivation of passenger strand activity; driving preferential loading of the guide strand into RISC
Novel seed region modifications for disruption of microRNA-like off-targets
| | | |
| --- | --- | --- |
| Shipping Condition | | Ambient |
| Storage Conditions | | -20 C |
| Stability at Recommended Storage Conditions | | At least 12 months |
| Hazardous | | No |