siGENOME GAPD Control siRNA
A validated positive silencing control targeting the GAPD gene in human cell lines. Useful for determination of optimal RNAi experimental conditions.
siGENOME GAPD Control siRNA is a validated positive control, guaranteed to silence GAPD in human cells. siGENOME siRNA positive control designs are highly functional, chemically synthesized and mostly unmodified siRNA duplexes that allow positive silencing for validation of experimental design and detection methodologies.
Also known as glyceraldehyde-3-phosphate dehydrogenase or GAPDH, GAPD is an important enzyme in carbohydrate metabolism that is well conserved across the animal kingdom. This gene is abundantly expressed in most cells and because it is non-essential, knockdown of the corresponding mRNA does not affect cell viability.
Highlights
Targets Human accession number NM_002046
siRNA with high efficiency of silencing in human cell lines
siGENOME RNAi controls give reliable, consistent results across cell lines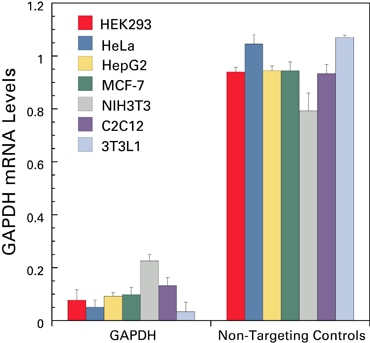 GAPD mRNA levels were quantified in human and mouse cell lines (24 hours post-transfection, 100 nM siRNA): siGENOME GAPD Control siRNA (D-001830-01, (D-001830-02 ), non-targeting controls (D-001210-01, D-001206-13). Values were normalized to lipid alone (± SD n=3).