shMIMIC Inducible Lentiviral microRNA
shMIMIC Inducible Lentiviral microRNAs combine all the advantages of the unique shMIMIC microRNA expression design with the Tet-On 3G tetracycline-inducible expression system and the flexibility of SMARTchoice promoter and reporter options.

shMIMIC Inducible Lentiviral microRNA
shMIMIC lentiviral microRNA designs are created for the robust over-expression of each mature human, mouse and rat microRNA in the miRBase database while minimizing the effects of the star (*), or passenger, strand. Inducible control of the shMIMIC microRNA and the reporter gene are conferred by the Tet 3G promoter (PTRE3G), while the expression of the Tet-On® 3G transactivator protein is under the control of a constitutive RNA pol II promoter.
The SMARTchoice inducible vector customization options include four inducible promoters (mCMV, PGK, hEF1α and mEF1α) and two reporter (TurboGFP and TurboRFP) options. shMIMIC Inducible Lentiviral microRNA designs are cloned and packaged into lentiviral particles on demand and provided as glycerol stocks and high-titer (≥ 1x107 TU/mL) viral particles.
Highlights
Unique, patented expression scaffold for consistent and correct processing of the mature microRNA
Universal primary context ensures that each mature microRNA is correctly and consistently processed
Design modifications promote preferential loading of the mature microRNA into RISC and robust function
Tight control of shMIMIC microRNA and reporter gene expression utilizing the latest generation Tet-inducible expression technology, the Tet-On® 3G Inducible System
Unsurpassed flexibility conferred by the SMARTchoice suite of vector options maximizes success in a broad spectrum of cell types and applications
High-titer, concentrated lentiviral particles permits delivery into cells refractory to lipid-based delivery
Glycerol stocks support direct plasmid delivery to cells and act as a renewable resource for future experiments
Lentiviral Particle Product Format, Shipping and Storage Information
shMIMIC Inducible Lentiviral microRNAs are made-to-order with your choice of promoter and reporter. Choose between 100 µL and 200 µL volumes, enough purified and concentrated lentiviral particles to perform high-confidence experiments with biological replicates in difficult-to-transfect cells.

Lentiviral particles require an estimated 4- to 6-week manufacturing time. Additional transit time should be expected for international shipment to account for customs and regulatory clearances and overseas transport.

shMIMIC lentiviral particles are shipped on dry ice for overnight domestic delivery or priority international delivery outside of the USA. shMIMIC lentiviral particles can be stored frozen at -80°C for 12 months without a significant loss in titer.
SMARTvector controls
Inducible expression of positive and negative controls with your choice of four promoters and two reporters.
Elements of the shMIMIC Inducible microRNA Lentiviral Backbone

| Vector Element | Utility |
| --- | --- |
| 5' LTR | 5' Long Terminal Repeat necessary for lentiviral particle production and integration of the construct into the host cell genome |
| Ψ | Psi packaging sequence allows viral genome packaging using lentiviral packaging systems |
| PTRE3G | Inducible promoter with Tetracycline Response Element is activated by the Tet-On 3G protein in the presence of doxycycline |
| tGFP or tRFP | TurboGFP or TurboRFP reporter for visual tracking expression upon doxycycline induction |
| SMARTvector universal scaffold | Optimized proprietary scaffold based on native primary microRNA in which gene-targeting sequence is embedded |
| PuroR | Puromycin resistance permits antibiotic selection of transduced cells |
| 2a | Self-cleaving peptide enables the expression of both PuroR and Tet-On 3G transactivator from a single RNA pol II promoter |
| Tet-On 3G | Encodes the doxycycline-regulated transactivator protein, which binds to PTRE3G promoter only in the presence of doxycycline |
| WPRE | Woodchuck Hepatitis Post-transcriptional Regulatory Element enhances transgene expression in target cells |
| 3' SIN LTR | 3' Self-inactivating Long Terminal Repeat for generation of replication-incompetent lentiviral particles |
---
An Optimized Inducible Mature microRNA Over-expression System in a Single Vector

The shMIMIC Inducible microRNA vectors incorporate the Tet-On 3G bipartite induction system a 3rd-generation Tet-inducible system significantly improved and optimized for minimal basal expression (lowest leakiness) and potent activation upon induction (Zhou X, et al., Gene Therapy 13, 1382 (2006) and Loew R, et al., BMC Biotechnol. 10, 81 (2010)). The Tet-On 3G Inducible System permits tightly controlled shMIMIC microRNA expression and study of gene function in vivo and in vitro with unprecedented precision.
---
shMIMIC Inducible microRNA promoter activities differ across cell types.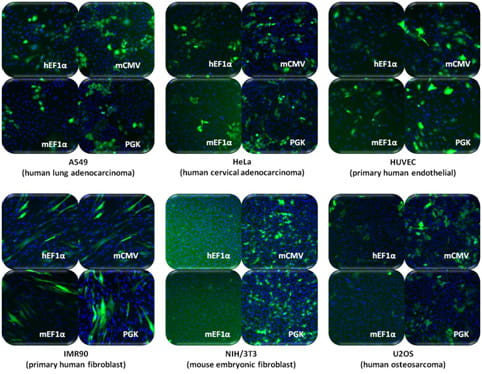 SMARTchoice Inducible Non-targeting Controls were used to transduce the indicated cell types at MOI = 0.3. 24 h after transduction, expression of the non-targeting shRNA and PuroR was induced with 1 μg/mL doxycycline. After 48 h of culture in the presence of doxycycline, cells were stained with Hoescht-33342 and nuclei (blue) and TurboGFP (green) were imaged. While ~30% of the cells in the field have been transduced, some images may appear to contain fewer than 30% TurboGFP-positive cells due to low TurboGFP expression, indicative of low constitutive promoter activity, in a particular cell type.
---
shMIMIC microRNAs induce repression of endogenous human microRNA targets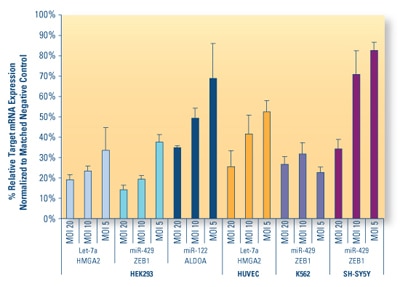 Figure 3. HEK293, HUVEC, K562, or SH-SY5Y cells were transduced in biological triplicate with specific shMIMIC microRNA or negative control viral particles.
---
SMARTchoice Inducible shRNAs enable tightly controlled knockdown of essential genes in a time- and doxycycline dose-dependent manner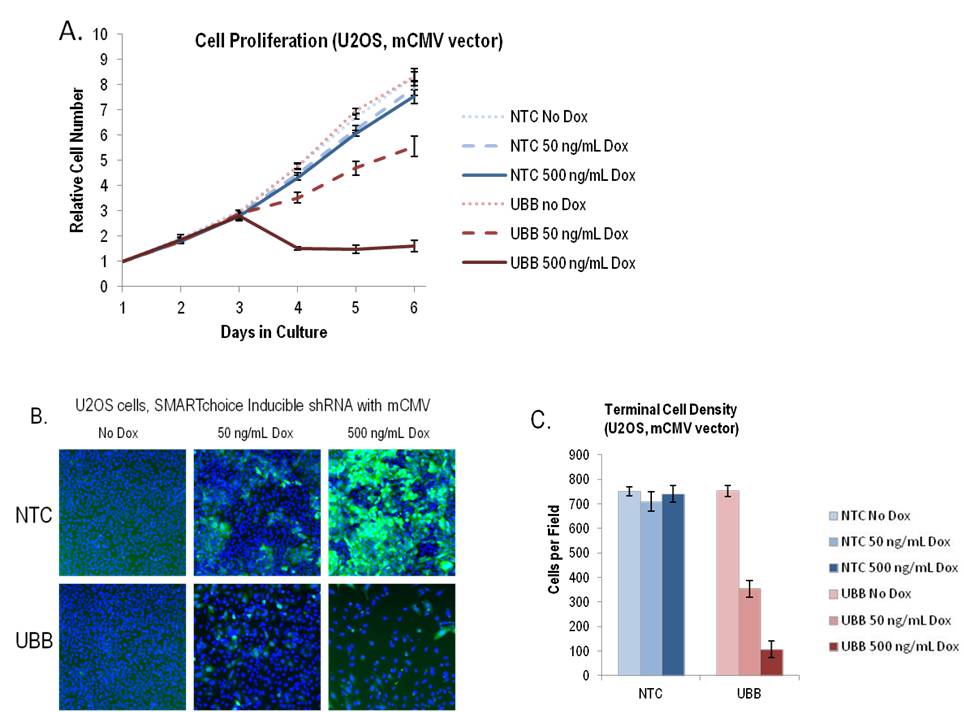 A. U2OS cells were transduced at MOI = 0.1 with SMARTchoice Inducible mCMV vectors carrying either a non-targeting control shRNA (NTC) or an shRNA directed against the ubiquitin B (UBB) gene. Cells were selected for 3 days with 1.5 μg/mL puromycin. After selection, cells were seeded at 2000 cells per/well in 96-well plates. 24 hours later (Day 1), shRNA expression was induced with the indicated dose of doxycycline, and cell number was then measured each day with the Cell Titer-Glo assay (Promega). Each data point represents the mean and standard deviation of six independent wells. B. On Day 6, following 5 days of exposure to doxycycline, the cells were stained with Hoescht 33342 and cell nuclei (blue) and TurboGFP (green) were imaged on the ArrayScan VTI HCS Reader. C. Cell density, defined as number of nuclei per field was computed for 18 fields per condition.
Tet -inducible expression system references
Loew R, Heinz N, et al., Improved Tet -responsive promoters with minimized background expression. BMC Biotechnol . 10, 81 (2010).
Zhou X, Vink M, et al., Optimization of the Tet -On system for regulated gene expression through viral evolution. Gene Ther . 13(19), 1382-1390 (2006).
Related Products
SMARTvector Inducible Lentiviral Controls
The SMARTvector Inducible RNAi Controls are cost-effective tools for determining optimal conditions for delivery prior to using gene-specific SMARTvector Inducible Lentiviral shRNAs and shMIMIC Inducible Lentiviral microRNAs