CCSB-B Lentiviral Expression Gene Family Libraries
Expression-ready CCSB–Broad Lentiviral Expression clones that have been arrayed into pre-defined gene family libraries.

The CCSB–Broad Lentiviral Expression Library is a genome-scale expression collection developed by researchers at Dana-Farber Cancer Institute and The Broad Institute to provide a sequence confirmed* collection of human ORFs in an expression-ready lentiviral system. This library was derived from the hORFeome V8.1 and created to enable targeted experiments and large-scale screening in diverse cell types.
More information on the creation of this library can be found in the following publication: X. Yang, et al., A public genome-scale lentiviral expression library of human ORFs. Nat Methods 8(8), 659-661 (2011).
Highlights
CCSB-Broad Lentiviral Expression Clones (OHS6085) were fully sequenced and match their accessions with no more than a single mutation within the open reading frame
Lentiviral expression vector – allows creation of lentiviral particles for transduction of almost any mammalian cell type
CMV promoter drives strong expression of the ORF construct
Blasticidin resistance allows for multiplex experiments in cells containing Puromycin or Neomycin resistance
V5 tag facilitates pull-downs and co-immunoprecipitation experiments in order to determine protein-protein interactions, also allows for labeling of expressed ORFs in cells via immunofluorescence
Note
In order to provide the maximum gene-coverage for this collection, we have chosen to make the following types of clones available at a discount:
CCSB-Broad Lentiviral Expression Mutant Clones (OHS6269) are fully sequenced and have been found to contain more than 1 mutation within the open reading frames
CCSB-Broad Lentiviral Expression Unsequenced Clones(OHS6270) have not been fully sequenced
CCSB-Broad Lentiviral Expression Partially Sequenced Clones (OHS6271) have been partially sequenced, and the total number of mutations is unknown.
For all CCSB-Broad clones provided, designation as fully sequenced, mutant, unsequenced, and partially sequenced is based solely on the original 2011 published data; empirical sequencing results for individual clones and their updated information about can be viewed at the Broad Institute's Public TRC Portal: http://www.broadinstitute.org/rnai/public/clone/search
Disclaimer
Dharmacon is a distributor of multiple gene expression clone collections (cDNAs and ORFs). These clone collections were generated by groups outside of Dharmacon and thus the quality of the collections is largely dependent upon what Dharmacon received from these groups. Specific clone information and plate coordinates were provided to Dharmacon by the suppliers of these clone collections. Dharmacon has not sequence verified each individual clone from these collections. These collections and individual clones are distributed "as is" with no additional product validation or guarantees. Dharmacon has established quality procedures to ensure that individual clones are picked from the identified well in a plate, grown on the correct antibiotic, and are free of phage contamination. Due to the quality of the information provided to Dharmacon, the clone you receive might not match the expected clone. If this occurs, please contact Scientific Support Team.
hORFeome v8.1 - Function by Gene ID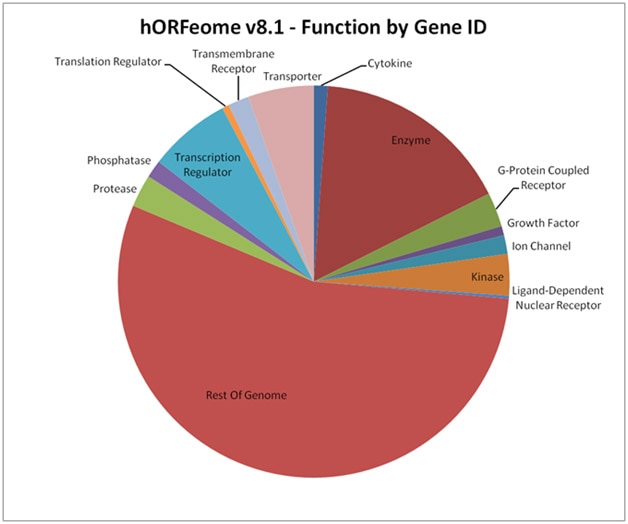 | Gene Function | % |
| --- | --- |
| Cytokine | 1% |
| Enzyme | 16% |
| G-Protein Coupled Receptor | 3% |
| Growtd Factor | 1% |
| Ion Channel | 2% |
| Kinase | 3% |
| Ligand-Dependent Nuclear Receptor | 1% |
| Rest Of Genome | 55% |
| Protease | 3% |
| Phosphatase | 1% |
| Transcription Regulator | 7% |
| Translation Regulator | 1% |
| Transmembrane Receptor | 2% |
| Transporter | 5% |
| Grand Total | 100% |
Safety data sheets
Technical manuals