Accell siRNA Delivery Media
An enriched, serum-free media for use during Accell siRNA application. While not required for use with Accell siRNA, this media provides appropriate serum-free conditions for Accell uptake while maintaining cell health.
Accell siRNA Delivery Media is an enriched, serum-free media specially formulated and optimized for Accell siRNA delivery. This product is the result of thorough testing of numerous formulations, and consistently shows strong delivery, knockdown, and high cell viability when used with Accell siRNA.
While not required for use with Accell siRNA, this media provides appropriate serum-free conditions for Accell uptake while maintaining cell health. It may be replaced with another serum-free or low-serum media, or supplemented with additives known to be necessary for cell health.
Highlights
Validated in over 30 cell types for successful Accell siRNA application
Maintains cell health while providing recommended serum-free application conditions
Can be customized to your cell type with additives necessary for cell viability
Experimental Considerations
There are many cell-type specific considerations when working in low or no-serum conditions. Successful Accell siRNA results have been reported with a number of alternative conditions:
Supplemental serum up to 2.5% (high serum conditions will interfere with Accell uptake)
Growth factors and other additives (e.g. B27, insulin, glucose) necessary for cell health
Standard cell culture media formulations (with reduced serum)
Serum-free formulations (e.g. Neurobasal media)
We encourage testing of supplements or conditions that are known to benefit your particular cell type. Review the Accell Delivery Protocol for additional details.
| | | |
| --- | --- | --- |
| Shipping Condition | | Refrigerated Gel Packs |
| Storage Conditions | | 4 C |
| Stability at Recommended Storage Conditions | | At least 12 months |
| Hazardous | | No |
The Accell siRNA application protocol simplifies targeted gene knockdown
(A) Combine Accell siRNA with Accell delivery media (or other low- or no-serum media). (B) Add Accell delivery mix directly to cells and incubate for 72 hours.
---
Effective Accell siRNA silencing in alternative media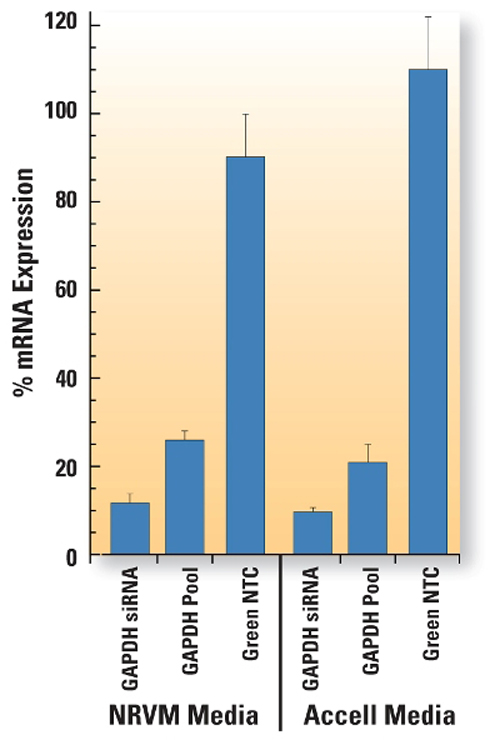 Neonatal rat ventricular myocytes were incubated with 1 μM Accell Green (A; Cat# D-001950-01) or Red (B; Cat# D-001960-01) Non-targeting siRNA for 72 hours in Accell delivery media (Cat# B-005000). Nuclei were stained with DAPI (blue). Labeled control uptake showed diffuse cytoplasmic localization in nearly all cells. The bar graph indicates the level of gene silencing achieved with Accell GAPD Control siRNA (Cat# D-001930-03) and Accell GAPD Control Pool (Cat# D-001930-30) control reagents when used with neonatal rat ventricular myocyte (NRVM) media or Accell delivery media. Myocytes were prepared as described in Maass AH & Buvoli M. Cardiomyocyte preparation, culture, and gene transfer. Methods in Molecular Biology 2007;366: 321-30. mRNA expression was determined by QuantiGene branched DNA assay (Panomics).
---
Cell types demonstrating effective silencing with Accell siRNA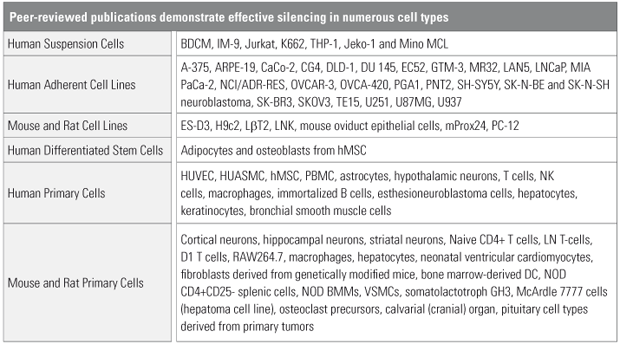 Internal validation and peer-reviewed publications report numerous successes with difficult-to-transfect cell types. See the References tab for a list of publications.
References
Accell siRNA reagents in neuronal cells
Citations
Accell siRNA reagents in neuronal cells
Accell siRNA reagents in immunological cells
Accell siRNA reagents in primary, stem, tumor and other cell types