Tailored projects
We continually strive to meet your requirements for experimental design and analysis output.
A white-gloved approach.
Define project scope with your dedicated project team
Consultative approach
Obtain frequent and regular updates
Receive comprehensive, in-depth analysis of results
3D screening service capabilities
Perform drug screens in more physiologically relevant models!
200 cell lines from our OncoSignature™ library grown in 3D spheroids.
Poster: custom drug screen
Read about how combination drug screens helped discover agents resulting in enhanced efficacy in pre-clinical models of multiple myeloma.
'ATL313, A Potent, and Selective A2A Agonist as a Novel Drug Candidate for the Treatment of Multiple Myeloma'
Custom screening options
Select from over 650 cancer cell lines or 4000+ isogenic mutant and wild type cell pairs
Bench-marking against a choice of over 350 standard-of-care drugs
Flexible options: dose matrix format, assay endpoints, drug sequencing and environmental conditions, 2D versus 3D models
Identify molecular features responsive to your therapeutic
Interpretative report or combination analysis
Also available
Enhancer Screening
Look for selective pipeline candidate enhancers, approved therapeutics, emerging targeted agents and molecular probes.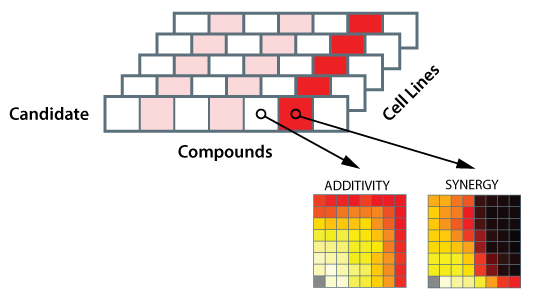 Pairwise Screening
Identify novel synergistic combinations of pipeline candidates, emerging targeted agents, and approved drugs.