Horizon as part of an Industry Advisory Committee led by YCharOS, Inc is providing HAP1 cell lines for antibody characterization enabling the research of the broader scientific community
Horizon Discovery is proud to announce that we are collaborating with YCharOS, Inc., an open science company with the mission of characterizing commercially available antibody reagents for all human proteins, as members of YCharOS's newly formed Industry Advisory Committee (IAC). The role of the IAC is to support YCharOS in realizing its purpose to enable users of antibodies, grant funders and the broader scientific community to better evaluate commercially available antibody reagents and associated knockout cell lines.
Horizon Discovery is specifically contributing HAP1 knockout cell lines for antibody characterization and providing support, advice, guidance, and key technical input to overall project deliverables.
"YCharOS is putting commercial antibodies to the test and we are delighted that we are able to work with them so that our HAP1 knockout cell lines can be used to characterize a wide range of antibodies," commented Travis Hardcastle, Product Manager, Horizon Discovery. "Horizon is committed to quality and the data that will be generated by YCharOS, through open science principles, will be an invaluable open access resource to the research community globally."
| | |
| --- | --- |
| | |
| Travis Hardcastle | Dr. Carl Laflamme |
| Product Manager | CSO |
| Horizon Discovery | YCharOS |
Dr. Carl Laflamme, CSO, YCharOS, Inc., said: "Horizon's HAP1 knockout cell lines are a precious resource for antibody characterization, and we are excited by this partnership which will enable us to continue on our mission to conduct characterization studies on antibodies for every human protein. Our goal is to become the source for open, unbiased, scientifically rigorous antibody characterization studies and working with Horizon will allow us to realize this."
To date Horizon has provided 36 HAP1 knockout cell lines to YCharOS. The first results, covering antibodies targeting 15 proteins of relevance to neurology and pharmacology have been posted to Zenodo, the open science platform run by CERN. Here we highlight specific results for Peroxiredoxin-6 (PRDX6) and Equilibrative nucleoside transporter 1 (ENT1) protein.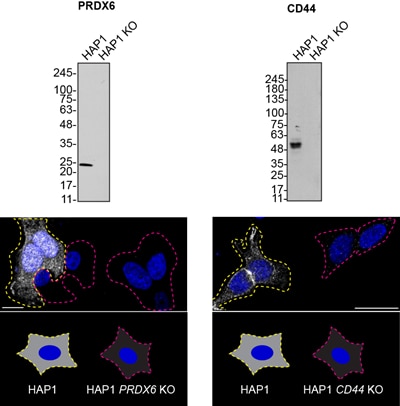 Our proprietary HAP1 knockout cell lines, consisting of over 7,500 cell lines, is the largest bank of isogenic cell lines and is trusted by academia, biotech, and pharma research labs around the world. HAP1 is a human near-haploid cell line derived from the male chronic myelogenous leukemia (CML) cell line KBM-7. Horizon's robust HAP1 knockout cell lines are suitable to any application, from Target ID and Validation (TIDVAL) to antibody validation. For further information on Horizon's HAP1 knockout cell lines see this link.
To learn more visit the YCharOS, Inc. website and see their recent press release.