Yeast ORF
The Yeast ORF collection consists of Gateway-adapted yeast ORFs cloned into expression plasmids. ORFs can be expressed as fusion proteins or moved to other vectors.

The Yeast ORF library was designed for use in high-throughput chemical and genetic screens in Saccharomyces cerevisiae. This collection consists of over 4,900 yeast open reading frames (ORFs) that have been adapted with Gateway recombination sites and subsequently cloned into a yeast expression vector. It is available as a library of plasmids transformed into E. coli or of yeast strains expressing the corresponding ORF as a C-terminal fusion protein under control of a regulatable GAL promoter.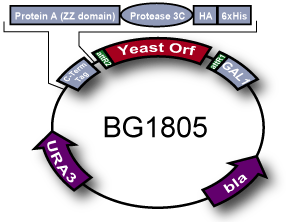 ORFs in this collection can be expressed directly in their expression vector or transferred to other Gateway-adapted vectors. The ORF expression vector plasmid, pBG1805, encodes a C-terminal fusion tag that includes 6xHIS, single HA epitope, 3C protease cleavage site, and the IgG-binding domain from Protein A.
Highlights
ORF strains provide a shortcut to expressing yeast proteins with no PCR or cloning required
The optional E. coli format enables Gateway-adapted cloning to alternative yeast strains and plasmids
All yeast-format constructs have been verified by western blotting to express protein of the correct length
The versatile 19-kDa tandem fusion tag enables a range of detection and affinity purification strategies. After cleavage with 3C protease, purified proteins are left with a 4.8kDa C-terminal tag
Yeast ORFs have been Gateway-cloned into vector pBG1805 in frame with a C-terminal triple affinity tag comprised of 6xHis-HA-3C protease site - Protein A (ZZ domain). The resulting fusion construct is under control of a regulatable GAL promoter.
Note
We provide certain clone resources developed by leading academic laboratories. Many of these resources address the needs of specialized research communities not served by other commercial entities. In order to provide these as a public resource, we depend on the contributing academic laboratories for quality control.
Therefore, these are distributed in the format provided by the contributing institution "as is" with no additional product validation or guarantee. We are not responsible for any errors or performance issues. Additional information can be found in the product manual as well as in associated published articles (if available). Alternatively, the source academic institution can be contacted directly for troubleshooting.
Individual Clones
Within 2 to 3 business days of receiving your order, we will ship your clone at room temperature via express delivery. Store the stock clone at –80°C. Clones are provided as a live culture in a 2 mL tube.
Each tube contains:
E. coli: LB media supplemented with ampicillin and 8% glycerol
Yeast: SD-URA medium supplemented with 15% glycerol
High Volume Orders
Orders of greater than 50 clones will be provided in microtiter plates. These will ship on dry ice via overnight delivery and should be stored at –80°C immediately upon receipt.
Complete Collection
Orders for the entire Yeast ORF Collection are provided in 96-well microtiter plates. These will ship on dry ice via overnight delivery and should be stored at –80°C immediately upon receipt.
Safety data sheets
Technical manuals