Accell Control siRNA Kit - Red
Everything you need to validate Accell technology in your experimental system
A kit containing four species-specific validated positive, negative,and DY-547-labeled siRNA controls to assess Accell self-delivering siRNA technology in your difficult-to-transfect cells. Includes resuspension buffer and Accell delivery media.
The Accell siRNA Control Kit - Red is designed to be a starting point for assessing Accell technology in your cell type and to ensure effective controls during initial gene silencing experiments with Accell siRNA reagents. This kit includes 5nmol tubes of each of the following four validated control siRNAs as well as 5X resuspension buffer and Accell siRNA delivery media.
Highlights
siRNA Controls modified with patent-pending Accell modification pattern to enable uptake by difficult-to-transfect cells
Designed, modified, and microarray-confirmed to have minimal targeting of known genes in human, mouse and rat cells
Species-specific kits available for human, mouse, or rat
Includes
Experimental considerations
Accell siRNA works at a higher concentration than conventional siRNA; recommended 1µM working concentration
Delivery may be inhibited by the presence of BSA in serum. Optimization studies with serum-free media formulations (Accell Delivery Media) or <2.5% serum in standard media is recommended
Full-serum media can be added back after 48 hours of incubation. Optimal mRNA silencing is typically achieved by 72 hours or up to 96 hours for protein knockdown
| | | |
| --- | --- | --- |
| Shipping Condition | | Refrigerated Gel Packs |
| Storage Conditions | | -20 C, 4 C |
| Shelf Life | | 12 Months |
| Stability at Recommended Storage Conditions | | At least 12 months |
| Hazardous | | No |
Efficient delivery of Accell Red siRNA to SH-SY5Y cells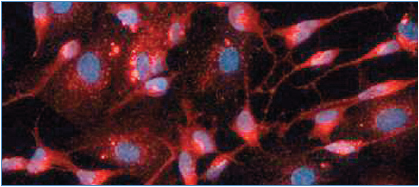 Uptake of Accell siRNA confirmed by fluorescence microscopy. SH-SY5Y cells were treated with 1 μM Accell Red Cyclophilin B Control siRNA in Accell delivery media. (Red fluorescence = Cytoplasmic localization of Accell siRNA; Blue = Nuclear Hoechst dye).
---
Accell Delivery and Gene Silencing in Cardiomyocytes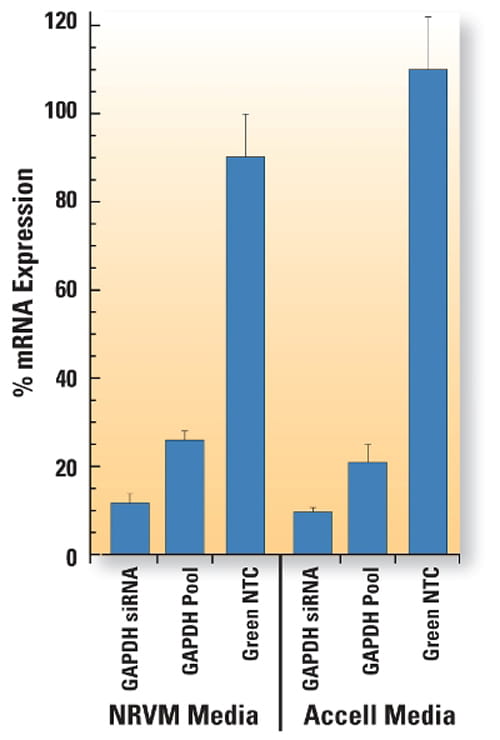 Neonatal rat ventricular myocytes were incubated with 1µM Accell Green (A; Cat# D-001950-01) or Red (B; Cat# D-001960-01) Non-targeting siRNA for 72 hours in Accell delivery media (Cat# B-005000). Nuclei were stained with DAPI (blue). Labeled control uptake showed diffuse cytoplasmic localization in nearly all cells. The bar graph indicates the level of gene silencing achieved with Accell GAPD Control siRNA (Cat# D-001930-03) and Accell GAPD Control Pool (Cat# D-001930-30) control reagents when used with neonatal rat ventricular myocyte (NRVM) media or Accell delivery media. Myocytes were prepared as described in Maass AH & Buvoli M. Cardiomyocyte preparation, culture, and gene transfer. Methods in Molecular Biology 2007;366: 321-30. mRNA expression was determined by QuantiGene branched DNA assay (Panomics).
---
Cell types demonstrating effective silencing with Accell siRNA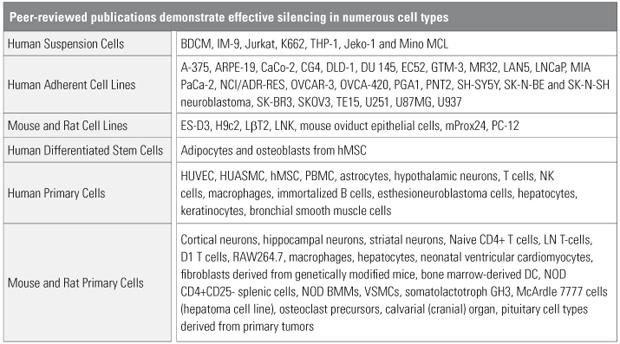 Internal validation and peer-reviewed publications report numerous successes with difficult-to-transfect cell types. See the References tab for a list of publications.
---
The Accell siRNA application protocol simplifies targeted gene knockdown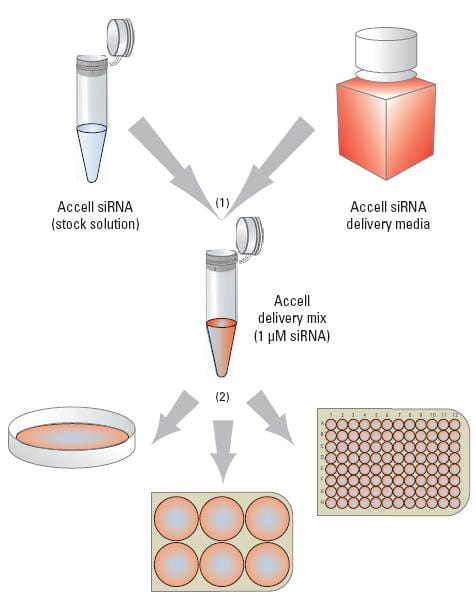 (1) Combine Accell siRNA with Accell delivery media (or other low- or no-serum media). (2) Add Accell delivery mix directly to cells, and incubate for 72 hours.