TRIPZ Inducible Lentiviral shRNA Libraries
Study the function of essential genes, validate cellular phenotypes, and generate regulatable knockdown cell lines with TRIPZ Inducible Lentiviral shRNA.
Genome-scale TRIPZ Inducible Lentiviral shRNA library arrayed in 96-well plates.

TRIPZ Lentiviral shRNA was developed in collaboration with Dr. Greg Hannon (CSHL) and Dr. Steve Elledge (Harvard). This library combines the design advantages of microRNA-adapted shRNA with the TRIPZ lentiviral inducible vector to create a powerful RNAi trigger capable of producing gene silencing in most cell types. The vector is engineered to be Tet-On® and produces tightly regulated induction of shRNA expression in the presence of doxycycline.
Highlights:
Tet-inducible shRNA expression permits reversible and regulatable gene knockdown
microRNA-adapted shRNA design enhances specificity and potency of silencing
TurboRFP fluorescent reporter allows visual tracking of shRNA expression
Tet-On® and Tet-Off® configurations are possible
Lentiviral vector enables transductions of primary and non-dividing cells
The TRIPZ Inducible Lentiviral shRNA library is provided in 96-well microtiter plates containing frozen stock cultures of E. coli in LB (low salt) broth with 8% glycerol, carbenicillin (100 µg/mL) and zeocin (25 µg/mL). shRNA libraries are shipped frozen on dry ice. We check all cultures for growth prior to shipment.
Tet-On or Tet-Off configurations
The pre-designed TRIPZ shRNA collection is configured for expression of an shRNA in the presence of doxycycline (Tet-On configuration). However, it is possible to alter the construct such that expression occurs in the absence of doxycycline (Tet-Off configuration). The pTRIPZ vector can be easily converted to a Tet-Off configuration by Cre-loxP site-specific recombination or a standard restriction digest. The rtTA3 is flanked by loxP sites allowing in vitro or in vivo excision of the rtTA3 by exposure to Cre recombinase. The rtTA3 is also flanked by a pair of BamHI restriction sites allowing for straightforward cleavage and ligation of the vector to remove the rtTA3. Without the rtTA3 present, a tetracycline transactivator (tTA) can be added extraneously to the system allowing it to function as Tet- Off®; where expression of shRNA and TurboRFP are alternatively induced in the absence of doxycycline.
Please note that the GIPZ Lentiviral shRNA and TRIPZ Inducible Lentiviral shRNA are not compatible with third generation packaging systems, such as ViraPower from Invitrogen. We recommend the Trans-Lentiviral Packaging System to generate lentiviral particles for transduction of GIPZ and TRIPZ shRNA.
pTRIPZ lentiviral vector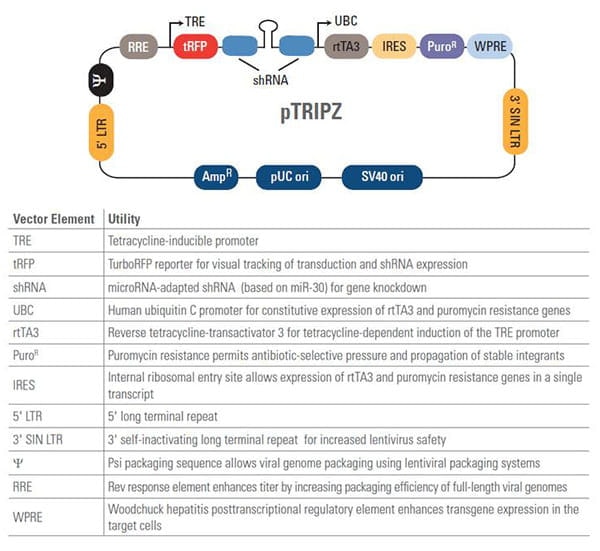 Figure 1 | High levels of knockdown achieved after induction with doxycycline.
---
Knockdown induced by doxycycline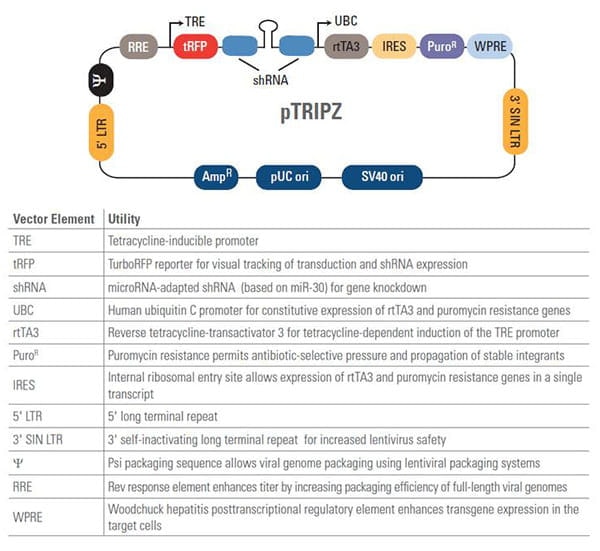 Figure 2 | High levels of knockdown achieved after induction with doxycycline. Knockdown of indicated target genes in HEK293T cells compared to a non-silencing control as determined by QPCR. Each bar represents an experimental duplicate while QPCR was performed triplicate using 18S rRNA as an internal reference. HEK293T cells were transduced at an MOI = 0.3, puromycin selected (5 µg/mL), and induced with doxycycline (1 µ/mL).
---
shRNA expression is not leaky in the absence of doxycycline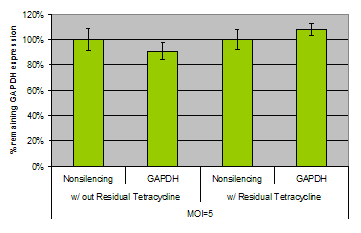 Figure 3 | Residual tetracycline in media does not result in leaky expression. The pTRIPZ vector does not express shRNA to GAPDH at levels capable of producing significant knockdown in the absence of doxycyline (whether in media with residual tetracycline or in special tetracycline free media).
Each bar represents four tissue culture replicates, all triplicated in QPCR for a total of 12 data points each. Statistical analysis was performed, and no statistically significant differences were found between nonsilencing and GAPDH shRNA samples. Transduction at an MOI = 5 was performed in HEK293T cells after which cells were selected with 2 µg/mL puromycin for 96 hrs.
Safety data sheets
Selection guides
Technical manuals
Related Products
SMARTvector Inducible Lentiviral shRNA Pooled Libraries
Combine the advantages of rationally designed shRNAs and the flexibiltiy of selectable promoters and reporters with the tight control of the Tet-On 3G tetracycline-inducible transactivator for unmatched shRNA expression
OptiPlate
The OptiPlate™ is PerkinElmer's most versatile microplate, used in many different applications, assays, and instruments. The optimized well design and high-quality plastics provide low background and crosstalk.
PhenoPlates
The PhenoPlates line of microplates have been engineered to deliver both performance and superior images for high-content application