Human Accell siRNA Library - Druggable Genome
Accell siRNA permits RNAi screening in difficult-to-transfect cells with no transfection reagent, virus, or electroporation.
An arrayed siRNA collection targeting human genes that are potential therapeutic targets
The Accell Druggable Genome library contains the genes that are considered potential targets for therapeutics, and have been assembled from multiple curated databases (see References tab). This extensive library is delivered as eight distinct subset siRNA libraries in the 96-well format. In the 384-well format the first seven subsets are plated continuously to reduce partial plates.
Accell siRNA achieves what no other RNAi product can claim: delivery into difficult-to-transfect cells without transfection reagents, virus, or electroporation. Researchers around the world are achieving targeted gene silencing in cells that had previously been beyond the reach of conventional RNAi products due to toxicity caused by transfection reagents or undesirable viral responses.
Highlights
Accell siRNA enters cells without the need for transfection reagents, virus (or viral vectors), or instruments
Proven performance in neuronal, immunological, primary, and other difficult-to-transfect cell types
Extended-duration knockdown with optimized continuous application
Available as SMARTpool siRNA reagents or a Set of 4 siRNAs in 96 or 384-well plates
Eight subsets make up the Accell Human Druggable Genome siRNA Library
GPCR
Protein Kinases
Ion Channels
Phosphatases

Proteases
Ubiquitin Enzymes
Transcription Factors
Experimental Considerations
Accell siRNA works at a higher concentration than conventional siRNA; recommended 1 µM working concentration, but should be optimized.
Delivery may be inhibited by the presence of BSA in serum. Optimization studies with serum-free media formulations (Accell Delivery Media) or < 2.5% serum in standard media is recommended
Full-serum media can be added back after 48 hours of incubation. Optimal mRNA silencing is typically achieved by 72 hours or up to 96 hours for protein knockdown
The Drug-Gene Interaction Database http://dgidb.org/
Pharos: Illuminating the Druggable Genome https://pharos.nih.gov/
IUPHAR/BPS http://www.guidetopharmacology.org/lists.jsp
B.D. Parsons, A. Schindler, D.H. Evans, E. Foley, A direct phenotypic comparison of siRNA pools and multiple individual duplexes in a functional assay. PLoS One. 4(12), e8471 (2009).
M. Jiang, R. Instrell, B. Saunders, H. Berven, M. Howell, Tales from an academic RNAi screening facility; FAQs. Brief Funct. Genomics. 10(4), 227-237 (2011). [doi: 10.1093/bfgp/elr016]
Click to view a more comprehensive list of Accell siRNA citations.
S. Suzuki et al., Differential Roles of Epac in Regulating Cell Death in Neuronal and Myocardial Cells. J. Biol. Chem. 285, 24248-24259 (July 2010). [primary mouse cortical neurons (E15-17)]
U. Dreses-Werringloer et al., A Polymorphism in CALHM1 Influences Ca2+ Homeostasis, Ab Levels, and Alzheimer's Disease Risk. Cell. 133, 1149-1161 (27 June 2008). [SHSY-5Y; human neuroblastoma]
S. Byas et al., Human Embryonic Stem Cells Maintain Pluripotency after E-Cadherin Expression Knockdown. FASEB J. 24, lb172 (Apr 2010). [H9 stem cell lines]
V. Saini et al., CXC Chemokine Receptor 4 Is a Cell Surface Receptor for Extracellular Ubiquitin. J. Biol. Chem. 285, 15566-15576 (May 2010). [THP-1 monocytes]
D. Smirnov et al., Genetic Analysis of Radiation-induced Changes in Human Gene Expression. Nature. 459, 10.1038/nature07940 (28 May 2009). [immortalized B cells]
| | | |
| --- | --- | --- |
| Shipping Condition | | Ambient |
| Storage Conditions | | -20 C |
| Stability at Recommended Storage Conditions | | At least 12 months |
| Hazardous | | No |
The Accell siRNA application protocol simplifies targeted gene knockdown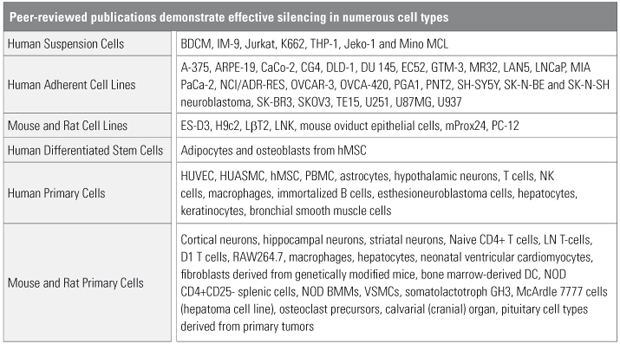 (1) Combine Accell siRNA with Accell delivery media (or other low- or no-serum media). (2) Add Accell delivery mix directly to cells, and incubate for 72 hours.
Cell types demonstrating effective silencing with Accell siRNA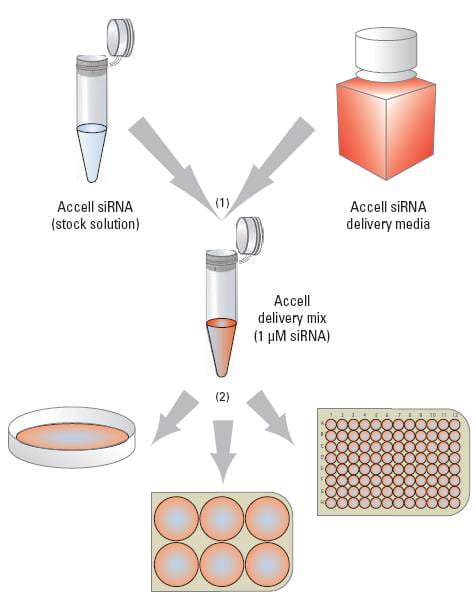 Internal validation and peer-reviewed publications report numerous successes with difficult-to-transfect cell types. See the References tab for a list of publications.