Human Accell siRNA Library - G Protein-Coupled Receptors (GPCR)
Targeted gene silencing in difficult-to-transfect cells
An arrayed collection of siRNA reagents for RNAi screening, targeting human GPCR genes. Accell siRNA permits RNAi screening in difficult-to-transfect cells with no transfection reagent, virus, or electroporation.

The Human Accell G Protein-Coupled Receptor (GPCR) siRNA Library includes siRNA reagents targeting genes encoding GPCRs, transmembrane proteins required for the transduction of extracellular signals from a wide variety of ligands, including neurotransmitters, hormones, and other small molecules. This siRNA Library does not include olefactory or taste receptors.
Accell siRNA achieves what no other RNAi product can claim: delivery into difficult-to-transfect cells without transfection reagents, virus, or electroporation. Researchers around the world are achieving targeted gene silencing in cells that had previously been beyond the reach of conventional RNAi products due to toxicity caused by transfection reagents or undesirable viral responses.
Highlights
Accell siRNA enters cells without the need for transfection reagents, virus (or viral vectors), or instruments
Proven performance in neuronal, immunological, primary, and other difficult-to-transfect cell types
Extended-duration knockdown with optimized continuous application
Available as SMARTpool siRNA reagents or a Set of 4 siRNAs in 96 well plates
Gene Targets
For a complete list of target genes in this siRNA Library, please contact Technical Support.
Experimental Considerations
Accell siRNA works at a higher concentration than conventional siRNA; recommended 1 µM working concentration
Delivery may be inhibited by the presence of BSA in serum. Optimization studies with serum-free media formulations (Accell Delivery Media) or < 2.5% serum in standard media is recommended
Full-serum media can be added back after 48 hours of incubation. Optimal mRNA silencing is typically achieved by 72 hours or up to 96 hours for protein knockdown
Cell types demonstrating effective silencing with Accell siRNA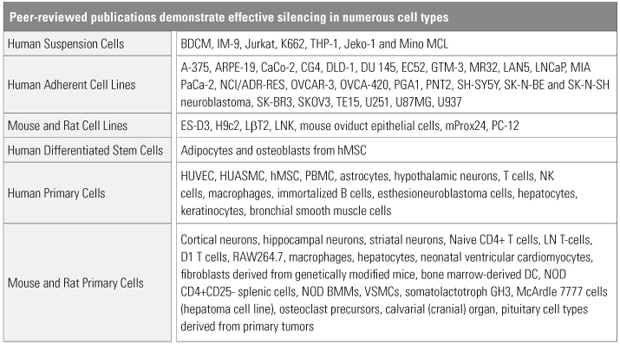 Cell types demonstrating effective silencing with Accell siRNA. Internal validation and peer-reviewed publications report numerous successes with difficult-to-transfect cell types. See the References tab for a list of publications.
The Accell siRNA application protocol simplifies targeted gene knockdown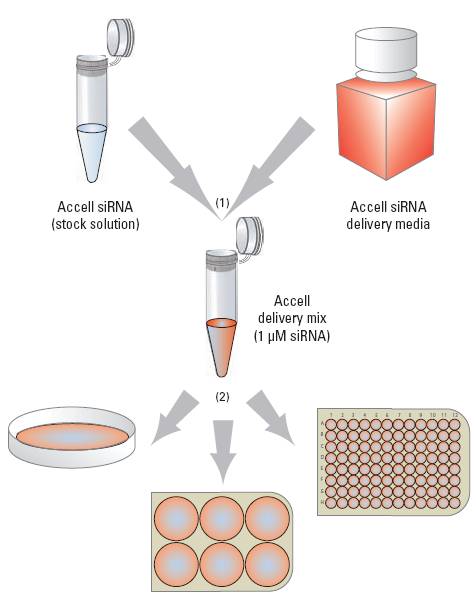 (A) Combine Accell siRNA with Accell delivery media (or other low- or no-serum media). (B) Add Accell delivery mix directly to cells, and incubate for 72 hours.
Related Products
Accell siRNA Delivery Media
An enriched, serum-free media for use during Accell siRNA application. While not required for use with Accell siRNA, this media provides appropriate serum-free conditions for Accell uptake while maintaining cell health.
Catalog ID:B-005000-100
$20.00
5X siRNA Buffer
Concentrated buffer solution recommended for resuspension and long-term storage of any short, double-strand, or single-strand synthetic RNA molecule. Dilute with RNase-free water prior to use.
Catalog ID:B-002000-UB-100
$97.00
Molecular Grade RNase-free water
Molecular grade water for dilution of 5x siRNA Buffer or resuspension of RNA. RNase-free to prevent degradation of RNA reagents and oligonucleotides.
Catalog ID:B-003000-WB-100
$31.00