Mouse Lincode siRNA Library
siRNA screening tools to elucidate lncRNA function
An arrayed collection of siRNA reagents for RNAi screening, targeting mouse long noncoding RNA (lncRNA) from RefSeq v65 with NR accession numbers. Lincode siRNA reagents are specially modified to reduce off-targets for fewer false positives.
The Human Lincode NR lncRNA RefSeq v65 siRNA library targets long noncoding RNA (lncRNA) transcripts with NR accession number designation; both from lncRNA genes and within protein coding genes. The Lincode siRNA designs and modifications reduce off-target effects while maintaining high silencing potency for high-confidence screening results.
Highlights
Patented dual-strand modification pattern on all siRNAs to reduce off-targets

Sense strand is modified to prevent interaction with RISC and favor antisense strand uptake
Antisense strand seed region is modified to destabilize off-target activity and enhance target specificity

Available as SMARTpool siRNA reagents or a Set of 4 siRNAs in 96-well or 384-well plates
Gene Targets
This library targets 1137 unique mouse lncRNA genes and 860 lncRNA transcripts that are associated with protein-coding gene records for a total of 1997 targets.
For a complete list of target genes in this siRNA Library, please contact Technical Support or your local Sales Representative. For pricing on this library or to request a custom library, please submit a Library Quote Request.
| | | |
| --- | --- | --- |
| Shipping Condition | | Ambient |
| Storage Conditions | | -20 C |
| Stability at Recommended Storage Conditions | | At least 12 months |
| Hazardous | | No |
Detection of effective lncRNA knockdown following application of Lincode siRNA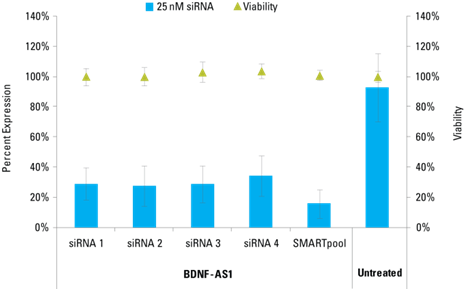 Knockdown of BDNF-AS1 in hNDF cells by Lincode SMARTpool and four siRNAs. All siRNAs were used at 25 nM, normalized and remaining lncRNA transcripts were detected with Solaris (sold under the Thermo Scientific brand) qPCR lncRNA Expression Assays and normalized to Non-targeting Control siRNA. Viability was assessed by resazurin assay.
Lincode siRNA modifications greatly reduce off-targets

Genomewide expression analysis demonstrates improved specificity of Lincode siRNA To detect subtle phenotypic changes that may arise from lncRNA knockdown, it is essential to incorporate strategies to prevent the off-targeting of protein-coding genes. Lincode siRNA reagents are synthesized with proprietary dual-strand modifications known as the ON-TARGETplus modification pattern which has been proven to reduce off-targets arising from microRNA-like activity of the antisense seed region of the siRNA. Two different siRNAs targeting the same lncRNA were synthesized with modifications that (a) block the sense strand only or (b) the ON-TARGETplus modification pattern which blocks the sense strand and includes an antisense strand seed region modification. While the target lncRNA was effectively silenced by all four siRNAs (arrows), the siRNAs synthesized with the ON-TARGETplus modifications demonstrated greatly reduced off-targets. Agilent™ G3 Human Gene Expression Microarray™ HeLa 12K, harvest 24 hrs post transfection, 100 nM siRNA, Analysis: >2 fold down regulated, pval <0.05, and non-siRNA-specific effects filtered out.
Sense strand activity is prevented by siRNA modifications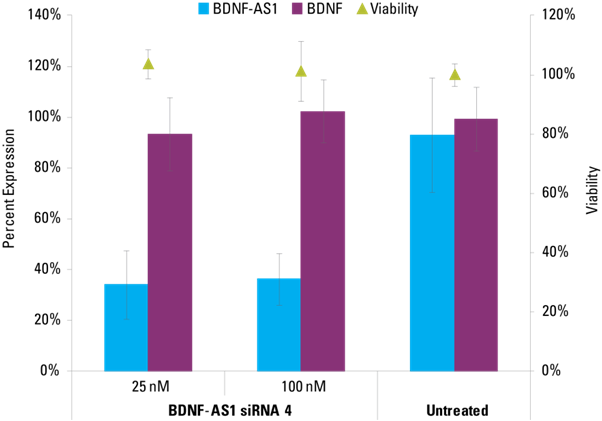 Lincode siRNA effectively knocks down BDNF-AS1 lncRNA, but not the protein-coding transcript BDNF that is antisense to the lncRNA target. This indicates strand specificity of Lincode siRNAs and effectiveness of ON TARGETplus modifications. siRNAs were applied at the indicated concentrations to hNDF cells. BDNF-AS1 and BDNF transcripts were detected with Solaris qPCR Expression Assays and normalized to Non-targeting control siRNA. Viability was assessed by resazurin assay and normalized to Untreated.
Related Products