Mouse On-TARGETplus siRNA Library - Epigenetics
siRNA designed and modified for greater specificity
An arrayed collection of siRNA reagents for RNAi screening, targeting mouse enzymes involved in epigenetic regulation. ON-TARGETplus siRNA is guaranteed to silence, and is modified to reduce off-targets for fewer false positives.

The ON-TARGETplus Mouse Epigenetics siRNA Library targets enzyme classes characterized to play a role in epigenetic mechanisms (see Reference 1). These inheritable factors that regulate genetic expression are of growing importance to scientific understanding of disease progression and trait inheritance. Modification of histones, such as methylation or acetylation, plays a key role in epigenetics as the extent to which DNA is wrapped around these protein complexes will alter the availability of genes in those DNA segments to be activated. The Epigenetics library targets genes which encode histone and DNA modification factors like methyltransferases, acetyltransferases, kinases and deacetylases, in addition to genes with a role in chromatin remodeling and histone ubiquitination.
The ON-TARGETplus siRNA designs and modifications reduce off-target effects while maintaining high silencing potency for high-confidence screening results.
Highlights
Patented dual-strand ON-TARGETplus modification pattern on all siRNAs to reduce off-targets

Sense strand is modified to prevent interaction with RISC and favor antisense strand uptake
Antisense strand seed region is modified to destabilize off-target activity and enhance target specificity

Available as SMARTpool siRNA reagents or a Set of 4 siRNAs in 96-well plates
Guaranteed target gene knockdown (seeSpecifications tab)
Gene Targets
For a complete list of target genes in this siRNA Library, please contact Technical Support or your local Sales Representative.
Our siRNA knockdown guarantee
siGENOME and ON-TARGETplus siRNA reagents (SMARTpool and three of four individual siRNAs) are guaranteed to silence target gene expression by at least 75% at the mRNA level when demonstrated to have been used under optimal delivery conditions (confirmed using validated positive control and measured at the mRNA level 24 to 48 hours after transfection using 100 nM siRNA).
Note: Most siGENOME and ON-TARGETplus siRNA products are highly functional at 5 to 25 nM working concentration.
False phenotypes due to off-targets are alleviated by ON-TARGETplus SMARTpool reagents while target gene knockdown is maintained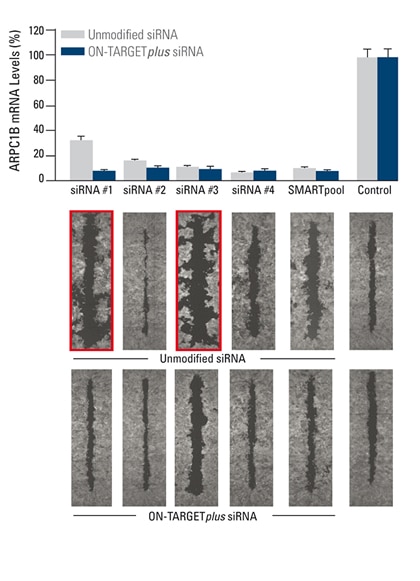 The effect of silencing ARPC1B on cell migration was studied in a breast cancer cell line. A monolayer of cells was uniformly scraped, and the rate of cell migration to close the scrape (wound healing) was evaluated. Both unmodified and ON-TARGETplus siRNA reagents induced potent target knockdown. Inconsistent phenotypes due to off-target effects (red outline) were observed for cells transfected with unmodified individual siRNAs.
The unmodified SMARTpool improved the false phenotype considerably while the ON-TARGETplus SMARTpool significantly reduced off-target effects to produce a consistent phenotype. In collaboration with Kaylene Simpson, Laura Selfors, and Joan Brugge, Harvard Medical School.
ON-TARGETplus modifications reduce the overall number of off-targets and pooling reduces them even further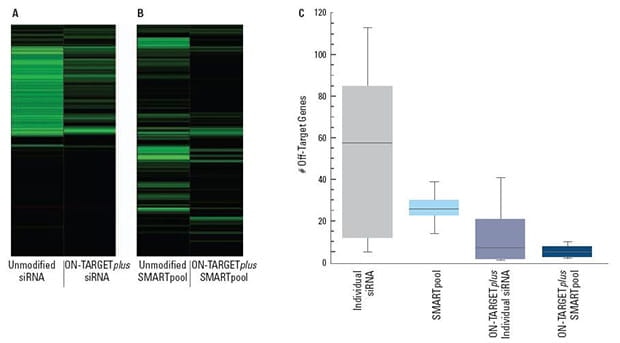 Panels (A) and (B) are representative examples of off-target signatures with and without application of ON-TARGETplus modifications to (A) a single siRNA and (B) a SMARTpool reagent. Green bars indicate genes with 2-fold or more reduction of expression when treated with the indicated siRNA reagent.
The ON-TARGETplus modifications reduced the off-targets when compared to unmodified siRNA. Pooling of siRNA and the ON-TARGETplus modification pattern independently and in combination, provide significant reduction in off-target gene silencing.
Panel (C) represents quantitation of off-targets (down-regulated by 2-fold or more) induced by the indicated siRNA reagents targeting 10 different genes (4 siRNAs per gene or a single SMARTpool reagent). Off-targets were quantified using microarray analysis (Agilent), then compiled. Each shaded box represents the middle 50% of the data set. Horizontal line in box: Median value of the data set. Vertical bars: minimum and maximum data values.
B.D. Parsons, A. Schindler, D.H. Evans, E. Foley, A direct phenotypic comparison of siRNA pools and multiple individual duplexes in a functional assay. PLoS One. 4(12), e8471 (2009).
M. Jiang, R. Instrell, B. Saunders, H. Berven, M. Howell, Tales from an academic RNAi screening facility; FAQs. Brief Funct. Genomics. 10(4), 227-237 (2011). [doi: 10.1093/bfgp/elr016]
T. Ratovitski, E. Chighladze, E. Waldron, R.R. Hirschhorn, C.A. Ross, Cysteine proteases bleomycin hydrolase and cathepsin Z mediate N-terminal proteolysis and toxicity of mutant huntingtin. J. Biol. Chem. 286(14), 12578-12589 (2011). [Human Proteases]