Mouse siGENOME RTF - Ion Channels
The only ready-to-use siRNA screening libraries available
A ready-to-use reverse transfection format RNAi screening library targeting mouse ion channels. Just resuspend pre-dispensed siRNA, and add cells. Optimization plates available.

The Mouse siGENOME RTF Ion Channel library contains siRNA reagents targeting transmembrane proteins having known or predicted ion channel activity. These include both ligand-gated channels, such as the nicotinic acetylcholine receptors, and voltage-gated channels, such as those that regulate the passage of potassium, sodium, and calcium during polarization and depolarization of the cell membrane.
RTF siRNA libraries are provided as multiple single-use plate sets – just rehydrate, and add cells. This unique pre-plated format reduces hands-on time for faster screening results.
siGENOME siRNAs are designed with the proprietary SMARTselection design algorithm for high-efficiency, guaranteed silencing. They also incorporate rational strand bias with application of ON-TARGET modifications to optimize antisense strand loading into RISC for effective target knockdown.
Highlights
Six ready-to-use 96-well plate sets provided for two triplicate screens
Pre-plated, validated RNAi controls included
No aliquoting necessary, just resuspend and add cells
siRNA reagents provided in clear plates at 6.25 pmol per well (50 nM final screening concentration)
Black or white clear-bottom plates available to support assays involving fluorescent or luminescent detection
For a diagram of the RTF Library Plate layout, see Figure 1 on the Supporting Data tab.

| Well | Pre-plated control | Control Catalog No. |
| --- | --- | --- |
| A1 | siGENOME Non-targeting siRNA #2 | D-001210-02 |
| B1 | siGENOME Non-targeting siRNA #3 | D-001210-03 |
| C1 | siGENOME Non-targeting siRNA #4 | D-001210-04 |
| D1 | siGENOME Non-targeting siRNA #5 | D-001210-05 |
| E1 | siGENOME Non-targeting pool #2 | D-001206-14 |
| F1 | siGENOME Cyclophilin B control pool (H, M, R) Control siRNA | D-001136-01 |
Experimental considerations
DharmaFECT transfection reagents are highly recommended for use with RTF libraries and should be purchased separately. Refer to the DharmaFECT Cell Type Guide to find the appropriate formulation for your cell type.
Gene Targets
For a complete list of target genes in this siRNA Library, please contact Technical Support or your local Sales Representative.
Our siRNA knockdown guarantee
siGENOME and ON-TARGETplus siRNA reagents (SMARTpool and three of four individual siRNAs) are guaranteed to silence target gene expression by at least 75% at the mRNA level when demonstrated to have been used under optimal delivery conditions (confirmed using validated positive control and measured at the mRNA level 24 to 48 hours after transfection using 100 nM siRNA).
Note: Most siGENOME and ON-TARGETplus siRNA products are highly functional at 5 to 25 nM working concentration.
Plate layout of siGENOME RTF siRNA Libraries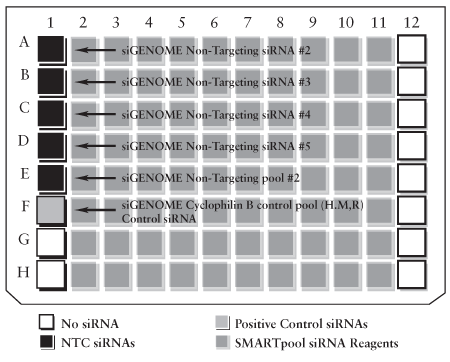 Figure 1. | Validated control siRNAs and pools are pre-dispensed into column 1 of each RTF Library plate, providing a consistent baseline for screening and assay efficiency.
Reverse Transfection Format is highly effective across cell lines
Figure 2. | Reverse transfection Format was used to assess control gene silencing (Cyclophilin B; blue bars) and viability (yellow dots) across eight cell lines under optimized conditions. In all cases, effective target gene knockdown was achieved with low cytotoxicity.
Simple four-step protocol for screening with RTF SMARTpool siRNA Libraries
Figure 3.
Publications using RTF Libraries
General Screening References
B. D. Parsons, A. Schindler, D. H. Evans, E. Foley, A direct phenotypic comparison of siRNA pools and multiple individual duplexes in a functional assay. PLoS One. 4(12), e8471 (2009).
M. Jiang, R. Instrell, B. Saunders, H. Berven, M. Howell, Tales from an academic RNAi screening facility; FAQs. Brief Funct. Genomics. 10(4), 227-237 (2011). [doi: 10.1093/bfgp/elr016]
Related Products
DharmaFECT 1 Transfection Reagent
The most broadly applicable DharmaFECT formulation for optimal siRNA or microRNA transfection into a wide range of cell types for successful RNAi experiments
Catalog ID:T-2001-01
$114.00
Human siRNA Libraries
Find the predefined gene family, including Druggable genes or Whole Genome, that's right for your discovery efforts. Select from a large range of human siRNA libraries.