DharmaFECT 2 Transfection Reagent
One of four siRNA/microRNA specific formulations, DharmaFECT 2 is a chemically distinct alternative to one-size-fits-all transfection reagents to achieve high-efficiency silencing in more cell types.
Updated shipping conditions: Horizon Discovery always strives to reduce its environmental impact. Sustainability goals factor in many decisions regarding our business. By eliminating Styrofoam from North America and Canada DharmaFECT packaging, Horizon will divert >110k cubic feet of long-decomposing material from landfills every year (that's over 33 semi-trucks), and product efficacy remains guaranteed.

To attain efficient and reliable siRNA or microRNA transfection, we offer DharmaFECT transfection reagents. DharmaFECT 2 Transfection Reagent achieves highly effective transfection of siRNA and microRNA reagents in many common cell types. DharmaFECT 2 Transfection Reagent is chemically distinct from the other DharmaFECT formulations, providing an alternative when DharmaFECT 1 does not achieve optimal results, and is ideal to include in transfection optimization experiments prior to RNAi screening or other high-value experiments.
Highlights
Optimized for small RNA (siRNA or microRNA) delivery at low concentrations
Low toxicity – Maintain cell viability with formulations specially formulated to deliver siRNA
Highly efficient delivery – Achieve robust uptake for reliable RNAi results
While DharmaFECT 1 is the most all-purpose transfection reagent (demonstrating efficient, low-toxicity delivery to over 80% of validated cell types), DharmaFECT 2, 3, and 4 are available to support a wider range of cell types. Distinct formulations permit more thorough optimization of transfection for novel cell types, high-value experiments and RNAi screening.
Consult the DharmaFECT Cell Type Guide of transfection optimization results for the DharmaFECT formulation that is recommended for your cell type.
Please contact your local sales representative or our Customer Support team for pricing and availability of DharmaFECT Transfection Reagents in the 2 x 10mL size.
Editing of PSMD7 gene in U2OS-(Ubi)EGFP cells using Edit-R Cas9 Nuclease protein NLS delivered by DharmaFECT transfection reagents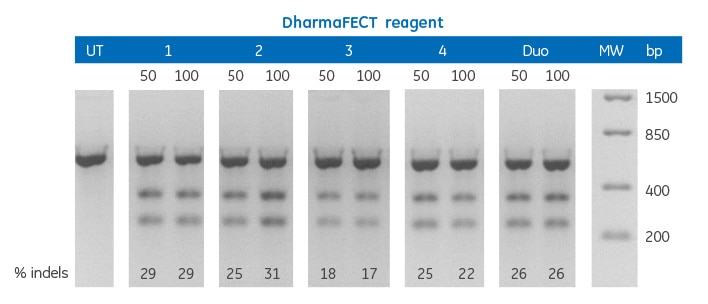 U2OS-(Ubi)EGFP cells were plated at 10,000 cells/well in 96-well plates and co-transfected using DharmaFECT transfection reagents with 25 nM Edit-R Cas9 Nuclease protein NLS and synthetic crRNA:tracrRNA at 50 or 100 nM targeting PSMD7. Cells were harvested 72 hours post-transfection and the relative frequency of gene editing was calculated based on a DNA mismatch detection assay with T7 Endonuclease I. UT = untreated sample, MW = FastRuler Low Range DNA Ladder (Thermo Scientific).
DharmaFECT reagents provide an improved dynamic range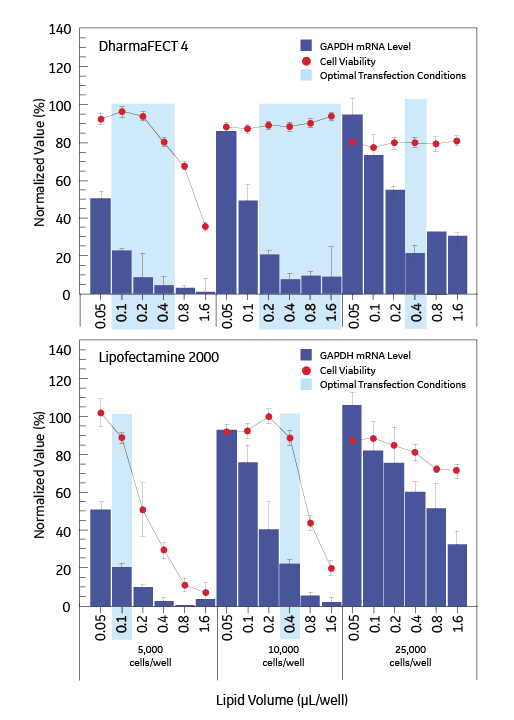 DharmaFECT reagents are effective across a broader range of experimental conditions when compared to Lipofectamine® 2000 (Invitrogen). Several cell densities and lipid volumes were investigated to determine optimal transfection conditions, shown by the shaded boxes. Three cell densities of HepG2 cells were transfected with GAPD siRNA (100 nM) using a range of volumes (0.05 to 1.6 μL/well) of Lipofectamine 2000 and DharmaFECT 4 transfection reagents. mRNA levels (bars) were assessed by branched DNA assay (Panomics Quantigene® Reagent System) and cell viability (data points) was determined by alamarBlue® (Biosource International).
DharmaFECT Transfection Reagents provide highly efficient delivery at low siRNA concentrations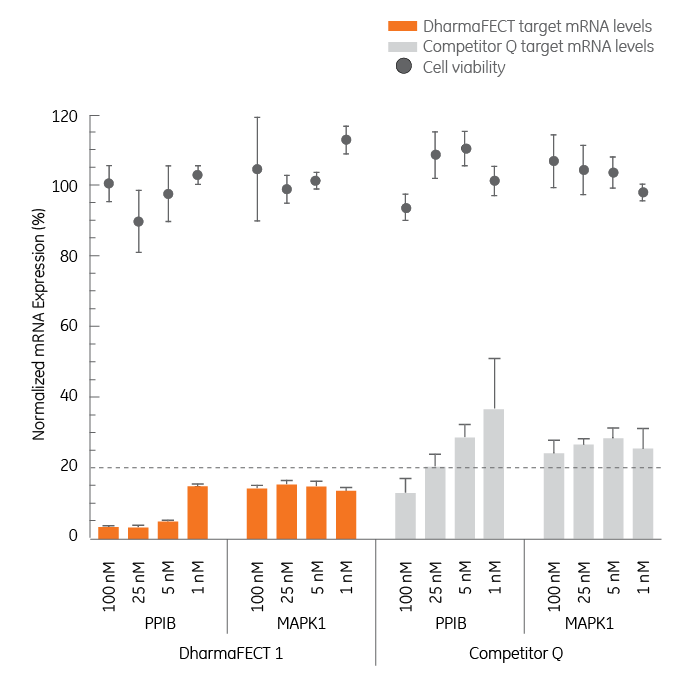 To determine transfection efficiencies at low siRNA concentrations, two genes were targeted with various amounts of SMARTpool siRNA reagent. DharmaFECT achieved > 80% silencing at all siRNA concentrations, while HiPerFect (Qiagen) only achieved this level with PPIB at 100 nM. HeLa cells were transfected with SMARTpool TM reagents targeting Cyclophilin B (PPIB) or MAPKI at concentrations of 1, 5, 25, and 100 nM. mRNA expression (bars) was determined by branched DNA assay (Panomics Quantigene® Reagent System) and cell viability (data points) was determined by alamarBlue® (Biosource International).
DharmaFECT outperforms other reagents in optimization study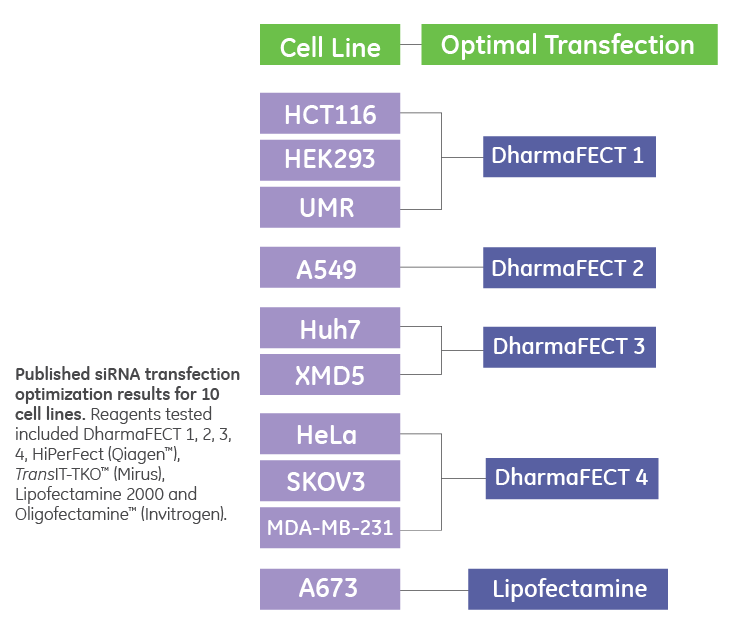 Table adapted from Borawski et al. A study by scientists at Novartis concluded that in transfection optimization in 384-well format (in preparation for screening) one of the four DharmaFECT transfection reagents outperformed all other reagents in delivery efficiency and overall cell viability in 9 of 10 cell lines. Lipid transfection reagents tested were DharmaFECT 1-4, HiPerFect® (Qiagen), TransIT-TKO® (Mirus) Lipofectamine® 2000 and Oligofectamine® (Invitrogen). J. Borawski et al., Optimization Procedure for small interfering RNA Transfection in a 384-well format. J. Bimolecular Screening, 12, 546-559 (2007).