siGLO Cyclophilin B Control siRNA
Correlate fluorescence uptake and silencing activity with a single control
A stable, fluorescent positive control suitable for RNAi experiments in human, mouse, or rat cells. Silences the Cyclophilin B gene and is labeled with Cy3.

siGLO Cyclophilin B Control siRNA is a validated positive control, guaranteed to silence cyclophilin B in human, mouse, or rat cells. This control siRNA is chemically modified to significantly extend siRNA stability and fluorescence compared to conventional siRNAs similarly labeled with fluorophores.
Also known as peptidylprolyl isomerase B (PPIB), cyclophilin B is associated with the secretory pathway. This gene is abundantly expressed in most cells, and because it is non-essential, knockdown of the corresponding mRNA does not affect cell viability.
Highlights
Targets accession numbers NM_000942 (Human), NM_011149 (Mouse), or NM_022536 (Rat)
Labeled with Cy3
Absorbance/Emission Max is 547/563 nm
A Cy3, Rhodamine or PE filter can be used
Significantly extended intensity of the fluorescence signal (7 days or longer)
Positive correlation of fluorescence with transfection efficiency and target gene silencing
To request a larger quantity or
in vivo
processing of this control product, please email
Technical Support
.
Cytoplasmic fluorescence confirms transfection with siGLO Cyclophilin B control siRNA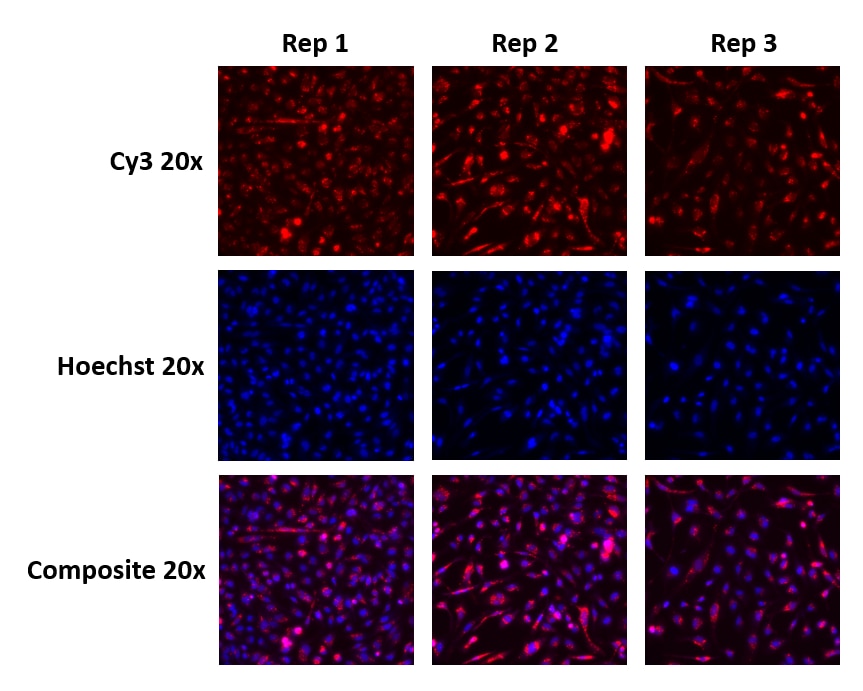 siGLO Cyclophilin B control (50nM) was transfected into HeLa cells with DharmaFECT 1 (0.15 µg/100µL well). After 48 hours, cells were washed with 1x PBS and stained with Hoechst 3342 nuclear dye (blue).
---
Functional knockdown using siGLO Cyclophilin B control siRNA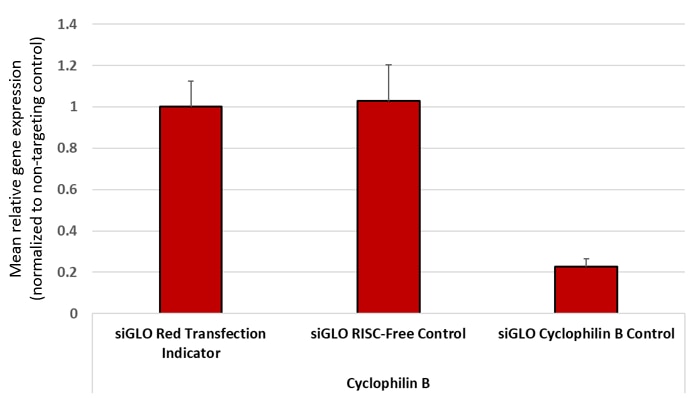 Cyclophilin B mRNA levels were quantified by RT-qPCR in HeLa cells 48 hours after transfection with DharmaFECT 1 (0.15 µg/100µL well) and 50nM of siGLO Cyclophilin B control, siGLO RISC-Free control, or siGLO Red Transfection Indicator.
Related Products
DharmaFECT 1 Transfection Reagent
The most broadly applicable DharmaFECT formulation for optimal siRNA or microRNA transfection into a wide range of cell types for successful RNAi experiments
Catalog ID:T-2001-01
$114.00
5X siRNA Buffer
Concentrated buffer solution recommended for resuspension and long-term storage of any short, double-strand, or single-strand synthetic RNA molecule. Dilute with RNase-free water prior to use.
Catalog ID:B-002000-UB-100
$97.00
Molecular Grade RNase-free water
Molecular grade water for dilution of 5x siRNA Buffer or resuspension of RNA. RNase-free to prevent degradation of RNA reagents and oligonucleotides.
Catalog ID:B-003000-WB-100
$31.00