siGLO Lamin A/C Control siRNA (Human)
Correlate fluorescence uptake and silencing activity with a single control
A stable, fluorescent positive control suitable for RNAi experiments in human cells. Silences the human Lamin A/C gene and is labeled with Cy3.

siGLO Lamin A/C Control siRNA is a validated positive control, guaranteed to silence Lamin A/C in human cells. This control siRNA is chemically modified to significantly extend siRNA stability and fluorescence compared to conventional siRNAs similarly labeled with fluorophores.
Lamins are intermediate filament-type proteins, which form major components of the nuclear lamina. Lamins A and C have close sequence homology and are derived by differential splicing and alternative polyadenylation from one gene. This gene is abundantly expressed in most cells, and because it is non-essential, knockdown of the corresponding mRNA does not affect cell viability.
Highlights
Targets accession numbers: NM_005572, NM_170707, NM_170708 (Human)
Labeled with Cy3
Absorbance/Emission Max is 547/563 nm
A Cy3, Rhodamine or PE filter can be used
Significantly extended intensity of the fluorescence signal (7 days or longer)
Positive correlation of fluorescence with transfection efficiency and target gene silencing
For a complete list of target genes in this siRNA Library, please contact Technical Support or your local Sales Representative.
Cytoplasmic fluorescence confirms transfection with siGLO Lamin A/C control siRNA
siGLO Lamin A/C control (50nM) was transfected into HeLa cells with DharmaFECT 1 (0.15 µg/100µL well). After 48 hours, cells were washed with 1x PBS and stained with Hoechst 3342 nuclear dye (blue).
---
Functional knockdown using siGLO Lamin A/C control siRNA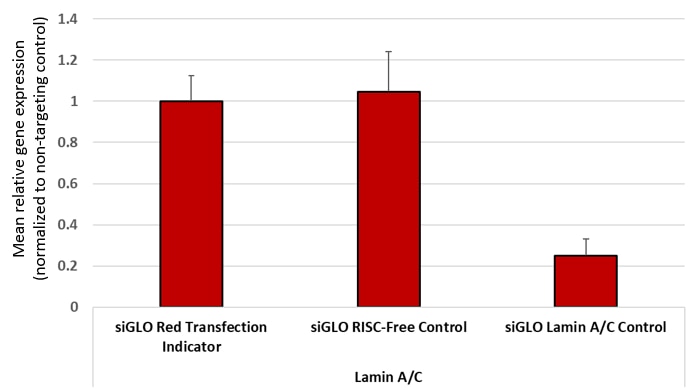 Lamin A/C mRNA levels were quantified by RT-qPCR in HeLa cells 48 hours after transfection with DharmaFECT 1 (0.15 µg/100µL well) and 50nM of siGLO Lamin A/C control, siGLO RISC-Free control, or siGLO Red Transfection Indicator.
Related Products
DharmaFECT 1 Transfection Reagent
The most broadly applicable DharmaFECT formulation for optimal siRNA or microRNA transfection into a wide range of cell types for successful RNAi experiments
Catalog ID:T-2001-01
$114.00
5X siRNA Buffer
Concentrated buffer solution recommended for resuspension and long-term storage of any short, double-strand, or single-strand synthetic RNA molecule. Dilute with RNase-free water prior to use.
Catalog ID:B-002000-UB-100
$97.00
Molecular Grade RNase-free water
Molecular grade water for dilution of 5x siRNA Buffer or resuspension of RNA. RNase-free to prevent degradation of RNA reagents and oligonucleotides.
Catalog ID:B-003000-WB-100
$31.00