Cas9 nuclease protein NLS
A DNA-free option for Cas9 nuclease expression
Purified Cas9 nuclease protein NLS for co-transfection with synthetic guide RNA for a completely DNA-free genome engineering system
Inquire for pricing on larger volumes
*Note: Concentration and pack sizes have been updated and are reflected with new catalog numbers

Cas9 nuclease in the CRISPR-Cas9 system
The CRISPR-associated enzyme Cas9 is an RNA-guided endonuclease that requires a guide RNA for genomic DNA target recognition and generation of DNA double-strand breaks (DSB).
Purified Cas9 nuclease NLS protein offers a ready-to-use option, enabling researchers to accelerate genome engineering experiments in a completely DNA-free manner.
Cas9 protein highlights
Straightforward co-transfection or co-electroporation with synthetic guide RNA
No external DNA added to system to ensure against the possibility of incorporating plasmid DNA into the host cell's genome
No issues with incompatibilities between promoter and cell line
Transient expression of Cas9 nuclease to reduce off targeting
DharmaFECT transfection reagents are highly recommended for use with Edit-R™ gene editing reagents and should be purchased separately. Refer to the DharmaFECT Cell Type Guide to find the appropriate formulation for your cell type.
Quantity & concentration of Cas9 nuclease protein NLS reagents
Catalog #
Concentration
Volume
Quantity
µM
µg/µl
µl
µg
pMol
CAS12205
61.8
10
10
100
618
CAS12206
61.8
10
50
500
3090
CAS12207
61.8
10
5 x 50
5 x 500
5 x 3090
CAS11728 (discontinued)
20
3.2
12.5
40
250
CAS11200 (discontinued)
20
3.2
25
80
500
CAS11201 (discontinued)
20
3.2
50
160
1000
CAS11729 (discontinued)
40
6.4
12.5
80
500
CAS11730 (discontinued)
40
6.4
25
160
2 x 500
Gene knockout workflow using Cas9 nuclease protein & Edit-R synthetic guide RNA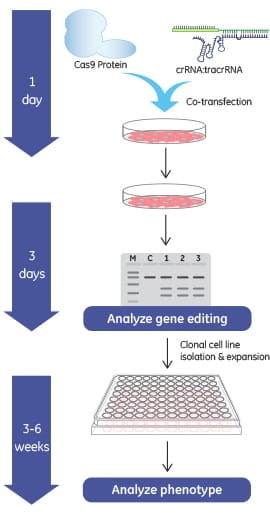 Gene editing with Cas9 Nuclease protein NLS and guide RNA is performed by co-transfecting all components with DharmaFECT Duo Transfection Reagent (or other DharmaFECT transfection reagent suitable to your specific cells of interest). One may then observe phenotypes directly. A DNA mismatch detection assay can be used to estimate gene editing efficiency prior to clonal cell line generation and characterization.
Cas9 nuclease protein NLS data
Synthetic guide RNAs and Cas9 nuclease protein electroporated as RNP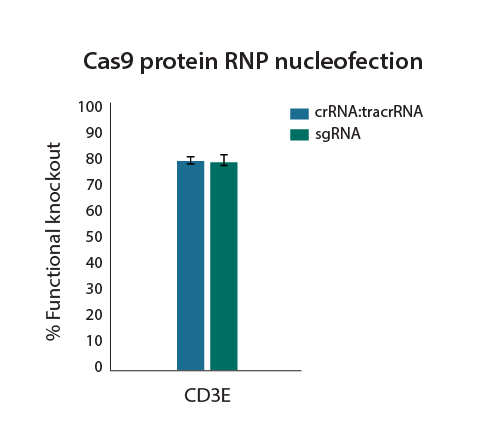 Guide RNAs and Cas9 protein were combined to form an RNP complex and nucleofected into CD3/CD28 stimulated CD4+ primary human T-cells. Phenotypic functional knockout was measured by FACS analysis of target gene expression 72-hours after nucleofection.
---
Synthetic guide RNAs co-delivered with Cas9 nuclease protein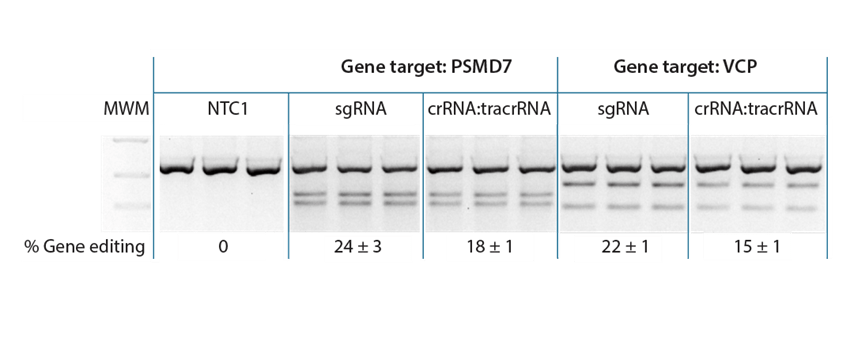 U2OS cells were plated at 10,000 cells/well in 96-well plates and co-transfected using DharmaFECT 1 transfection reagent (0.1µL/well) with synthetic guide RNAs and Cas9 nuclease protein NLS. Gene editing was assessed by T7E1 mismatch repair assay. NTC1 = Non-Targeting Control sgRNA.