ON-TARGETplus siRNA Reagents - Rat
siRNA designed and modified for greater specificity
Guaranteed gene silencing and patented modifications to reduce off-targets. Pre-designed ON-TARGETplussiRNA are available as individual and in SMARTpool format.

To shop for ON-TARGETplus siRNA Reagents - Rat, please select a Gene.
Knockdown your target gene function
The patented ON-TARGETplus modification pattern for specificity, combined with the SMARTselection algorithm for efficient, guaranteed target gene silencing, makes ON-TARGETplus siRNA the premium choice for optimal knockdown and reduced off-targets.
ON-TARGETplus SMARTpool and individual siRNAs are available as pre-designed, genome-wide reagents for human, mouse, and rat. Simply search for your gene of interest and choose from the available product formats and quantities.
Rat ON-TARGETplus siRNAs were redesigned in 2012 (RefSeq v. 54) to ensure complete genome-wide coverage and update siRNAs that no longer target all known variants. As a result, nearly 5000 new genes have been added to the collection, and over 3000 siRNAs were reversioned to more completely target known gene variants for more efficient knockdown.
Off-targets reduced by

up to 90%

compared to unmodified siRNA
Guaranteed silencing by SMARTpool and 3 of 4 individual siRNAs (see Guarantee tab)
Sequence information provided with siRNA purchase
A two-stranded mechanism requires a two-stranded solution
Dharmacon scientists and collaborators demonstrated in 2006 (see Reference 1) that siRNA off-targets are mediated by antisense seed-region interactions, initiating the development of a dual-strand modification pattern:
Sense strand is modified to prevent interaction with RISC and favor antisense strand uptake
Antisense strand seed region is modified to destabilize off-target activity and enhance target specificity
Seed-region analysis on siRNA designs reduces miRNA-induced off-targets
A landmark publication (see Reference 2) from the Dharmacon research group was the first to experimentally demonstrate the key role of the seed region in mediating off-targets. A subsequent 2008 paper (see Reference 3) showed the importance of seed frequency in the 3'UTR as in indicator of its likelihood to cause off-targets. These principles were subsequently applied to our siRNA designs to improve specificity:
Design filters eliminate common seed regions likely to cause miRNA-like off-targets
Seed frequency analysis for siRNA designs minimize off-target effects
Available Product Formats
SMARTpool: A mixture of 4 siRNA provided as a single reagent; providing advantages in both potency and specificity.
Set of 4: A convenient option for purchasing aliquots of all 4 individual siRNAs targeting a single gene.
Individual siRNAs: Select 1, 2, or 3 individual siRNAs per gene. Minimum purchase of 4 at the 2 nmol size.
Our siRNA knockdown guarantee
ON-TARGETplus siRNA reagents (SMARTpool and three of four individual siRNAs) are guaranteed to silence target gene expression by at least 75% at the mRNA level when demonstrated to have been used under optimal delivery conditions (confirmed using validated positive control and measured at the mRNA level 24 to 48 hours after transfection using 100 nM siRNA).
Note: Most ON-TARGETplus siRNA products are highly functional at 5 to 25 nM working concentration.
Validated positive controls and non-targeting negative controls utilizing patented modifications for optimal specificity. Available as pools or single siRNAs. On-TARGETplus control siRNAs and pools are produced with the patented ON-TARGETplus modification pattern for optimal specificity. They are recommended as controls for any siRNA experiment due to their minimized off-target effects.
Our panel of non-targeting controls permits assessment of potential non-specific effects, to find the optimal negative control for your cell type, and your assay. Pooled siRNA controls are recommended for further reduction of off-targets, and for use with SMARTpool siRNA reagents.
Select a species-specific positive control to silence an expressed housekeeping gene in your experimental cell type.
ON-TARGETplus modifications reduce the overall number of off-targets and pooling reduces them even further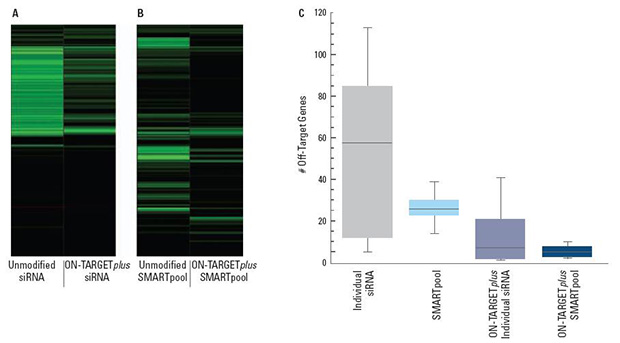 False phenotypes due to off-targets are alleviated by ON-TARGETplus SMARTpool reagents while target gene knockdown is maintained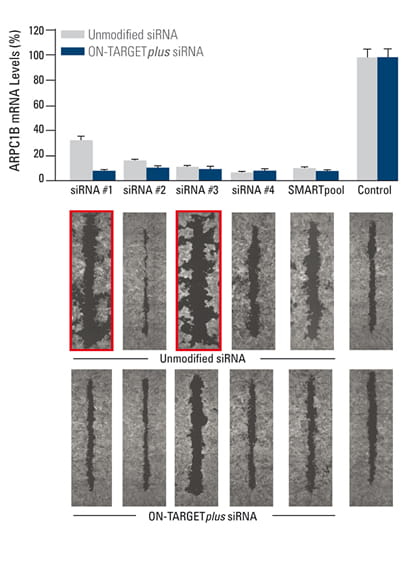 In collaboration with Kaylene Simpson, Laura Selfors and Joan Brugge, Harvard Medical School.
Only the ON-TARGETplus modification pattern addresses both siRNA strands for premium silencing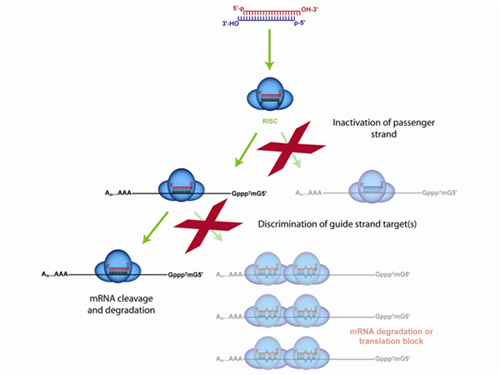 siRNA designs with low-frequency seed regions ensure fewer off-targets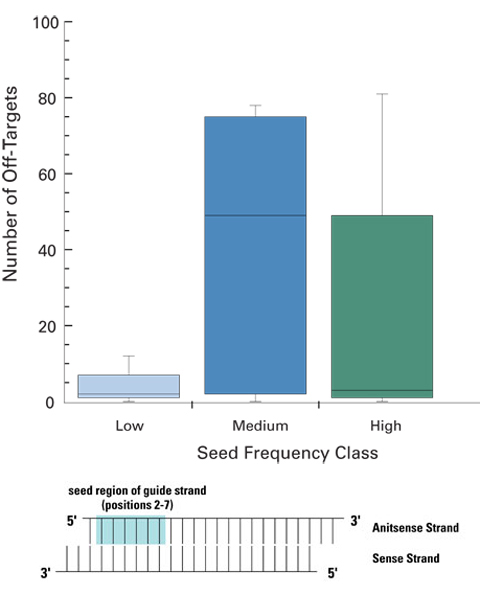 ON-TARGETplus siRNA designs leverage sophisticated bioinformatics to reduce the likelihood of miRNA-like off-targets from high-frequency or highly conserved miRNA seed regions. siRNAs with low seed frequency have a significantly lower number of off-targets than siRNAs with medium or high frequency seeds. Five siRNAs with low, medium, or high frequency seed regions were transfected into HeLa cells and their associated off-target signatures assessed via global expression profiling (Agilent 22K platform). siRNA sequences were constant at positions 1 and 8-19, only the seed regions (positions 2-7) were altered.
Low frequency seeds: < 350 occurrences in the HeLa transcriptome
Medium frequency: 2500-2800 occurrences
High frequency: >3800 occurrences
ON-TARGETplus siRNA dual-strand modification pattern reduces off-targets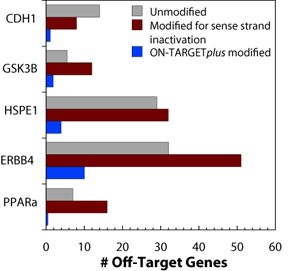 A 2006 publication demonstrates that off-target effects are primarily driven by antisense strand seed activity†. Therefore, sense strand inactivation alone does not decrease the total number of off-target genes.
ON-TARGETplus modifications account for both strands:
Sense strand is modified to prevent interaction with RISC and favor antisense strand uptake
Antisense strand seed region is modified to minimize seed-related off-targeting
The ON-TARGETplus modification pattern dramatically reduces off-targets. Off-target effects induced by the indicated siRNAs were quantified using microarray analysis. For each target, three different siRNAs were used: unmodified, sense strand-inactivated, and ON-TARGETplus-modified. Data shown represents genes down-regulated by two-fold or more. HEK293 cells were transfected with 100 nM siRNA using 0.2 μL of DharmaFECT 1. Data was analyzed at 24 hours.
| | | |
| --- | --- | --- |
| Shipping Condition | | Ambient |
| Storage Conditions | | -20 C |
| Stability at Recommended Storage Conditions | | At least 12 months |
| Hazardous | | No |