CRISPRmod CRISPRa All-in-one Lentiviral sgRNA
dCas9-VPR and sgRNA expression from a single vector for simplified delivery and efficient gene activation or overexpression in mouse and human
Easy, ready-to-use lentiviral particles (thaw virus, add to cells)
Single transduction = shorter time to results
Ideal for difficult to transfect cells and low passage cells
Enrich with either puromycin resistance or EGFP fluorescence
Transduction-ready vectors eliminate cloning and in vitro transcription steps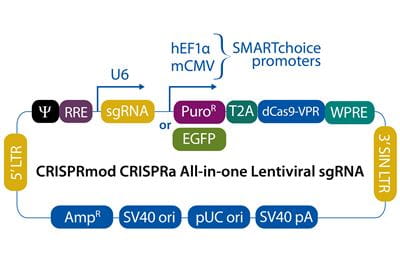 Easily generate a stable cell line by activating your gene of interest with the CRISPRmod CRISPR activation (CRISPRa) system. This system is a unique adaptation of the classical CRISPR-Cas9 gene editing system which utilizes a catalytically deactivated Cas9 (dCas9) that is fused to a tripartite VPR activator. When paired with a well-designed guide RNA that targets a gene at the promoter region, or transcriptional start site (TSS), it promotes transcriptional activation.
The choice of a puromycin resistance gene or EGFP marker allows for selection of cells that have successfully integrated the vector. The EGFP selection marker is recommended for rapid enrichment of edited cells, as FACS analysis may be performed as soon as fluorescence is expressed. This is especially useful for short-lived cell types, such as primary cells.
The predesigned All-in-one CRISPRa Lentiviral sgRNAs are available as:
High quality, concentrated, purified lentiviral particles for direct transduction with minimal cytotoxicity; delivered at titers of ≥ 1 x 107 TU/m
Designs optimized from a published algorithm by Horlbeck, et. al. demonstrate strong levels of gene repression (see References tab)
For genes with alternative characterized start sites, distinct guide RNA designs are available (labeled P2).
Review our CRISPRa application page and the AIO application page to get an overview of the technology.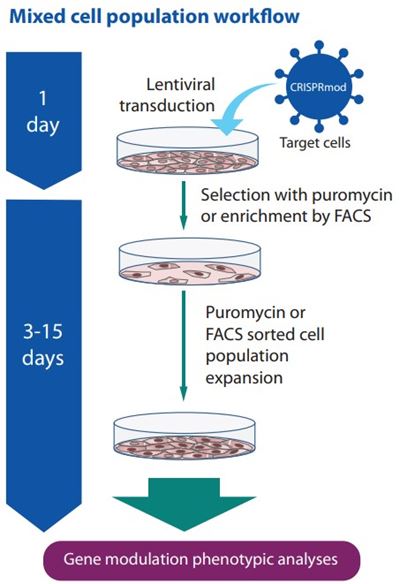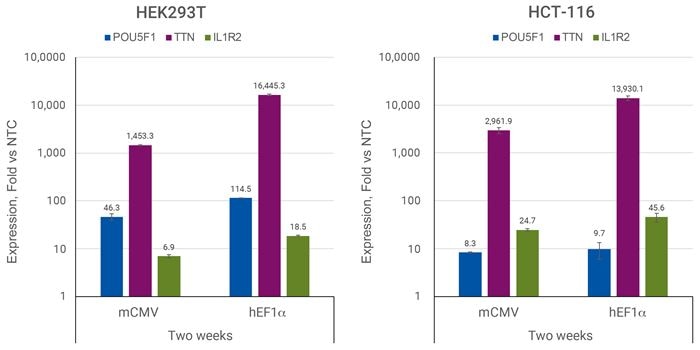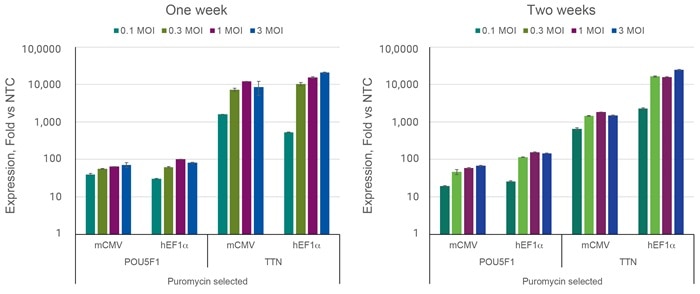 M. A. Horlbeck et al., Compact and highly active next-generation libraries for CRISPR-mediated gene repression and activation. eLife. 5, e19760 (2016).