Edit-R predesigned All-in-one lentiviral sgRNA
Combine sgRNA and Cas9 nuclease expression into a single vector for simplified delivery
Guaranteed to edit the target gene of interest
Multiple enrichment methods; including puromycin resistance and fluorescent sorting
Transduction-ready RNA's eliminate cloning and in vitro transcription steps
Algorithm-optimized to maximize the likelihood of functional protein knockout and minimize off-target editing
Available as glycerol stocks and high-titer purified particles

Edit-R predesigned all-in-one lentiviral sgRNA
Combines all necessary components into a single reagent for high-confidence gene knockout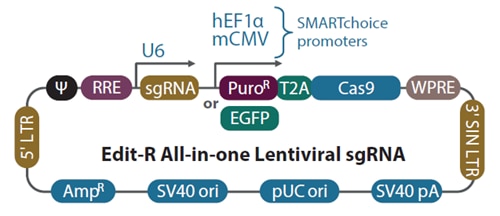 Easily generate knockout cell lines with the Edit-R All-in-one lentiviral system. Using a single vector to express both a gene-specific guide RNA and the Cas9 nuclease eliminates the need to perform sequential transductions.
This guide format is most commonly used for generating knockouts in difficult-to-transfect cell types or for following up hits after a pooled lentiviral sgRNA library screen.
The choice of a puromycin resistance gene or EGFP marker allows for selection of cells that have successfully integrated the vector. The EGFP selection marker is recommended for rapid enrichment of edited cells, as FACS analysis may be performed as soon as fluorescence is expressed. This is especially useful for short-lived cell types, such as primary cells.
Edit-R predesigned All-in-one Lentiviral sgRNAs are available as:
High quality, concentrated, purified lentiviral particles for direct transduction with minimal cytotoxicity; delivered at titers of ≥ 107 TU/mL
Glycerol stocks for packaging your own particles
Edit-R guide design
While CRISPR-Cas9 is a highly useful tool for interrogating gene function, not all guide RNAs are effective in producing functional protein knockout. To address this problem, we trained our proprietary Edit-R CRISPR guide RNA design algorithm to select unique sequences that give the highest likelihood of generating a functional knockout, not just creating an insertion or deletion. Extensive testing has shown this approach provides an unparalleled combination of knockout efficiency and specificity.
New! Functionality and specificity scores now available.
All guide RNA designs are top algorithm picks for each gene; qualitative ranks for functionality and specificity allow you to fine tune guide RNA choice to your specific application. The functionality score is a predicted indication of how likely this guide is to produce a functional knockout. The specificity score is based on the predicted risk of cutting activity at potential off-target sites. To learn more, visit our algorithm for Edit-R guide RNA page.
The Edit-R predesigned guide RNA guarantee
We guarantee that EVERY predesigned guide RNA will provide successful editing at the target site when delivered as described in the Edit-R Technical Manuals.
The Edit-R guide RNA guarantee is valid when used with any wild type S. pyogenes Cas9 nuclease, including mRNA, expression plasmid, protein, or stable Cas9 expression, and Edit-R crRNAs must be used with Edit-R tracrRNA for the guarantee to apply.
Analysis of editing of the treated cell population must be shown using a T7EI or Surveyor mismatch detection assay. If successful editing is not observed for a predesigned Edit-R guide RNA while an appropriate side-by-side Edit-R positive control is successful, a one-time replacement of a different predesigned Edit-R guide RNA of the same format and quantity will be provided at no cost.
A replacement will only be approved upon discussion with our Technical Support team.
Successful editing at the DNA level does not always lead to functional gene knockout; it is recommended to test multiple guide RNAs to determine the most effective guide RNA for knockout of your target gene.
This guarantee does not extend to any accompanying experimental costs, does not apply to guide RNAs ordered via the CRISPR Design Tool, and will not be extended to the replacement guide RNA.
Gene knockout workflow using the Edit-R All-in-one lentiviral sgRNA system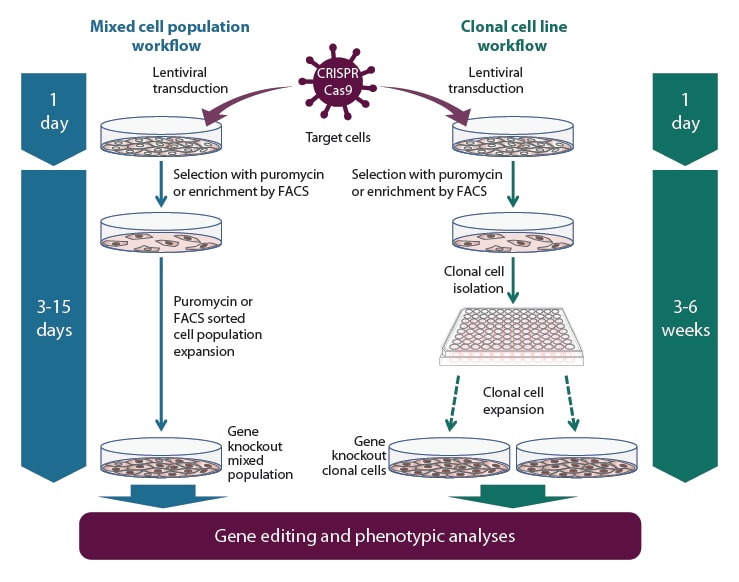 Gene knockout workflow with the All-in-one lentiviral sgRNA using a mixed population (left side) or clonal cell line (right side) experimental approach. If a homogeneous gene reduction across the entire population is required, then the clonal isolation workflow is recommended. Additionally of note, if knocking out the gene-of-interest is lethal or inhibits cell growth, the post-selection cells likely will retain wild-type or have an in-frame mutation that doesn't affect downstream protein expression.
Edit-R all-in-one lentiviral sgRNA controls
Control all-in-one lentiviral sgRNAs to verify DNA double-strand breaks and gene editing efficiencies.

All-in-one lentiviral sgRNA constructs bioinformatically designed and validated to not target any gene in human, mouse or rat genomes.
Edit-R All-in-one lentiviral system percent editing (TIDE)

Jurkat or K562 cells were transduced at a MOI of 0.3 using Edit-R All-in-one EGFP Lentiviral sgRNA vectors targeting either the CD3 or CD28 genes. All-in-one lentiviral particles express Cas9 nuclease constitutively under the hEF1α or mCMV promoters. Lentiviral particles expressing Non-targeting control (NTC) guides were used as negative controls. After lentiviral transduction and expansion, cells were analyzed as unsorted population (pool) or were subjected to cell sorting to enrich for the brightest (top) or dimmest (dim) EGFP expressing cell populations. The pool, top, and dim populations of cells were then subjected to TIDE analysis to assess gene editing frequency.
---
Comparison of Edit-R two-vector and All-in-one systems

For the two-vector system, cells were previously transduced with a constitutive hEF1α- or mCMV-Cas9 expression lentiviral particles at an MOI of 0.3, and selected with 10 µg/mL blasticidin for 10 days, followed by transduction with non-targeting control (NTC), DNMT3B- or PPIB-sgRNA lentiviral particles at an MOI of 0.3. For the All-in-one system, wild-type cells were transduced with the NTC, DNMT3B or PPIB All-in-one lentiviral particles that also express a constitutive hEF1α- or mCMV-Cas9 nuclease, and the PuroR gene at an MOI of 0.3. All transduced cells were selected with 2 µg/mL puromycin for 3 days. The cells were then lysed and analyzed for indels using a DNA mismatch detection assay with T7EI.
---
Schematic diagram of the Edit-R All-in-one lentiviral sgRNA vector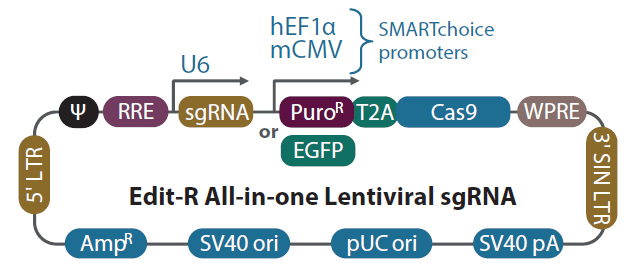 In the Edit-R All-in-one lentiviral sgRNA vector backbone, the gene-specific guide RNA is expressed under the control of a human U6 promoter, while expression of the Cas9 and puromycin resistance marker (PuroR) or EGFP marker is driven from either the human EF1α or the mouse CMV promoter. The plasmid contains the AmpR resistance marker for growth and selection in E. coli.
| Vector Element | Utility |
| --- | --- |
| Cas9 | Human codon-optimized S. pyogenes Cas9 nuclease for cleavage of targeted DNA when programmed with a sgRNA |
| T2A | Self-cleaving peptide allows for simultaneous expression of puromycin resistance and Cas9 protein from a single transcript |
| PuroR | Puromycin resistance marker permits antibiotic selection of transduced mammalian cells |
| EGFP | Fluorescent marker permits FACS selection of transduced mammalian cells |
| mCMV | Mouse cytomegalovirus immediate early promoter |
| hEF1α | Human elongation factor 1 alpha short promoter |
| U6 | Human RNA polymerase III promoter U6 |
| sgRNA | Optimized single guide RNA, a fusion of gene-specific crRNA with the tracrRNA scaffold |
| 5' LTR | 5' Long Terminal Repeat necessary for lentiviral particle production and integration of the construct into the host cell genome |
| Ψ | Psi packaging sequence allows lentiviral genome packaging using lentiviral packaging systems |
| RRE | Rev Response Element enhances titer by increasing packaging efficiency of full-length lentiviral genomes |
| WPRE | Woodchuck Hepatitis Post-transcriptional Regulatory Element enhances transgene expression in target cells |
| 3' SIN LTR | 3' Self-inactivating Long Terminal Repeat for generation of replication-incompetent lentiviral particles |
| SV40 pA | Simian virus 40 polyadenylation signal |
| pUC ori | pUC origin of replication |
| SV40 ori | Simian virus 40 origin of replication |
| AmpR | Ampicillin resistance gene for vector propagation in E. coli cultures |
Related Products
Edit-R All-in-one Lentiviral sgRNA Non-targeting Controls
Negative control all-in-one lentiviral sgRNAs to establish experimental baselines and to distinguish sequence-specific biological effects from non-specific effects Available as high-titer purified lentiviral particles and glycerol stock formats