miRIDIAN microRNA Mimic Housekeeping Positive Control #1 (PPIB)
Validated miRIDIAN microRNA Mimics designed to target PPIB in human, mouse, and rat
The miRIDIAN microRNA Mimic Housekeeping Positive Controls allow for the direct monitoring of housekeeping genes in a microRNA mimic experiment. Positive Control #1 targets PPIB (aka Cyclophilin B).
miRIDIAN microRNA Mimic Positive Controls are ideal for optimizing conditions for relevant, well-controlled
miRIDIAN microRNA Mimic Housekeeping Controls serve as optimization tools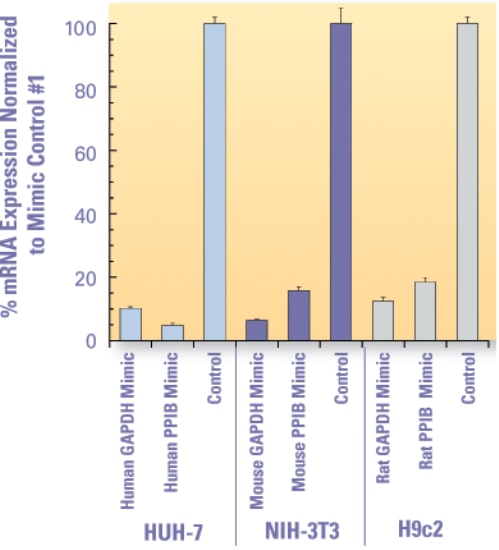 Figure 1. | miRIDIAN microRNA Mimics designed to target the 3' UTR of either PPIB or GAPDH were transfected at 50 nM using DharmaFECT 1 into the indicated cell lines and assessed for their ability to decrease target mRNA levels. PPIB or GAPDH down-regulation was determined using the Quantigene® branched DNA assay (Panomics) at 48 hours post-transfection.