miRIDIAN microRNA Mimic Housekeeping Positive Control #2 (GAPD)
Validated miRIDAN microRNA Mimics designed to target GAPD in human, mouse and rat
The miRIDIAN microRNA Mimic Housekeeping Positive Controls allows for direct monitoring of housekeeping genes in a microRNA mimic experiment. Positive Control #2 targets GAPD so experimental conditions may be optimized with a validated mimic control.
miRIDIAN microRNA Mimic Positive Controls are ideal for optimizing conditions for relevant, well-controlled microRNA modulation experiments. Both positive and negative control molecules are provided for gain-of-function microRNA studies.
Successful microRNA functional studies begin with optimization of the assay in each cell line and/or type of interest. To optimize experimental conditions, we offer both housekeeping and endogenous positive controls for gain-of-function experiments using miRIDIAN Mimics.
Highlights
Same structure and design as experimental miRIDIAN microRNA Mimics
Target the 3' UTR (untranslated region) of the standard housekeeping genes, PPIB, or GAPDH (see Figure 1, Supporting Data)
Allows a clean, straightforward, cleavage-based readout of mimic function
Applications
Delivery and function can be evaluated to determine transfection conditions in each cell line/type
Monitor the function of a mimic molecule at the mRNA level using standard transcript quantification methods, such as RT-qPCR
miRIDIAN microRNA Mimic Housekeeping Controls serve as optimization tools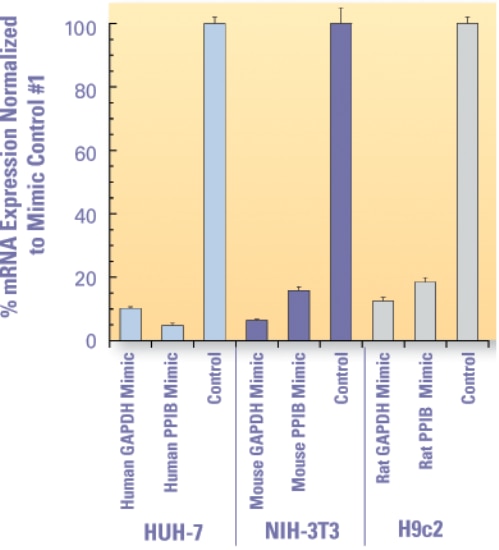 Figure 1. | miRIDIAN microRNA Mimics designed to target the 3' UTR of either PPIB or GAPDH were transfected at 50 nM using DharmaFECT 1 into the indicated cell lines and assessed for their ability to decrease target mRNA levels. PPIB or GAPDH down-regulation was determined using the Quantigene® branched DNA assay (Panomics) at 48 hours post-transfection.