shMIMIC Lentiviral microRNA
Innovative microRNA vector design coupled with your choice of optimal promoter and reporter for over-expression of mature microRNAs
microRNAs, endogenous non-coding ~22mer RNAs, are highly conserved in mammals and regulate gene expression post-transcriptionally through innate RNA interference mechanisms. Now, stable cell lines expressing microRNAs of interest can be created using novel vectors with your choice of promoter and reporter.

shMIMIC Lentiviral microRNA
shMIMIC Lentiviral microRNAs were developed using a unique and proprietary design strategy resulting in highly functional microRNA mimics. shMIMIC lentiviral microRNA designs are created for the robust over-expression of each mature human, mouse and rat microRNA in the miRBase database while minimizing the effects of the star (*), or passenger, strand. Further, shMIMIC microRNAs are provided as glycerol stocks or purified high-titer lentiviral particles for delivery into biologically relevant cells and creation of stably integrated, microRNA-expressing cell lines.
Highlights
Patented expression scaffold for consistent and correct processing of the mature microRNA
Your choice of four different constitutive promoters to optimize microRNA expression in your cells
Design modifications promote preferential loading of the mature microRNA into RISC and robust function
High-titer, concentrated lentiviral particles permits delivery into cells refractory to lipid-based delivery
Expression of TurboGFP or Turbo RFP (Evrogen, Moscow) allows visualization of transduction efficiency; a no-reporter format is also available
Glycerol stock format can be used to grow and isolate the lentiviral plasmid for direct transfection or packaging into lentiviral particles
Integrated over-expression of mature microRNA in biologically relevant cell lines advances the long-term study of microRNA-induced gene target modulation and phenotypic effects. microRNA-induced down-regulation of target genes is often subtle, and phenotypes difficult to discern. To ascertain the function of a microRNA, over-expression must be robust and reproducible. Thus, careful attention must be paid to the promoter driving the expression of the microRNA vector.
The SMARTchoice platform allows you to customize your shMIMIC microRNA with the promoter and reporter combination that is most suitable for your cells and assays.
Don't know which promoter is most active in your cells? Use the SMARTchoice Promoter Selection Plate to easily assess which promoter is optimal and most active in your cells of interest before purchasing specific shMIMIC lentiviral microRNAs (click to learn more about the SMARTchoice Promoter Selection Plate).
Lentiviral Particle Shipping and Storage Information
shMIMIC lentiviral microRNAs are made-to-order with your choice of promoter and reporter and require an estimated 3- to 6-week manufacturing time. Additional transit time should be expected for international shipment to account for customs and regulatory clearances and overseas transport.
shMIMIC lentiviral microRNAs are shipped on dry ice for overnight domestic delivery or priority international delivery outside of the USA. shMIMIC lentiviral particles can be stored frozen at -80ºC for 6 to 12 months without a significant loss in titer. Glycerol stocks can be stored at -80ºC indefinitely.
Lentiviral Particle Product Safety Level Information
This Lentiviral Particle Product Safety Level Information constitutes Product Documentation according to clause 1 of the Product Terms and Conditions.
The Products are solely for internal research use (as set forth in the Product Terms and Conditions) in laboratories where the required containment measures stated in applicable laws and regulations are met. Products may not be used for diagnostic, therapeutic or other commercial purposes and may not to be administered to humans for any purpose or to animals for therapeutic purposes. The Products are replication-incompetent, self-inactivating (SIN) and non-pathogenic (do not cause infectious human disease).
Note - Any investigator who purchases our lentiviral particle products is responsible for consulting with their institution's health and biosafety personnel for specific guidelines on the handling of lentiviral vector particles. Furthermore, each investigator is fully responsible for obtaining the required permissions for research using and the acceptance of replication-incompetent SIN lentiviral vectors and replication-defective lentiviral particles into their local jurisdiction and institution.
For questions concerning the design or production of the products, please contact Technical support.
SMARTvector controls
Positive and negative constitutive shMIMIC controls with choice of four promoters and three reporter options.
Elements of the shMIMIC microRNA Lentiviral Backbone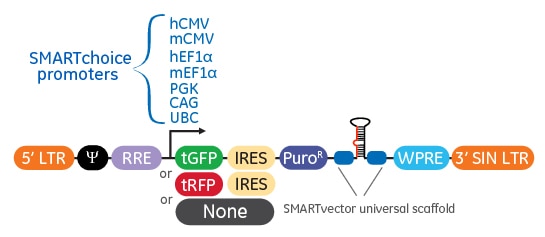 | Vector Element | Utility |
| --- | --- |
| 5' LTR | 5' Long Terminal Repeat necessary for lentiviral particle production and integration of the construct into the host cell genome |
| Ψ | Psi packaging sequence allows viral genome packaging using lentiviral packaging systems |
| PRRE | Rev Response Element enhances titer by increasing packaging efficiency of full-length viral genomes |
| tGFP or tRFP | TurboGFP or TurboRFP reporter for visual tracking expression |
| None | No-reporter option for use in applications where fluorescence is not required or desired |
| IRES | Internal Ribosomal Entry Site allows expression of fluorescent marker and puromycin resistance in a single transcript |
| PuroR | Puromycin resistance permits antibiotic selective pressure and propagation of stable integrants |
| SMARTvector universal scaffold | Optimized proprietary scaffold in which mature microRNA sequence is embedded |
| WPRE | Woodchuck Hepatitis Post-transcriptional Regulatory Element enhances transgene expression in target cells |
| 3' SIN LTR | 3' Self-inactivating Long Terminal Repeat for increased Lentiviral safety |
---
Over-expression of mature microRNA results in gene modulation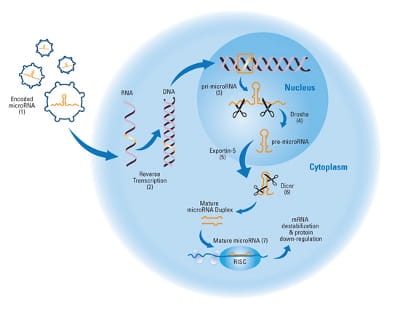 Figure 1. (1) The lentiviral particle binds to the host cell and delivers its engineered RNA genome, which includes encoded microRNA, to the cytoplasm. (2) The viral genome is reverse-transcribed in the cytoplasm. The DNA intermediate form is imported into the nucleus and is stably integrated into the host genome.
(3) shMIMIC microRNA transgenes are transcribed in the same manner as endogenous microRNA genes. Native and over-expressed primary microRNAs are processed by the Drosha complex to yield the precursor microRNA (4), which is then shuttled out of the nucleus into the cytoplasm (5) and further processed by the Dicer complex into double-strand microRNA (6). One strand is selected for incorporation into the RNA-induced Silencing Complex (RISC). microRNA-programmed RISC binds to target mRNA causing transcript destabilization and subsequent down-regulation of protein expression (7).
---
TurboGFP expression allows visual assessment of shMIMIC microRNA expression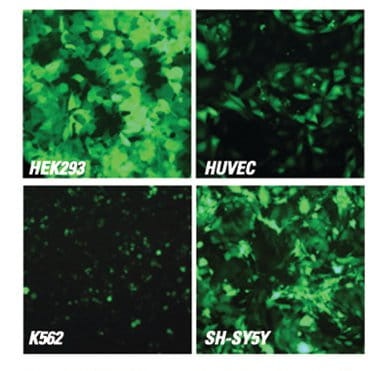 Figure 2. TurboGFP expression in four different cell lines (HEK293, HUVEC, K562, SH-SY5Y) visualized by epifluorescence microscopy 120 hours post-transduction with various shMIMIC microRNA (no puromycin selection).
---
shMIMIC microRNAs induced repression of endogenous human microRNA targets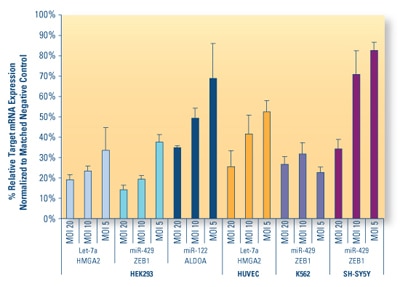 Figure 3. HEK293, HUVEC, K562, or SH-SY5Y cells were transduced in biological triplicate with specific shMIMIC microRNA or negative control viral particles.
Related Products
SMARTchoice Promoter Selection Plate
Identifying the optimal promoter for your cells of interest using the SMARTchoice promoter selection plate allows for increased functionality and performance of lentiviral shRNA and shMIMIC microRNA - resulting in successful gene down-regulation in any cell of interest, including transformed, primary, embryonic stem and neuronal cells.