Accell siRNA Reagents - Human
Guaranteed gene silencing in difficult-to-transfect cells
To shop for Accell siRNA Reagents - Human, please select a Gene.
Achieve RNAi in any cell type
Accell siRNA offers what no other RNAi product can claim: delivery into difficult-to-transfect cells without transfection reagents, virus, or instrumentation. Achieve targeted gene silencing in neuronal, immune, or primary cells that are beyond the reach of conventional RNAi products due to toxicity caused by transfection reagents or undesirable viral responses.
Accell siRNA enters cells without the need for transfection reagents, virus (or viral vectors), or instruments
Guaranteed silencing by SMARTpool and 3 of 4 individual siRNAs (see Guarantee tab)
Novel siRNA modifications facilitate uptake, stability, specificity and knockdown efficiency
Proven performance in neuronal, immunological, primary, and other difficult-to-transfect cell types
Appropriate for use in vivo, due to stabilizing modifications
Extended-duration knockdown with optimized continuous application
Experimental considerations
This breakthrough in siRNA delivery requires no transfection reagent, but has some unique application requirements.
Accell siRNA works at a higher concentration than conventional siRNA; recommended 1µM working concentration
Delivery may be inhibited by the presence of BSA in serum. Optimization studies with serum-free media formulations (Accell Delivery Media) or <2.5% serum in standard media is recommended
Full-serum media can be added back after 48 hours of incubation, optimal mRNA silencing is typically achieved by 72 hoursor up to 96 hours for protein knockdown
Product Formats
SMARTpool: A mixture of 4 siRNA provided as a single reagent,providing advantages in both potency and specificity
Set of 4: A convenient option for purchasing aliquots of all 4 individual siRNAs targeting a single gene
Individual siRNAs: Select 1, 2, 3, or 4 individual siRNAs per gene
Sequence information is provided with purchase of predesigned siRNA products.
Ordering Guidelines
Approximate # reactions (wells) at 1µM siRNA concentration (assuming no loss from pipetting)
nmol
96-well plate
(100 µL total reaction volume)
24-well plate
(500 µL total reaction volume)
12-well plate
(1000 µL total reaction volume)
1
10
2
1
2
20
4
2
5
50
10
5
10
100
20
10
Due to the unique nature of Accell siRNA delivery, it requires a higher working concentration than conventional siRNAs. The table provides the approximate number of reactions (wells) at recommended 1μM Accell siRNA working concentration in different plate formats.
Our siRNA knockdown guarantee
Accell siRNA reagents (SMARTpool and three of four individual siRNAs) are guaranteed to silence target gene expression by at least 75% at the mRNA level.
If all of the steps to assess and optimize conditions are carried out as described in this article, you are guaranteed at least 75% target gene silencing by the SMARTpool and/or three of the Set of 4 individual siRNAs. If, after contacting technical support and carrying out recommended troubleshooting, your target gene is not silenced by at least 75%, a one-time replacement of the affected Accell SMARTpool or Set of 4 siRNA reagents will be provided.
| | | |
| --- | --- | --- |
| Shipping Condition | | Ambient |
| Storage Conditions | | -20 C |
| Stability at Recommended Storage Conditions | | At least 12 months |
| Hazardous | | No |
Accell siRNA demonstrates effective uptake and silencing in organotypic brain slices

Accell siRNA effectively silences target genes in cultured P8 mouse brain slices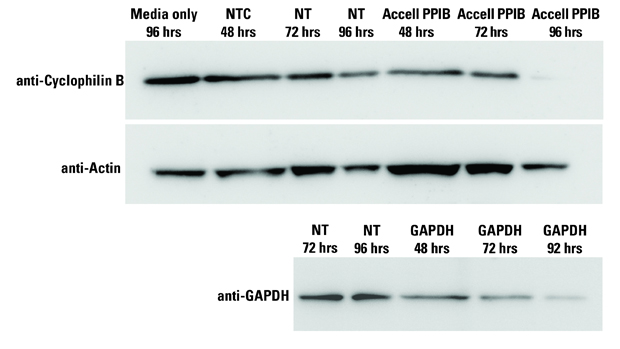 Accell siRNA delivery and gene silencing in cardiomyocytes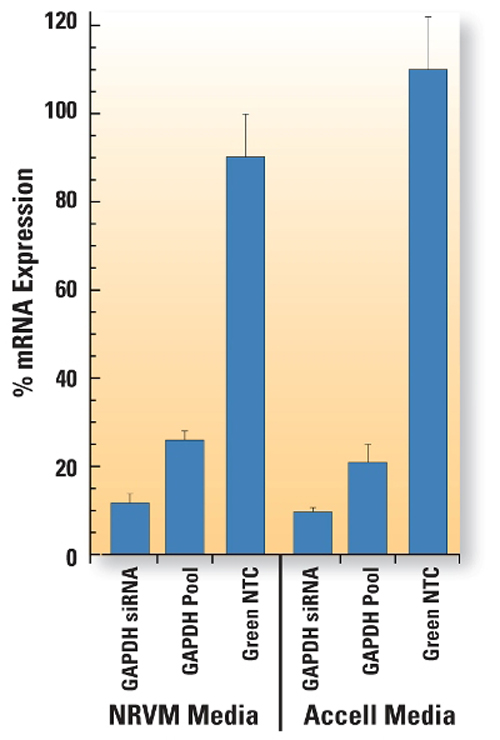 The Accell siRNA application protocol simplifies targeted gene knockdown