The T Cell – Dendritic Cell co-culture is a quick way for multi-compound testing in an in-vitro immune microenvironment. Arrayed compound screening in a semi-automated platform can provide robust data to facilitate decision-making in a fast-paced industry.
Conceived in the mid-'60s to assess the host-graft reactivity research in transplantation1, nowadays, the mixed lymphocyte reaction (MLR) assay is part of the standard procedure of regulatory bodies for medical clearance to clinical trials. Here are revised aspects of the assay and how Horizon's services can help you nurture your development.
What is a Mixed Lymphocyte Reaction Assay?
In drug discovery, the mixed lymphocyte reaction assay (MLR) is a technique used to determine the immunogenicity of a compound, commonly used to evaluate the potential impact of a small therapeutic molecule or biologic in the immune system. To evaluate the immunomodulatory effect of compounds in-vitro, the lymphocyte proliferation and cytokine production is observed in an allogeneic reaction, meaning there are mixed cells from different donors together in culture to model an immune microenvironment. Based on the lymphocyte cell population to be stimulated, two types of MLR are commonly used, one- and two-way assays. The most common is a unidirectional MLR, where only one lymphocyte population can respond or proliferate. Bidirectional MLR differs from unidirectional in that both cell populations can increase and should be considered in specific experimental designs.
Lymphocytes can be isolated after treatment with the compound of interest in the context of an allogeneic co-culture. For data acquisition, the cell culture workflow for MLR can include high throughput flow cytometry and associated validated tools for cytokine release measurements.
How does the Allogenic MoDC:T Cell assay work?
There are many way to perform MLR. The most common is a T cell-based MLR, which uses two different types of cells: antigen-presenting cells and peripheral blood lymphocytes. Monocytes obtained from peripheral blood of healthy donors are differentiated in vitro to become a dendritic cell, a professional antigen-presenting cell (Mo-DC). Then, purified CD3+ T lymphocytes isolated from an unrelated individual are co-cultured with the Mo-DC, the T cells proliferate, responding to the allogeneic major histocompatibility complex (MHC) molecules present in the surface of the dendritic cells. Drugs can modulate the effects of the interaction, and this is a powerful tool to assess the effectiveness of immunomodulatory capabilities of a new compound.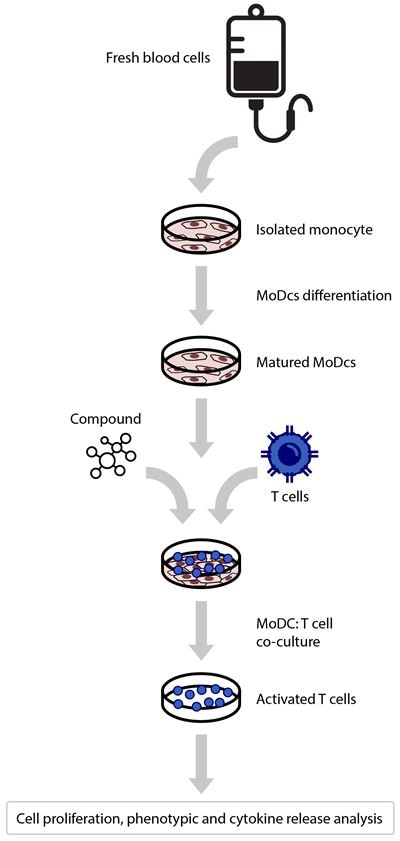 Why should I consider the Mixed Lymphocyte Reaction Assay for my project?
The MLR constitutes a reactivity test that measures the cell microenvironment reaction to a drug indicating how the compound would interact with the body. Drug developers also use this assay to test the efficacy of cancer immunotherapies, vaccines, and other therapeutics that potentially increase, decrease, or repolarize the interaction between T cells and the antigen-presenting cells. Apart from the widely known immune-oncology applications, the applications for MLR can also span from autoimmunity3, inflammation4, reproductive immunology5 or used as a model for immune synapse in a COVID-19 complications scenario6. In other words, this assessment is crucial for the pre-clinical stages of the drug development pipeline because the compound created could become immunogenic and trigger a non-desired immune response. The patient could develop an allergic reaction or suffer from anaphylactic shock if this occurs. Otherwise, it can reduce the treatment effectiveness and lead to undesired autoimmunity. Getting regulatory approvals such as EMA and FDA is essential for the drug development pipeline, where many candidates do not demonstrate the absence of secondary immune effects, and it is crucial to assess in the early stages.
Horizon's MLR assay
We can help as a biopharmaceutical testing partner to analyze immunogenicity. We offer a platform for testing therapeutics that will modify the interaction between the dendritic cell and T cells to either increase, decrease, or repolarize the T cell response to get answers to the immunogenicity of your compound concisely.
Key Advantages
Concise, reproducible, and robust quantitative data
Streamlined Process - Simplify your workflow
Simplify - Remove obstacles to progress
Up to 16 compounds in a single assay array with eight reading points each
Multiple donors to better reflect how a client test molecule will behave across the population
Read-outs
Cytokine Analysis – HTRF
Proliferation Analysis – Flow Cytometry
Written by Antonio Serrano-Gomez, Senior Product Manager - Immunology at Horizon Discovery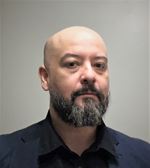 With extensive experience in basic, translational and commercial life science, Antonio is working in delivering screening services based on primary immune cells at Horizon Discovery, focused on the growing needs of our biotech and pharma customers. He holds a professional degree in Medical Technology and a Doctorate in Biochemistry from the University of Chile. Currently is also studying for an MBA at the University of Winchester.
Interested in Horizon's MLR assay services.
Have questions? Reach out to our team, we are always happy to help!
References
Bain, B. & Lowenstein, L. Genetic studies on the mixed leukocyte reaction. Science (80-. ). (1964) doi:10.1126/science.145.3638.1315.
Tourkova, I. L., Yurkovetsky, Z. R., Shurin, M. R. & Shurin, G. V. Mechanisms of dendritic cell-induced T cell proliferation in the primary MLR assay. Immunol. Lett. (2001) doi:10.1016/S0165-2478(01)00235-8.
Lee, Y. E. et al. The synergistic local immunosuppressive effects of neural stem cells expressing indoleamine 2,3-dioxygenase (IDO) in an experimental autoimmune encephalomyelitis (EAE) animal model. PLoS One (2015) doi:10.1371/journal.pone.0144298.
Matsui, F. et al. Induction of PIR-A/B+ DCs in the in vitro inflammatory condition and their immunoregulatory function. J. Gastroenterol. (2018) doi:10.1007/s00535-018-1447-1.
Talwadekar, M. D., Kale, V. P. & Limaye, L. S. Placenta-derived mesenchymal stem cells possess better immunoregulatory properties compared to their cord-derived counterparts-a paired sample study. Sci. Rep. (2015) doi:10.1038/srep15784.
Izrael, M. et al. Astrocytes Down regulate Inflammation in Lipopolysaccharide-Induced Acute Respiratory Distress Syndrome: Applicability to COVID-19. Front. Med. 8, 740071 (2021).