CRISPRmod CRISPRi lentiviral sgRNA positive controls
Validated CRISPRi lentiviral sgRNA for optimization of transcriptional repression experiments
Verify optimal experimental conditions and ensure dCas9-SALL1-SDS3 expression for efficient gene repression
CRISPRi lentiviral sgRNA positive controls will selectively repress a well characterized human gene (either PPIB1 or SEL1L). Positive controls are recommended for optimization and ongoing monitoring of delivery conditions and dCas9-SALL1-SDS3 expression prior to experiments with target gene-specific guide RNAs.
Highlights
Select PPIB1 or SEL1L as your positive control gene
Available as glycerol stocks and high-titer purified lentiviral particles (50 µL at ≥ 1 x 108 TU/mL)
Ideal for optimization of experimental conditions and confirming successful gene repression
In addition to positive controls, it is recommended to use a CRISPRi lentiviral sgRNA non-targeting control to determine baseline levels of gene expression.
CRISPRi lentiviral sgRNA is well suited for long term repression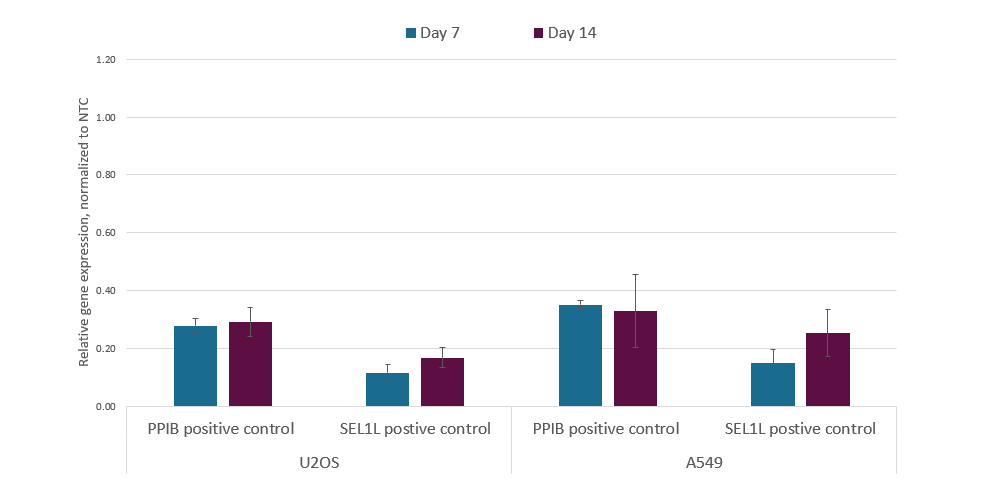 U2OS and A549 cells stably expressing integrated dCas9-KRAB or dCas9-SALL1-SDS3 were plated at 50,000 cells/well in 24 well plates and transduced with CRISPRi sgRNA lentiviral particles targeting PPIB, SEL1L, BRCA1 or CANX at a MOI of 0.3 to obtain cells with a single integrant. Cells were selected with 2 µg/mL puromycin for 5 days, split into two populations, and allowed to recover for an additional day. At 7 days post-transduction one population was harvested for RT-qPCR analysis. The replicate populations of cells were cultured for 7 additional days before harvest. Total RNA was isolated from harvested plates and relative gene expression was calculated with the Cq method using GAPDH as the housekeeping gene and normalized to a non-targeting control.
Related Products
CRISPRi lentiviral sgRNA
An ideal delivery method for CRISPRi in difficult-to-transfect cells, or when longer term repression is desired
Available as high-titer lentiviral particles or glycerol stock