CRISPRmod CRISPRi synthetic sgRNA non-targeting controls
Validated CRISPRi synthetic pools or individual sgRNA for evaluation of transcriptional repression experiments
Used to evaluate baseline cellular responses to CRISPRi components in the absence of gene target-specific sgRNA
CRISPRi synthetic sgRNA non-targeting controls are designed and recommended for use as negative controls for transcriptional repression experiments using CRISPRi sgRNA. These non-targeting controls will engage the dCas9-SALL1-SDS3 complex, but will not target any PAM-adjacent sites in the human genome. Any observed alteration in gene expression levels or viability in cells treated with these controls can be used as a baseline response of the cells to the dCas9-SALL1-SDS3 complex for comparison to those treated with target-specific CRISPRi synthetic sgRNA.
Highlights
Proprietary alignment tools used to verify at least three mismatches or gaps to any potential target in the human genome
Choose individual or pooled CRISPRi sgRNA controls to match your experimental CRISPRi sgRNA reagent format
Ideal for establishing baseline levels of gene expression
In addition to non-targeting controls, it is recommended to use a CRISPRi synthetic positive control to optimize experimental conditions for efficient transcriptional repression.
CRISPRi non-targeting controls are used to establish baseline expression levels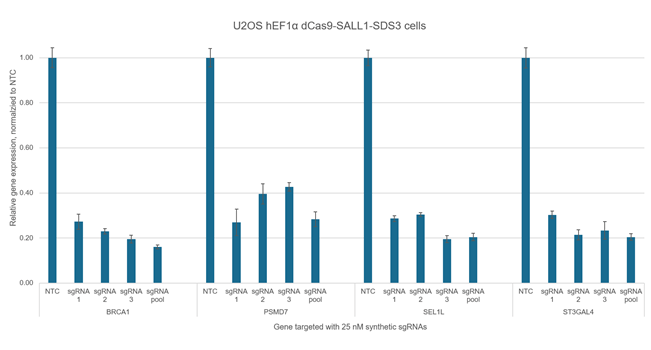 Individual CRISPRmod CRISPRi sgRNAs achieve robust target gene repression independently, but when pooled together in a single reagent, display enhanced repression levels. U2OS cells stably expressing integrated dCas9-SALL1-SDS3 were plated at 10,000 cells/well and transfected using DharmaFECT 4 Transfection Reagent with CRISPRi synthetic sgRNA targeting BRCA1, PSMD7, SEL1L, or ST3GAL4. CRISPRi sgRNAs were used either individually or pooled (to a total concentration of 25 nM). Cells were harvested 72 hours post-transfection, total RNA was isolated, and relative gene expression was measured using RT-qPCR. The relative expression for each gene was calculated with the Cq method using GAPDH as the housekeeping gene and normalized to non-targeting control (NTC).
Related Products
CRISPRi synthetic sgRNA
Predesigned CRISPRi synthetic sgRNA for highly efficient gene repression of any human protein-coding gene
dCas9-SALL1-SDS3 mRNA
Purified dCas9-SALL1-SDS3 mRNA for co-transfection or electroporation with synthetic CRISPRi sgRNA for repression of targeted gene transcription