miRIDIAN microRNA Hairpin Inhibitor
Suppress endogenous microRNA activity for gain-of-function studies
miRIDIAN microRNA Hairpin Inhibitors are single-strand RNA oligonucleotides designed with a proprietary modification pattern to enhance functionality and are available for all human, mouse, and rat microRNAs in the miRBase sequence database.
To shop for miRIDIAN microRNA Hairpin Inhibitor, please select a Gene.
miRIDIAN microRNA Hairpin Inhibitors are the newest generation proprietary, synthetic inhibitors targeting all human, mouse, and rat microRNAs in the miRBase database release 21.0. miRIDIAN Hairpin Inhibitors are single-strand, chemically-enhanced RNA oligonucleotides designed to bind and to sequester the complimentary, mature microRNA strand. Our proprietary inhibitor design allows for microRNA inhibition to be maintained longer than with any other synthetic inhibitor available on the market today.
Highlights
Most effective inhibition of endogenous mature microRNA function by means of proprietary design (see Figure 1, Supporting Data)
Patent-pending molecule combines chemical modifications and completely novel secondary structure motif
Enhanced potency and longevity allows for multiplexed microRNA inhibition at very low nanomolar concentrations and with minimal toxicity (see Figure 2, Supporting Data)
Applications
Suppress microRNA activity to study gain-of-function effects
Screen for microRNAs that regulate gene expression and affect cellular processes
Elucidate microRNA involvement in normal biological and disease pathways
Identify and validate microRNA targets
Inhibit microRNA clusters for combinatorial analysis (see Figure 3, Supporting Data)
A complete portfolio of positive and negative experimental controls to optimize conditions and design relevant microRNA modulation experiments. Critical to any successful microRNA modulation experiment, the right controls enable accurate interpretation for reliable results. Fluorescently labeled controls are also available for visual tracking.
Choose from our collection of validated positive and negative Hairpin Inhibitor controls for use in human, mouse or rat.
microRNA Hairpin Inhibitor Function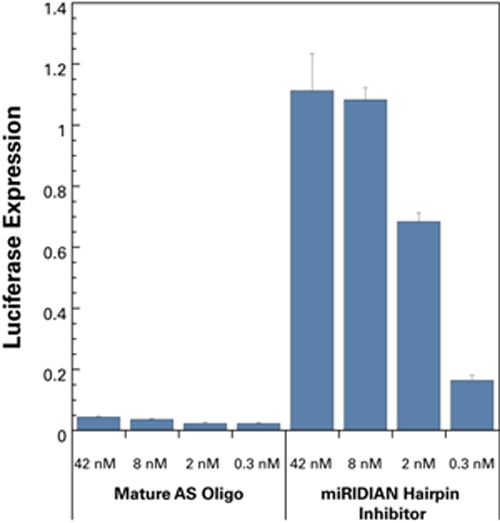 Figure 1. | microRNA Hairpin Inhibitor function for miR-21 miRNA was assayed in HeLa cells, 48 h after transfection using a dual-luciferase reporter system. Each sample was normalized to matching treatment using an empty dual-luciferase reporter.
---
miRIDIAN microRNA Hairpin Inhibitors allow combinatorial inhibition of clustered microRNAs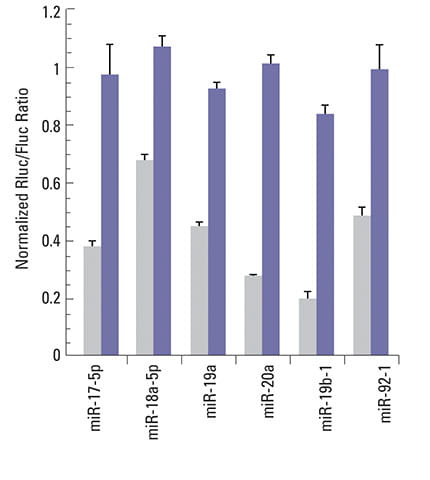 Figure 3. | Six co-expressed microRNAs (mir-17-5p, miR-18a-5p, miR-19a, miR-20, miR-19b-1 and miR-92-1) from the "Cancer Cluster" were inhibited by miRIDIAN Hairpin Inhibitors. All six miRIDIAN Hairpin Inhibitors were pooled together for a 0.8 nM total inhibitor concentration. Pools were co-transfected with DharmaFECT Duo into HeLa cells with one of six reporter plasmids specific for each microRNA. Data were normalized to similarly treated empty reporter plasmid only.
---
miRIDIAN microRNA Hairpin Inhibitor Potency and Longevity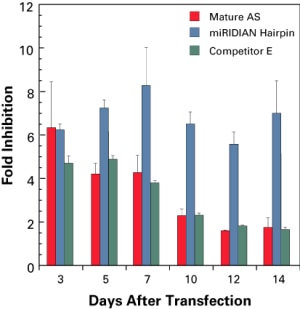 Figure 2. | Time course of inhibition by three different inhibitor molecule designs targeting endogenous miR-23 in an MCF-7 cell line engineered to stably express a miR 23 dual-luciferase reporter. Inhibitors were transfected using DharmaFECT 1 at 200 nM of the simple mature antisense oligo (AS) or 40 nM of miRIDIAN Hairpin and Competitor E inhibitor designs. Data was normalized to cells with no inhibitor, such that no inhibition is equal to 1.
| | | |
| --- | --- | --- |
| Shipping Condition | | Ambient |
| Storage Conditions | | -20 C |
| Stability at Recommended Storage Conditions | | At least 12 months |
| Hazardous | | No |