Edit-R predesigned crRNA
Synthetic guide RNAs for efficient gene knockout & unparalleled specificity
Guaranteed to edit the target gene of interest
Designed to maximize the likelihood of functional protein knockout and minimize off-target editing
Transfection-ready RNAs eliminate cloning and in vitro transcription steps
Chemically modified for improved nuclease resistance
Reminder: Synthetic crRNA must be paired with synthetic tracrRNA to form the full guide RNA complex that targets Cas9 editing.
Edit-R predesigned crRNA gene search
Functional and specific targeting for high-confidence gene knockout results
Edit-R crRNA is a chemically synthesized RNA, comprised of 20 nucleotides identical to the genomic DNA target site, followed by the required S. pyogenes repeat sequence. Complexing crRNA with tracrRNA is required to complete the full ~100mer guide RNA structure needed for genomic editing. Therefore when ordering synthetic crRNA, be sure to include tracrRNA with it.
While CRISPR-Cas9 is a highly effective tool for interrogati
ng gene function, not all guide RNAs are effective in attaining functional protein knockout. To address this problem, Horizon developed an algorithm that is trained to select guides that give the highest likelihood of generating a functional gene knockout, not just creating an insertion or deletion.
New! Human functionality and specificity scores now available.
All guide RNA designs are top algorithm picks for each gene; qualitative ranks for functionality and specificity allow you to fine tune human guide RNA choice to your specific application. The functionality score is a predicted indication of how likely this guide is to produce a functional knockout. The specificity score is based on the predicted risk of cutting activity at potential off-target sites. Visit these pages (gRNA functionality + specificity gRNA ) for more information about our algorithm for Edit-R guide RNA.
Chemical modifications are applied to all predesigned crRNAs to resist degradation by nucleases to improve performance in applications using co-delivery with DNA-free Cas9. Learn more in this featured article.
Required components for an Edit-R CRISPR-Cas9 gene engineering experiment using synthetic crRNA:
The Edit-R Predesigned Guide RNA Guarantee
We guarantee that EVERY predesigned guide RNAs will provide successful editing at the target site when delivered as described in the Edit-R Technical Manuals.
The Edit-R guide RNA guarantee is valid when used with any wild type S. pyogenes Cas9 nuclease, including mRNA, expression plasmid, protein, or stable Cas9 expression, and Edit-R crRNAs must be used with Edit-R tracrRNA for the guarantee to apply.
Analysis of editing of the treated cell population must be shown using a T7EI or Surveyor mismatch detection assay. If successful editing is not observed for a predesigned Edit-R guide RNA while an appropriate side-by-side Edit-R positive control is successful, a one-time replacement of a different predesigned Edit-R guide RNA of the same format and quantity will be provided at no cost.
A replacement will only be approved upon discussion with our Technical Support team.
Successful editing at the DNA level does not always lead to functional gene knockout; it is recommended to test multiple guide RNAs to determine the most effective guide RNA for knockout of your target gene.
This guarantee does not extend to any accompanying experimental costs, does not apply to guide RNAs ordered via the CRISPR Design Tool, and will not be extended to the replacement guide RNA.
Gene knockout workflow using Cas9 expression plasmid and synthetic crRNA:tracrRNA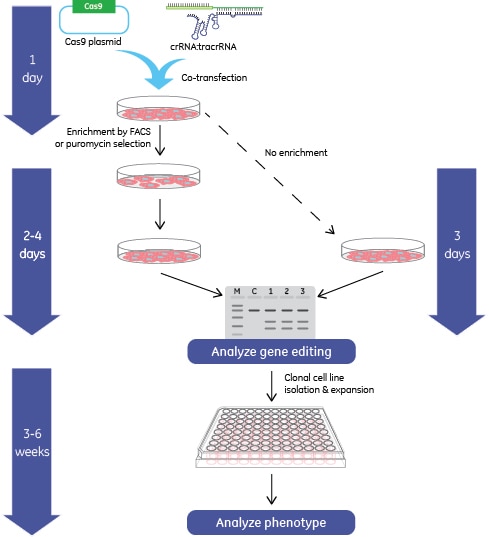 ---
Gene knockout workflow using lentiviral Cas9 expression particles and synthetic crRNA:tracrRNA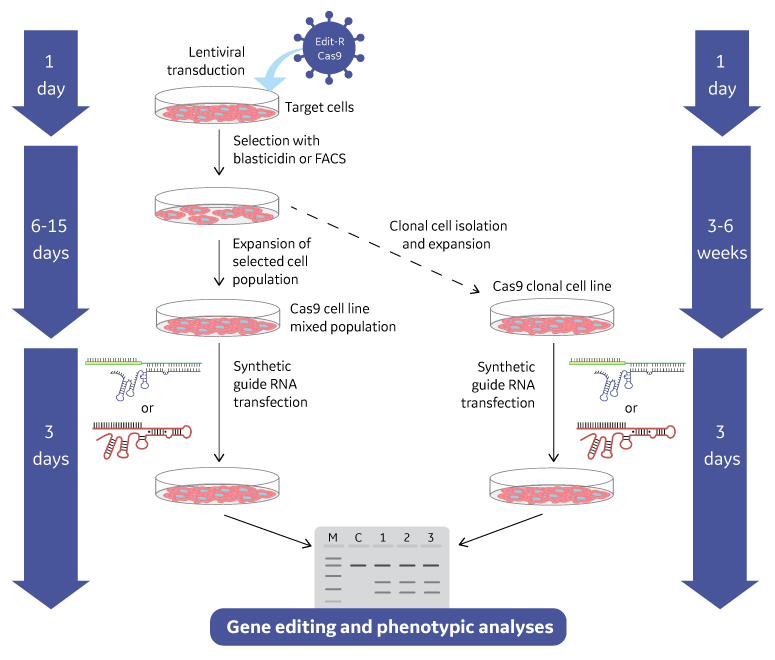 Edit-R synthetic crRNA controls
Species-specific crRNAs targeting well-characterized genes, as well as mismatch detection assay primers, to determine the effectiveness of your gene editing conditions for maximal efficiency.

Non-targeting controls to evaluate cellular responses to CRISPR-Cas9 components in the absence of gene target-specific crRNA.
How much crRNA and tracrRNA do I need?
This table provides the approximate number of experiments that can be carried out for lipid transfection methods at the recommended crRNA:tracrRNA working concentration (25 nM:25nM) in various plate/well formats. Calculations do not account for pipetting errors.
| crRNA nmol | tracrRNA nmol | 96-well plate 100 µL reaction volume | 24-well plate 500 µL reaction volume | 12-well plate 1000 µL reaction volume | 6-well plate 2500 µL reaction volume |
| --- | --- | --- | --- | --- | --- |
| 2 | 2 | 800 | 160 | 80 | 32 |
| 5 | 5 | 2000 | 400 | 200 | 80 |
| 10 | 10 | 4000 | 800 | 400 | 160 |
| 20 | 20 | 8000 | 1600 | 800 | 320 |
---
Synthetic crRNA editing efficiency
Functional protein knockout of VCP is observed in a cell-based assay using stably-expressed Cas9 and Edit-R synthetic crRNA:tracrRNA in a recombinant U2OS line.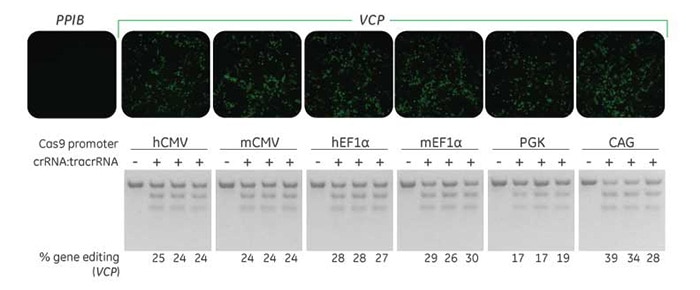 A recombinant U2OS ubiquitin-EGFP proteasome cell line (Ubi[G76V]-EGFP) was stably transduced with blasticidin-resistant, Cas9 expressing lentiviral particles under the control of the indicated promoters. A population of cells with stably integrated Cas9-BlastR was selected with blasticidin-treatment for a minimum of 10 days before transfections. Cells were transfected with 50 nM Edit-R synthetic crRNA:tracrRNA complex targeting VCP, a gene required for proteasome function, using DharmaFECT 3 Transfection Reagent. After 72 hours, transfected cells were examined for EGFP+ cells (upper panel) and the relative frequency of gene editing was calculated (lower panel) based on a DNA mismatch detection assay with T7 Endonuclease I.
---
Knockout performance of synthetic sgRNA and crRNA:tracrRNA

A U2OS ubiquitin-EGFP cell line stably expressing Cas9 under a CAG promoter was transfected with decreasing concentrations of guide RNA (either crRNA:tracrRNA or sgRNA) targeting proteasome components PSMD7 (A) or PSMD11 (B). Transfected cells were assessed for functional gene knockout through EGFP accumulation/intensity.
---
Synthetic crRNA:tracrRNA is compatible with all Cas9 Nuclease formats
U2OS cells were plated at 10,000 cells/well one day prior to transfection. Cells were transfected with either Edit-R Cas9 Nuclease plasmid (200 ng), Edit-R Cas9 Nuclease mRNA(200 ng) or Cas9 nuclease protein (25 nM) and crRNA:tracrRNA (25 nM) targeting PPIB using DharmaFECT Duo transfection reagent (0.4 uL/well) in biological triplicates.
---
Efficient gene editing in Cas9-expressing NIH/3T3 cell lines by transfection with Edit-R crRNA:tracrRNA

NIH/3T3 cells were stably transduced with lentiviral particles containing Cas9 and a blasticidin resistance gene driven by the indicated promoters. A population of stably integrated cells were selected with blasticidin for a minimum of 10 days before transfections. Cells were transfected with 50 nM Edit-R synthetic crRNA:tracrRNA targeting PPIB using DharmaFECT 1 transfection reagent. After 72 hours, the relative frequency of gene editing was calculated based on a DNA mismatch detection assay with T7 Endonuclease I.
---
Design algorithm performance
crRNA with high scores from the Edit-R algorithm have higher cleavage efficiency than low-scoring designs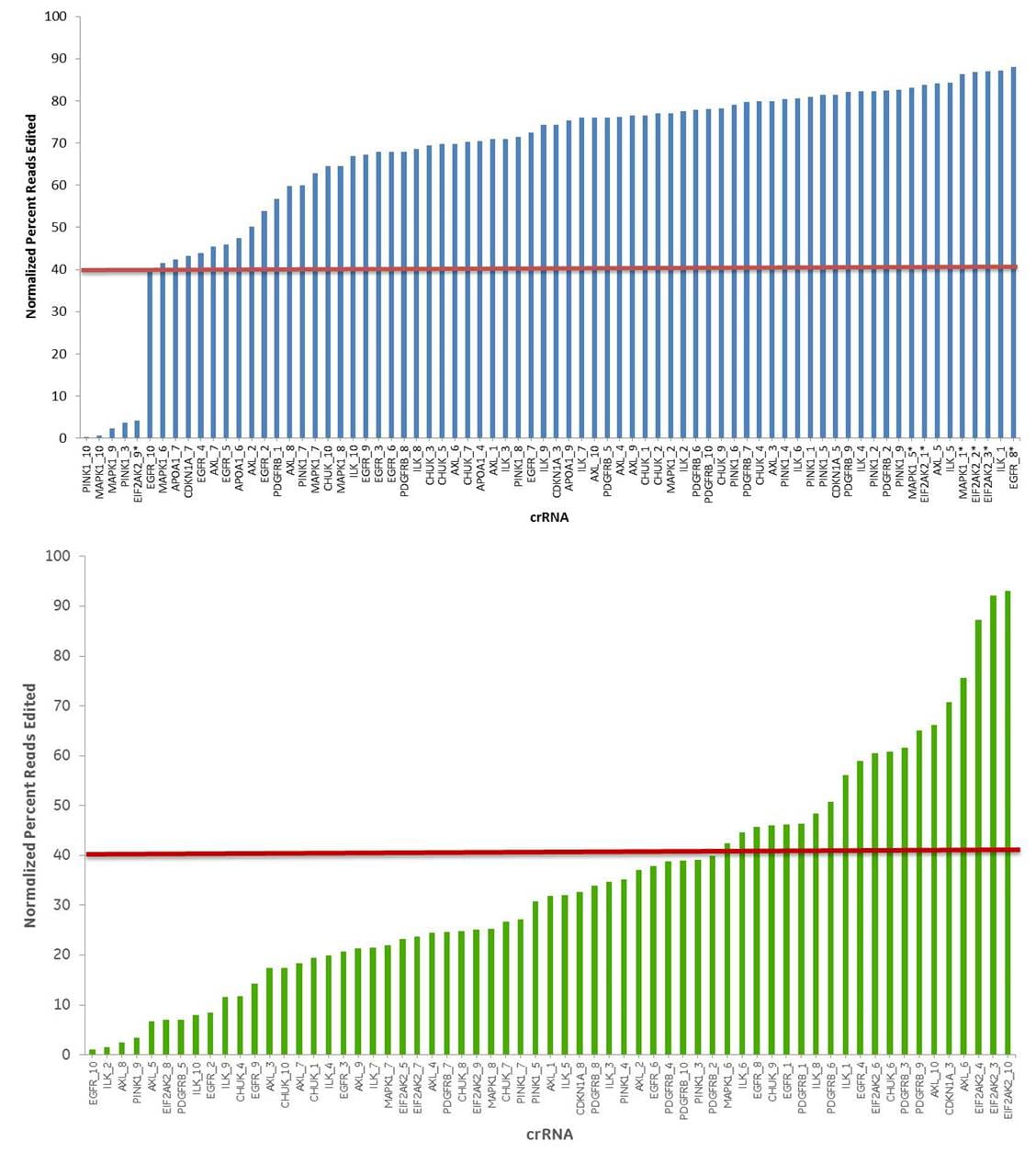 10 crRNAs with high functional scores for 10 genes (blue bars) and 10 crRNAs with low functional scores for the same genes (yellow bars) were tested for editing by NGS. 93% of the high-scoring crRNAs and 32 % of the low scoring crRNAs showed > 40% of editing (indel formation). The Cas9-HEK293T cell line was transfected with 50 nM crRNA:tracrRNA, using 0.25 µL/well of DharmaFECT 1. 72 hours post-transfection, cells were lysed and Nextera transposon-adapted amplicons spanning each crRNA site were generated for every treated sample as well as for a matched control amplicon from untransfected samples. Samples were indexed using the Nextera 96-well index kit and pooled for sequencing on a MiSeq instrument. Reads that passed NGS quality filtering criteria were aligned to the reference file (Bowtie2 v2.1.0). Percent perfect reads were calculated and normalized to the control untransfected samples (Samtools v0.1.12a); the data is presented as normalized percent edited.
---
crRNAs with high functional scores from the Edit-R algorithm show stronger phenotypes in ApoONE assay than low-scoring designs

U2OS-Proteasome cells with integrated Cas9 (under CAG promoter) were plated in 96-well plates at 10,000 cells per well. 24 hours after plating, cells were transfected with 25 nM crRNA:tracrRNA using 0.2 µg/well of DharmaFECT4. Cell were analyzed for apoptosis 48 hours after transfection using the ApoONE homogeneous assay (Promega). For the box plot, the crRNAs were divided into bottom half (h2) and top half (h4) based on their Edit-R algorithm functional score (110 total data points represented). The medians, distribution of data between the lower and upper halves and the minimum and maximum values demonstrate that high-scoring crRNAs have increased functionality.
---
Designs with gaps & mismatches can cause off-target cleavage
T7EI mismatch analysis for a crRNA showing the intended target site (GGTCATCTGGGAGAAAAGCG) and a predicted off-target site that was identified by the Edit-R alignment tool but no other online tool, containing one gap and one mismatch (GGT-ATCTGGGAGAAAAGCa) Many commonly used web-based crRNA specificity tools do not fully account for gaps when performing alignments.
---
crRNA modification designs
Efficiency of gene editing with 2x MS modified or unmodified crRNA:tracrRNA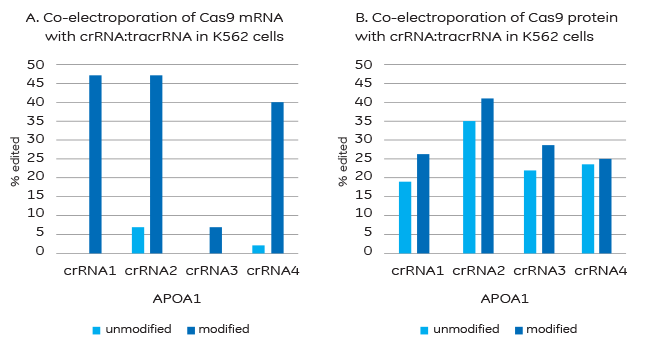 A. Modifications to block degradation by nucleases are required for successful co-electroporation of Cas9 mRNA and crRNA:tracrRNA. B. Co-electroporation of Cas9 protein and crRNA:tracrRNA does not require stabilizing modifications, but results may be improved with their addition.
---
Edit-R synthetic guide RNAs cause virtually no innate immune response or toxicity compared to in vitro transcribed guide RNA
A HEK293T Cas9 nuclease expressing cell line was transfected with different synthetic guide RNA formats including unmodified crRNA:tracrRNA, crRNA:tracrRNA modified with 2xMS on 5' crRNA and 3' tracrRNA, crRNA:tracrRNA modified with 3xMS on both 5' and 3' crRNA and tracrRNA, unmodified synthetic sgRNA, modified synthetic sgRNA with 5' and 3' 2xMS or 3xMS, and in vitro transcribed (IVT) sgRNA targeting PPIB and DNMT3B genes. At 72 hours viability was assessed with the Resazurin reduction assay (red dots) and the levels of five immune response genes were quantified by RT-qPCR. MS = 2'-O-methyl nucleotides and phosphorothioate backbone linkages.
---
Position and structure of modifications for improved nuclease resistance on Edit-R synthetic crRNA and tracrRNA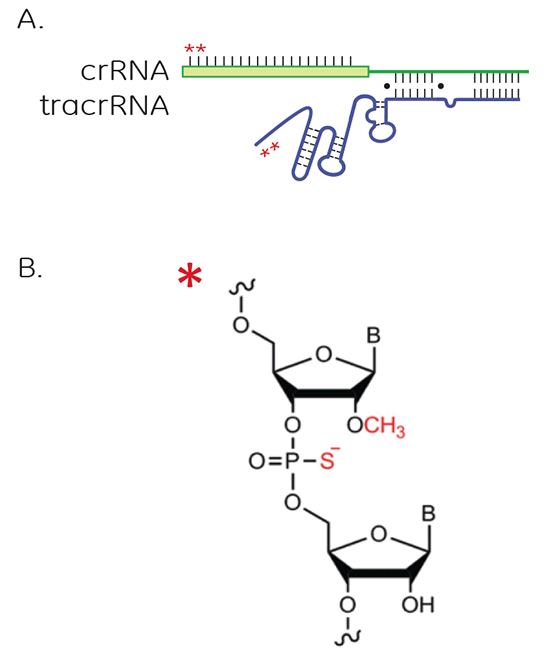 A. Position of modifications for nuclease resistance on Edit-R synthetic crRNA and tracrRNA. Edit-R synthetic guide RNAs contain 2ʹ-O-methyl (2ʹ-OMe) and backbone phosphorothioate linkages (PS) on the two nucleotides at the 5ʹ end of the crRNA (green strand) and on the two nucleotides at the 3' end of the tracrRNA (blue strand). B. Structure of the 2ʹ-OMe and PS backbone phosphorothioate linkages.
R. Barrangou, A. Birmingham, et. al. Advances in CRISPR-Cas9 genome engineering: lessons learned from RNA interference. Nucleic Acids Research, 43(7) 3407-3419 (2015)
M.L. Kelley, Ž. Strezoska, et al. Versatility of chemically synthesized guide RNAs for CRISPR-Cas9 genome editing. J. Biotechnol. 233, 74–83 (2016). doi:10.1016/j.jbiotec.2016.06.011
G. Sivan, P. Ormanoglu, et al. Identification of Restriction Factors by Human Genome-Wide RNA Interference Screening of Viral Host Range Mutants Exemplified by Discovery of SAMD9 and WDR6 as Inhibitors of the Vaccinia Virus K1L-C7L- Mutant. mBio. B(4), e01122 (2015). doi: 10.1128/mBio.01122-15 http://www.ncbi.nlm.nih.gov/pmc/articles/PMC4526713/
Edit-R crRNA:tracrRNA to generate knockout cells lines for RNAi hit validation
D. Wulan, S. Xinghua, et al. CASFISH: CRISPR/Cas9-mediated in situ labeling of genomic loci in fixed cells. PNAS. 112(38), 11870–11875 (2015). http://www.ncbi.nlm.nih.gov/pubmed/26324940
Custom designed Edit-R crRNA
J. McCaffrey, J. Sibert, et al. CRISPR-CAS9 D10A nickase target-specific fluorescent labeling of double strand DNA for whole genome mapping and structural variation analysis. Nucleic Acids Res. 44(2), e11 (2016). doi: 10.1093/nar/gkv878 http://www.ncbi.nlm.nih.gov/pubmed/26481349
CRISPR-Cas9 D10A nickase used with Edit-R crRNA:tracrRNA
S. Opp, D.A.S.A. Vieira, et al. MxB Is Not Responsible for the Blocking of HIV-1 Infection Observed in Alpha Interferon-Treated Cells. J. Virol. 90, 3056-3064 (2015). doi:10.1128/JVI.03146-15 http://www.ncbi.nlm.nih.gov/pubmed/26719253
MxB knockout (KO) cell lines were generated by using Edit-R Cas9 Nuclease expression plasmid and crRNA:tracrRNA
J. Tan, Martin, SE (2016) Validation of Synthetic CRISPR Reagents as a Tool for Arrayed Functional Genomic Screening. PLoS ONE 11(12): e0168968. doi:10.1371/journal.pone.0168968
Arrayed crRNA library screening (Edit-R Ubiquitin Enzymes library)
H. Ogiwara, M. Sasaki, et al. Targeting p300 addiction in CBP-deficient cancers causes synthetic lethality by apoptotic cell death due to abrogation of MYC expression. Cancer Discov. 2016 Apr;6(4):430-45. doi: 10.1158/2159-8290.CD-15-0754. Epub 2015 Nov 24 http://www.ncbi.nlm.nih.gov/pubmed/26603525
HEK293T CBP-KO cells (#2-4) bearing a 1 bp insertion in exon 9 of CBP were constructed using Edit-R Cas9 Nuclease expression plasmid and crRNA:tracrRNA
A. Paix, H. Schmidt, et al. Cas9-assisted recombineering in C. elegans: genome editing using in vivo assembly of linear DNAs. Nucleic Acids Res. (2016). doi:10.1093/nar/gkw502 2015
M.L. Kelley, Ž. Strezoska, et al. Versatility of chemically synthesized guide RNAs for CRISPR-Cas9 genome editing. J. Biotechnol. 233, 74–83 (2016). doi:10.1016/j.jbiotec.2016.06.011
J.F. Hultquist, K. Schumann, et al. A Cas9 Ribonucleoprotein Platform for Functional Genetic Studies of HIV-Host Interactions in Primary Human T Cells. Cell Reports. 17, 1438–1452 (2016). dx.doi.org/10.1016/j.celrep.2016.09.080
K. He, E. Chou, et al. Conjugation and evaluation of triazole-linked single guide RNA for CRISPR-Cas9 gene editing. ChemBioChem. 17, 1809–1812 (2016).doi:10.1002/cbic.201600320
Synthetic guide RNA
Cas9 nuclease