Cas9ヌクレアーゼ発現試薬
プロモーターおよび濃縮方法を選択できる非レンチウイルスCas9発現プラスミド
Edit-R 化学合成ガイドRNAと直接共トランスフェクションするための、エンドトキシンフリーの精製済みDNAです。Cas9発現細胞の濃縮を簡便にする3つのオプションをご用意しています。
CRISPR-Cas9システムにおけるCas9ヌクレアーゼ
CRISPR関連酵素Cas9は、ゲノムDNAの標的認識とDNA二重鎖切断(DSB)のためにガイドRNAを必要とするRNA-guidedエンドヌクレアーゼです。
Cas9ヌクレアーゼ発現プラスミドは、RNA pol IIプロモーターの制御下にあるS. pyogenes Cas9遺伝子のヒトコドン最適化バージョンをコードします。Cas9ヌクレアーゼ発現プラスミドは、Edit-R 化学合成ガイドRNAと直接共トランスフェクションするためのエンドトキシンフリーの精製済みDNAとして提供される非レンチウイルスベクターです。
Cas9ヌクレアーゼ発現プラスミドのハイライト
使用する濃縮方法と細胞タイプに基づいて、3つのプラスミドオプションから選択できます。
mKate2蛍光レポーター
ピューロマイシン耐性マーカー
hCMVプロモーターおよびブラストサイジン耐性マーカー
6つのSMARTchoiceプロモーターオプションから選択できます。
すべてのRNA pol IIプロモーターは異なる細胞環境で同等にアクティブではない
Cas9ヌクレアーゼの転写を制御する任意のプロモーターの活性は、生物学的状況によって大きく異なる可能性があり、Cas9の発現レベルが変化し、ひいてはDNA切断のレベルが変化します。したがって、細胞株または細胞タイプに最適なプロモーターを選択することは、実験におけるゲノム編集の程度に影響します。Cas9ヌクレアーゼ発現プラスミドには、6つの異なるよく特徴付けられた細胞プロモーターが用意されており、その中から選択できます。
Cas9ヌクレアーゼを発現するための6つのSMARTchoiceプロモーターオプション
| Promoter | Description |
| --- | --- |
| hCMV | human cytomegalovirus immediate early promoter |
| mCMV | mouse cytomegalovirus immediate early promoter |
| hEF1α | human elongation factor 1 alpha promoter |
| mEF1α | mouse elongation factor 1 alpha promoter |
| PGK | mouse phosphoglycerate kinase promoter |
| CAG | chicken beta actin hybrid promoter |
Cas9ヌクレアーゼ発現プラスミドとEdit-R 化学合成ガイドRNAを使用した遺伝子ノックアウトワークフロー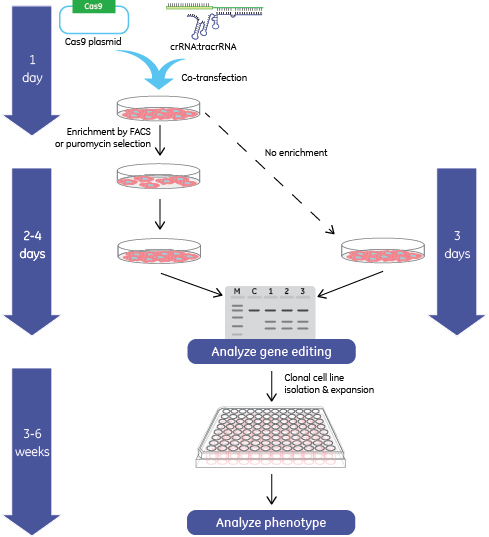 ゲノム編集に必要なEdit-R CRISPR-Cas9コンポーネント(Cas9ヌクレアーゼを発現するプラスミド、tracrRNA、目的の標的部に対して設計されたcrRNA)の図:
遺伝子破壊を行うために、DharmaFECT Duoトランスフェクション試薬を使用して、選択した哺乳類細胞に3つのコンポーネントのすべてをコトランスフェクトします。トランスフェクトされた細胞の濃縮は、蛍光細胞選別またはピューロマイシン耐性の選択によって行うことができます。
---
Less time preparing, more time experimenting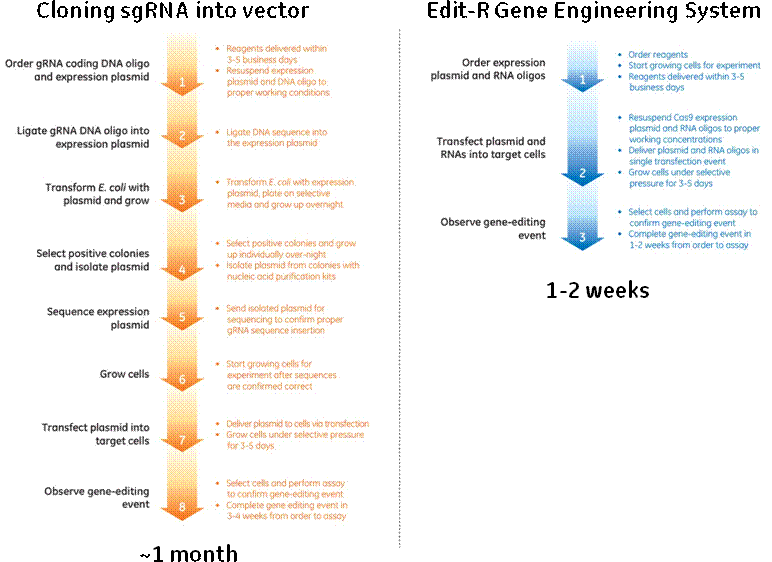 Edit-R Gene Engineeringシステムは、高品質の化学合成tracrRNAとcrRNAを用いてCas9ヌクレアーゼをプログラムするため、個々のsgRNAをクローン化する必要がなく、時間と労力を節約できます。
Cas9ヌクレアーゼ発現プラスミドを用いた実験データ
SMARTCas9-mKate2発現プラスミドを使用したCas9発現U2OS細胞のFACSによる濃縮は、標的ゲノム編集の増加をもたらす

FACSによるSMARTCas9-mKate2発現プラスミドを使用したCas9発現U2OS細胞の濃縮により、ヒトPPIBの編集%が増加します。U2OS細胞に、SMARTCas9-mKate2(ヒトCMVプロモーターを含む)発現プラスミド、およびヒトPPIB遺伝子を標的とするtracrRNA:crRNAをトランスフェクトしました。72時間後にMoFlo XDP 100機器でmKate2蛍光のnegative、low、high対応する細胞をソーティングし、3つのチューブに分けました。SURVEYOR™ DNAミスマッチアッセイは、選別されたU2OS細胞で実行し、%ゲノム編集が、US(= unsorted)および対照であるUT(= untransfected)と比較しました。編集のレベルは、デンシトメトリー(%編集)を使用して計算しました。ソーティング細胞では、mKate2発現の増加と相関して、%ゲノム編集の増加が観察されます。
---
Cas9-mKate2発現プラスミドのベクターエレメントとプロモーターオプション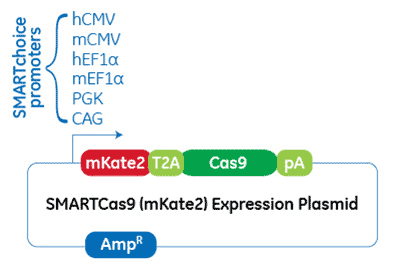 Cas9-mKate2 プラスミドは、単量体赤色蛍光タンパク質mKate2、および6種類のRNA pol II プロモーターのいずれかによって駆動されるS. pyogenes由来のヒトコドン最適化Cas9ヌクレアーゼを発現します。自己切断ペプチドT2Aを使用してmKate2の発現をCas9ヌクレアーゼにリンクすることにより、FACSによるmKate2陽性細胞のソーティングによりCas9発現細胞が濃縮され、ゲノム編集イベントを受けた細胞のパーセンテージが増加します。
---
Cas9-PuroR発現プラスミドのベクターエレメントとプロモーターオプション
Cas9-PuroRプラスミドは、ピューロマイシン耐性選択マーカー、および6種類のRNA pol II プロモーターのいずれかによって駆動されるS. pyogenes由来のヒトコドン最適化Cas9ヌクレアーゼを発現します。自己切断ペプチドT2Aを使用してピューロマイシン耐性マーカーの発現をCas9ヌクレアーゼにリンクすることにより、ピューロマイシンで処理して細胞を選択すると、Cas9発現細胞が濃縮され、ゲノム編集イベントを受けた細胞のパーセンテージが増加します。
D. Bhaya, M. Davison, et al. CRISPR-Cas systems in bacteria and archaea: versatile small RNAs for adaptive defense and regulation. Annu. Rev. Genet. 45, 273-297 (2011).
L. Cong, F. A. Ran, et al. Multiplex Genome Engineering Using CRISPR/Cas Systems. Science. 339(6121), 819-823 (2013).
E. Deltcheva, K. Chylinski, et al. CRISPR RNA maturation by trans-encoded small RNA and host factor RNase III. Nature. 471(7340), 602-607 (2011).
Y. Fu, J. D. Sander, et al. Improving CRISPR-Cas nuclease specificity using truncated guide RNAs. Nat. Biotechnol. (2014).
D.Y. Guschin, A. J. Waite, et al. A rapid and general assay for monitoring endogenous gene modification. Methods Mol. Biol. 649, 247-256 (2010).
F. Heigwer, G. Kerr, et al. E-CRISP: fast CRISPR target site identification. Nat. Methods. 11(2), 122-123 (2014).
P.D. Hsu, D. A. Scott, et al. DNA targeting specificity of RNA-guided Cas9 nucleases. Nat. Biotechnol. 31(9), 827-832 (2013).
M. Jinek, K. Chylinski, et al. A Programmable Dual-RNA-Guided DNA Endonuclease in Adaptive Bacterial Immunity. Science. 337(6096), 816-821 (2012).
P. Mali, L. Yang, et al. RNA-guided human genome engineering via Cas9. Science. 339(6121), 823-826 (2013).
N. K. Pyzocha, F. A. Ran, et al. RNA-Guided Genome Editing of Mammalian Cells. Methods Mol. Biol. 1114, 269-277 (2014).
D. Reyon, C. Khayter, et al. Engineering designer transcription activator-like effector nucleases (TALENs) by REAL or REALFast assembly. Curr. Protoc. Mol. Biol. 100, 12.15.1 12.15.14 (2012).
T. R. Sampson, D. S. Weiss. Exploiting CRISPR/Cas systems for biotechnology. Bioessays. 36(1), 34-38 (2014).
T. Wang, J. J. Wei, et al. Genetic screens in human cells using the CRISPR-Cas9 system. Science. 343(6166), 80-84 (2014).