Edit-R predesigned synthetic sgRNA
Synthetic single guide RNAs for efficient gene knockout & unparalleled specificity
Guaranteed to edit the target gene of interest
Algorithm-optimized to maximize functional protein knockout and minimize off-target editing
Transfection-ready synthetic RNAs eliminate cloning and in vitro transcription steps
Chemically modified for improved nuclease resistance

Edit-R predesigned synthetic sgRNA
Functional and specific targeting for high-confidence gene knockout results
Edit-R predesigned synthetic sgRNAs are chemically synthesized guide RNA for S. pyogenes Cas9 nuclease targeting and creation of Cas9-mediated DNA double-strand breaks in a genomic region of interest.
All Edit-R guides are algorithmically designed to efficiently generate functional protein knockouts, not just create an insertion or deletion. Additionally, chemical modifications are applied to all Edit-R synthetic guide RNA products to reduce degradation by nucleases and improve overall editing performance.
This unmatched accuracy and efficiency makes Edit-R predesigned synthetic sgRNA an ideal tool for pathway analysis or following up hits from a synthetic sgRNA library screen.
New! Human functionality and specificity scores now available.
All guide RNA designs are top algorithm picks for each gene; qualitative ranks for functionality and specificity allow you to fine tune human guide RNA choice to your specific application. The functionality score is a predicted indication of how likely this guide is to produce a functional knockout. The specificity score is based on the predicted risk of cutting activity at potential off-target sites. To learn more, visit our algorithm for Edit-R guide RNA page
Components for CRISPR gene editing experiment using synthetic sgRNA
Need to scale up your experiments? Choose from arrayed collections of predesigned synthetic sgRNA libraries for screening across the human genome and gene families, or design your own custom mini-library with our Cherry-Pick library tool.
The Edit-R guide RNA guarantee
We guarantee that EVERY predesigned Edit-R guide RNA will provide successful editing at the target site when delivered as described in the Edit-R Technical Manuals.
The Edit-R guide RNA guarantee is valid when used with any wild type S. pyogenes Cas9 nuclease, including mRNA, expression plasmid, protein, or stable Cas9 expression.
Analysis of editing of the treated cell population must be shown using a T7EI or Surveyor mismatch detection assay. If successful editing is not observed for a predesigned Edit-R guide RNA while an appropriate side-by-side Edit-R positive control is successful, a one-time replacement of a different predesigned Edit-R guide RNA of the same format and quantity will be provided at no cost.
A replacement will only be approved upon discussion with our Scientific Support team.
Successful editing at the DNA level does not always lead to functional gene knockout; it is recommended to test multiple guide RNAs to determine the most effective guide RNA for knockout of your target gene.
This guarantee does not extend to any accompanying experimental costs, does not apply to guide RNAs ordered via the CRISPR Design Tool, and will not be extended to the replacement guide RNA.
Complete your knockout experiment by adding these supporting reagents to your order
Cas9 nuclease options
Synthetic guide RNA controls
Non-targeting controls are used to evaluate cellular responses to CRISPR-Cas9 components in the absence of gene target-specific sgRNA. Choose from 5 scrambled sequences guaranteed not to target any gene in the human or mouse genomes.
Positive controls targeting well-characterized genes are used to determine the effectiveness of your gene editing conditions for maximal efficiency. Choose from PPIB or DNMT3B.
Transfection reagents
DharmaFECT transfection reagents are optimized for improved delivery and reduced toxicity. The optimal DharmaFECT reagent for your experiment will depend on your Cas9 nuclease source and your cell type.
How much sgRNA do I need?
This table provides the approximate number of experiments that can be carried out for lipid transfection methods at the recommended sgRNA working concentration (25nM) in various plate/well formats. Calculations do not account for pipetting errors.
| sgRNA nmol | 96-well plate 100 µL reaction volume | 24-well plate 500 µL reaction volume | 12-well plate 1000 µL reaction volume | 6-well plate 2500 µL reaction volume |
| --- | --- | --- | --- | --- |
| 2 | 800 | 160 | 80 | 32 |
| 5 | 2000 | 400 | 200 | 80 |
| 10 | 4000 | 800 | 400 | 160 |
---
Flow cytometry analysis of protein knockout in CD4+ T cells using a single predesigned synthetic sgRNA per gene target
Primary human CD4+ T cells were nucleofected with Cas9 RNP using an individual predesigned synthetic sgRNA per gene target or a non-targeting control (NTC), via a Lonza 96-well Shuttle system. After 72 hours, functional knockout of CD28, CD3E, and CXCR3 were assessed as a percent of cells not expressing the target gene by FACS analysis. Cells were stained and normalized for CD4 expression using an Alexa Fluor 488 conjugated antibody and compared to each target CD28, CD3E, and CXCR3 using APC conjugated primary antibodies.
---
Functional knockout of FUS gene with a pool of synthetic sgRNA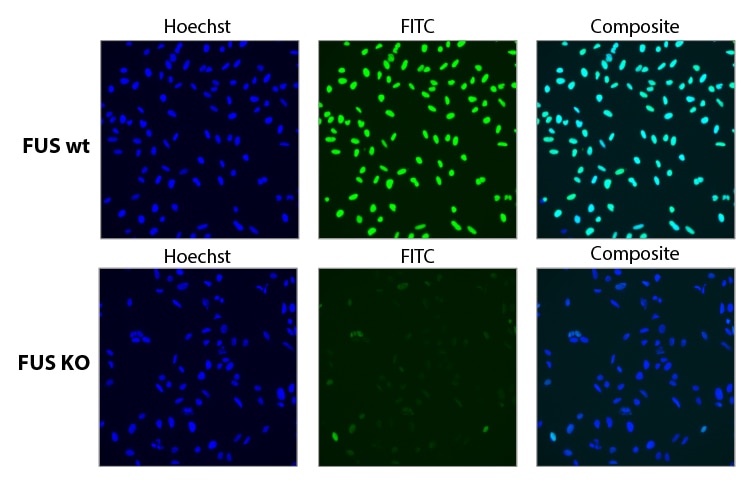 Functional knockout of FUS was assessed in U2OS cells constitutively expressing Cas9 under the CAG promoter. Cells were transfected with a 25 nM sgRNA pool containing three different Edit-R predesigned sgRNAs targeting FUS using 0.04 µL DharmaFECT 4. 72 hours post transfection the cells were split, and at 96 hours post transfection, cells were fixed and stained with a primary antibody targeting FUS, and an Alexa Fluor 488 conjugated fluorescent secondary antibody. Hoechst stain was used to identify nuclei.